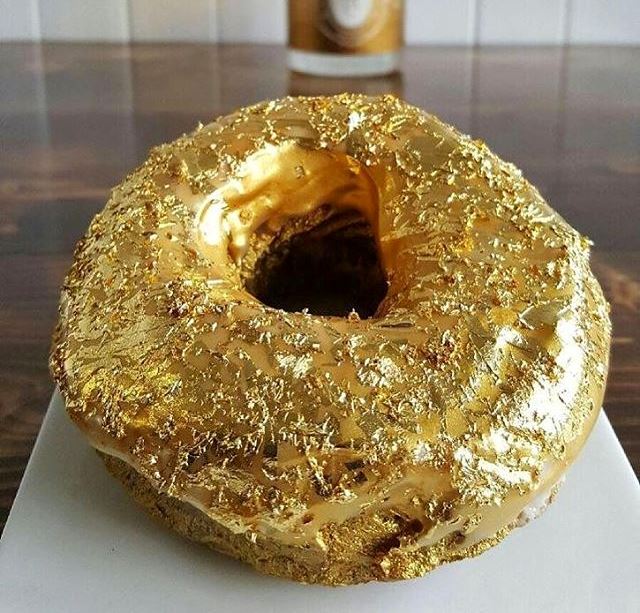 If you had any lingering doubts that we are now living in the Golden Age of the Doughnut, well, this should settle that. All week, we've been seeing the reports about this absurd fried round offered at Brooklyn, New York's Manila Social Club, which is decorated with champagne frosting and, as if the bubbly infusion weren't fancy enough, a shiny coat of 24-karat gold on top.
On Thursday, these ridiculous things, which cost $100 a pop ($1,000 for a dozen), made a guest appearance on the NBC morning show Today; coanchor Tamron Hall even acted like she was wearing one as an earring.
Every now and then, you see some unnecessarily ornate foodstuff like this making headlines. A few years ago, a restaurant in Washington, D.C., unveiled a "One-Percent Burger," topped with foie gras, braised short rib and, yes, gold leaf. By comparison, that burger now sounds like a bargain: only $58!
It brings to mind what the old man said in the classic Pearl S. Buck novel about hard-times prewar China, The Good Earth: "Tea is like eating silver." Only in this case, there is no simile; real people are actually putting a precious metal in their mouths and swallowing. How's that for being wasteful, old man?
But beyond the sheer ostentatiousness of it all, I wondered, does noshing on gold do anything meaningful for our bodies? According to one nutritionist I contacted, not so much.
"In the 22 years I have been working in the field of nutrition, it never surprises me when the new fad comes out," says registered dietitian Deborah Orlick Levy, a health and nutrition consultant for New Jersey–based health-foods company Carrington Farms. "People get bored with the same old foods and look for something new and exciting. This recent gold-laced food fad is no different. It seems there's something sexy about eating food covered in gold — not to mention pricy — so people are curious to find out more. Edible gold might be an expensive treat, but it is safe to consume. However, there are no nutritional or health benefits associated with indulging in this extravagant food. Of course, you do gain bragging rights for being able to say you could afford to eat a $100 gold doughnut. But let's not forget that although the gold in the doughnut is not going to hurt you, the saturated fat, trans fats, and unhealthy nutritional profile of the doughnut itself certainly could."