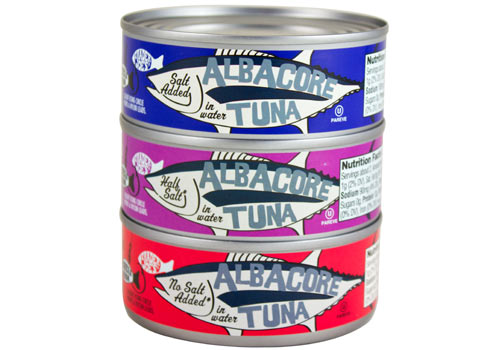 If you happened to catch the Michael Pollan documentary In Defense of Food on PBS over the holidays, you probably already know to be wary of the middle aisles at your neighborhood supermarket. That's where the packaged and processed foods are — a place that health-conscious critics like Pollan describe as ground zero for your ballooning waistline. But there may be another reason to avoid this area of the store: What's inside these packages isn't just filling your body with preservatives and other junk; it might also be cheating you at the cash register.
Earlier this week, a class action lawsuit was filed against grocery chain Trader Joe's, alleging that the supermarket has been underfilling its canned tuna products in violation of federal standards. Specifically, the lawsuit claims that five-ounce cans of Trader Joe's brand tuna routinely contain less than three ounces of actual fish, citing tests performed by the U.S. National Oceanic and Atmospheric Administration. Trader Joe's has declined to comment on the suit.
If true, it wouldn't be the first time that a big-time canned tuna seller was caught shortchanging its customers. According to the New York Daily News, StarKist recently settled a similar lawsuit alleging underfilled tuna cans.
Andy Rooney must be groaning in his grave. The canned-tuna kerfuffle recalls one of Rooney's classic rants about another canned supermarket product: coffee. Back in 1988, the curmudgeonly 60 Minutes commentator took notice of how the dominant coffee companies, Maxwell House and Folgers, had quietly downsized the amount of ground coffee in a store-bought can from 16 ounces to 13 ounces, a move that one company rep strangely claimed would still generate the same number of cups of brewed coffee in your pot at home.
Rooney, who died in 2011 at age 92, cranked out some of the greatest critiques of the American food industry in modern times, blasting everything from bottled water to the way the photographs on food packages always look better than the actual food inside, so let's leave the last word to him: "The third rule of life is this: Everything you buy today is smaller, more expensive and not as good as it was yesterday."