In Search Of The Best Apples To Make Hard Cider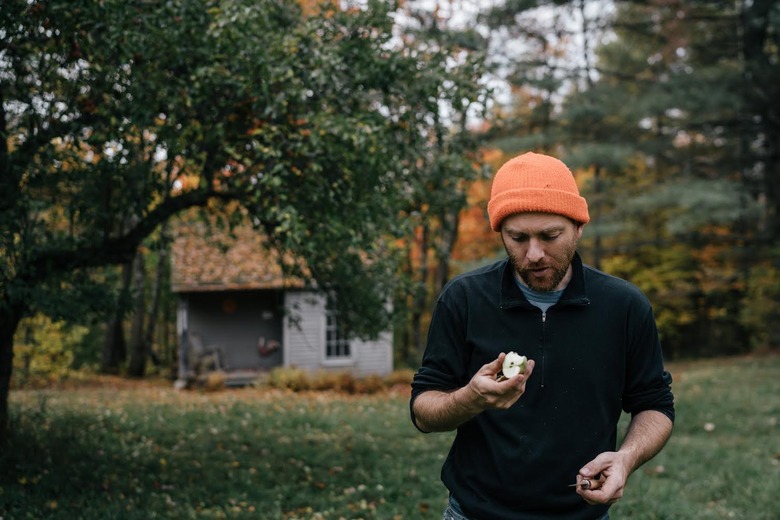 Michael Tallman
Colin Davis was consulting with Sunrise Orchards when he first met David Dolginow, who was heading up the orchard's business development. They bypassed pies and apple sauce for one product they favored in particular: hard cider.
When the Cornwall, Vermont–based orchard wasn't on board, the two decided to go it together, putting on tastings of locally made cider with groups of friends in the food industry. A couple of the attendees were making their own home batches of cider from wild apples they'd foraged around Addison County, and it was those sips that inspired Davis and Dolginow to take the next step. "We were like, 'If we could re-create this, we'd be set,'" says Davis.
So began the company now known as Shacksbury Cider and its "lost apples" project, which seeks out rare varieties in the wild. The two shook on it over $1 Miller Lites in the spring of 2013, both recognizing that they had their work cut out for them. "We faced this huge hurdle in that this is an incredible place to grow apples, but the people here weren't growing the apples that we thought made the best cider," says Davis.
Shortly thereafter, Davis set off for some research and development of his own, making his way to 25 cider houses in France, Spain and the United Kingdom to meet with producers and gain inspiration. "We knew that these were regions that made ciders we liked," he says. But upon meeting Ainara Otaño at Petritegi in Spain, he knew it was much more than what was in the bottle. "The family invited me to dinner, and there were tons of people there — it was just this vibrant, incredible scene," he says. "It became much more about the people than the place."
His meeting with Simon Day of Once Upon a Tree in Herefordshire, England, was the last one of the trip — but quickly proved to be one of the most valuable. "By the end of our conversation, I asked if he'd ever consider working with a company like ours, and he agreed," says Davis. "That's when I really started thinking that maybe we could learn about cider making."
Those partnerships helped Davis and Dolginow to create The Hereford and The Basque, two of Shacksbury's first releases, which feature fruit and techniques from their respective European origins. Since then, the team has been traveling to the two cider houses twice a year, helping to select apples during harvest and pitching in for the blending process in spring. Their dialogue continues to grow as they approach their third releases together — and not just back and forth across the pond. "There's been a lot of cross-pollination — Simon has been experimenting with some of our techniques, Ainara has been experimenting with some of Simon's and we've all traveled to each other's facilities," Davis says. "It's been a deeper and more productive relationship than we ever envisioned."
And though the team went far and wide for the best apples they could find abroad, they also returned to the ciders they'd tried in their original tasting groups, remembering the possibilities they could make locally — if they knew what they were looking for. In fall 2013, they scoured Addison Country to sample hundreds of wild apples, flagging the trees they liked and detouring around the ones they didn't. They fermented cider from 54 varieties for the first 1840 release, a 100-case production that ended up winning a Good Food Award in 2014.
That production has increased intensely this year, leaving the two with more than 3,600 cases of their 2015 release of 1840 — a growth they credit to word of mouth about this "lost apples" mission that has led people in surrounding communities to share intel on orchards that are ripe for the project.
In addition to simply having a heck of a lot more of their always quick-to-sell-out lost-apple release, Davis and Dolginow have used the immense harvest to create a cider club, which provides members with terroir-driven micro releases of ciders from one specific farm or orchard. Though this harvest proved to be far more fruitful than in previous years — certainly a step in the right direction — they're hoping to have an orchard entirely of their own soon enough to ensure the prosperity of the rare apple varieties they need most.
"The two ciders we've made with lost apples have been exceptionally well received, and those are using the best apples we found at the time — but we want an entire orchard full of the best possible ones, and that will require a major grafting push for this spring," says Davis.
The ground-up orchard plan is just one more example of the team choosing to forego what's readily available for the path of more resistance, but Davis confirms that he and Dolginow wouldn't have it any other way.
"It's like treasure hunting — it's hard, but it's so much fun because no one sees these apples, or if they do, they're like, 'Oh, it's just deer food,'" he says. "It's an incredible palate of flavors that's just sitting there, waiting for someone to do something with them."