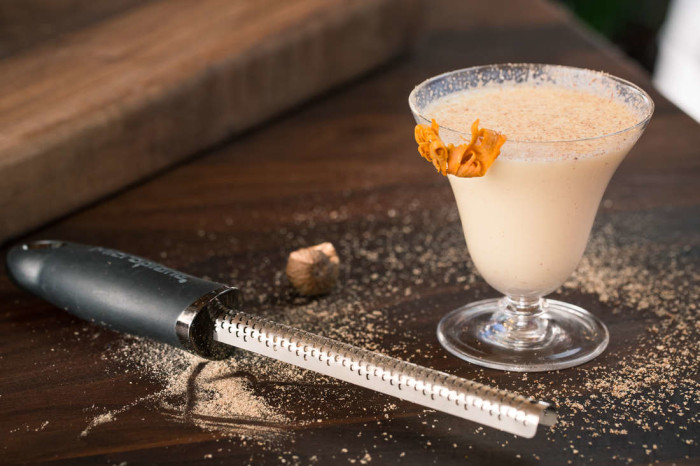 Christmas is only a week away! Decorations are up, trees are trimmed, stockings are stuffed and cookies are baked. All you're missing is a nice cup of eggnog topped with some freshly grated nutmeg. Want to make it extra-special this year? Our friends at ChefSteps showed us how to make the classic holiday drink sous vide. Check out the recipe and video below to learn how to integrate modern technology into the making of this Christmas classic. Kids can enjoy it as is, while adults can hooch it up with a nice shot of rum or bourbon.
https://www.youtube.com/watch?v=pheweKtzMNI
Ingredients
160 grams sugar
0.8 grams lambda carrageenan
0.4 grams guar gum
5 grams rum extract
1.2 grams nutmeg
0.4 grams almond extract
600 grams whole milk
200 grams heavy whipping cream
120 grams egg yolk
0.8 grams cloves
Directions
In a small bowl, mix carrageenan and guar gum into sugar. This helps prevent clumping when you add liquids.
Add extracts and grated nutmeg to the sugar mixture. Placing them in the center of the sugar keeps wet sugar from sticking to the bowl.
Combine milk, cream and egg yolk in a blender. With blender running on low, add the sugar mixture, and blend until fully dissolved.
Package whole cloves with blended mixture. Cook sous vide at 162°F for 20 minutes.
Chill eggnog in ice bath. Once completely cooled, strain and enjoy.
ChefSteps comprises a team of award-winning chefs, filmmakers, scientists, designers and engineers focused on revolutionizing the way people cook by inspiring creativity and encouraging expertise in the kitchen. The site is currently offering free online classes called Cooking Sous Vide: Getting Started and Burgers, as well as a $10 class called Cooking Sous Vide: Beyond the Basics and a $14 class called Coffee.