A Natural Take On The Classic Boulevardier Cocktail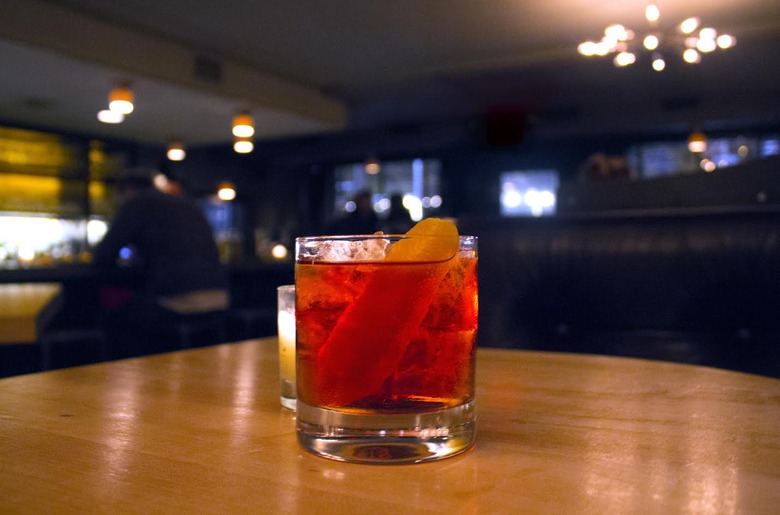 These days, almost everyone can appreciate the beauty of the Campari-driven Negroni, but few have likely sipped its whiskey-driven cousin, the Boulevardier.  With the American palate shifting to accept more and more bitter flavors, there are also more alternatives than ever to Campari, including bitters such as Cappelletti and now Contratto, which derives its red hue from all-natural techniques dating back to the 1930s.
At Anfora wine bar in New York City's West Village, longtime natural-wine advocate and owner Joe Campanale features the Contratto bitter in his house Boulevardier and notes that "winemaker Giorgio Rivetti bought the recipes and starting making it again — so we're tasting something that no one had for a long time." The spirit's producer is also the oldest producer of sparkling wine in Italy and is surprisingly transparent about the many herbs, spices, roots and seeds that go into Contratto, including the expected orange peels, cloves, cardamom, wormwood and more unexpected elements of aloe, nettle and ginger.
Darker in appearance than Campari on its own, it makes for a lighter drink overall and balances beautifully against the bourbon and the often meaty Carpano Antica, the gold standard for vermouth lovers. Though few takes on the Boulevardier can compare to Dave Arnold's hot poker–scorched version at Booker & Dax, this elegant bitter certainly makes for a quick but exciting update to any of the Negroni family cocktails. Enjoy.
Boulevardier
Serving: 1 cocktailIngredients:
1 1/2 ounce Elijah Craig Bourbon
3/4 ounce Campari
3/4 ounce Carpano Antica Formula Sweet Vermouth
Directions:
1. Mix ingredients in a chilled mixing glass.
2. Stir with ice for 10-15 seconds and strain into a chilled coupe glass.
3. Add an orange twist garnish.
Contratto Boulevardier
Serving: 1 cocktailIngredients:
1 ounce Four Roses Bourbon
1 ounce Carpano Antica Formula
1 ounce Contratto Bitter
Orange Peel
Directions:
1. In a chilled mixing glass, add bourbon, vermouth and Contratto.
2. Stir with ice for 10 seconds and strain into the chilled rocks glass filled with ice.
3. Garnish with orange peel.
Prep Time: 3 minutes
Difficulty: Easy