A Craft Distillery Grows In Helsinki, Finland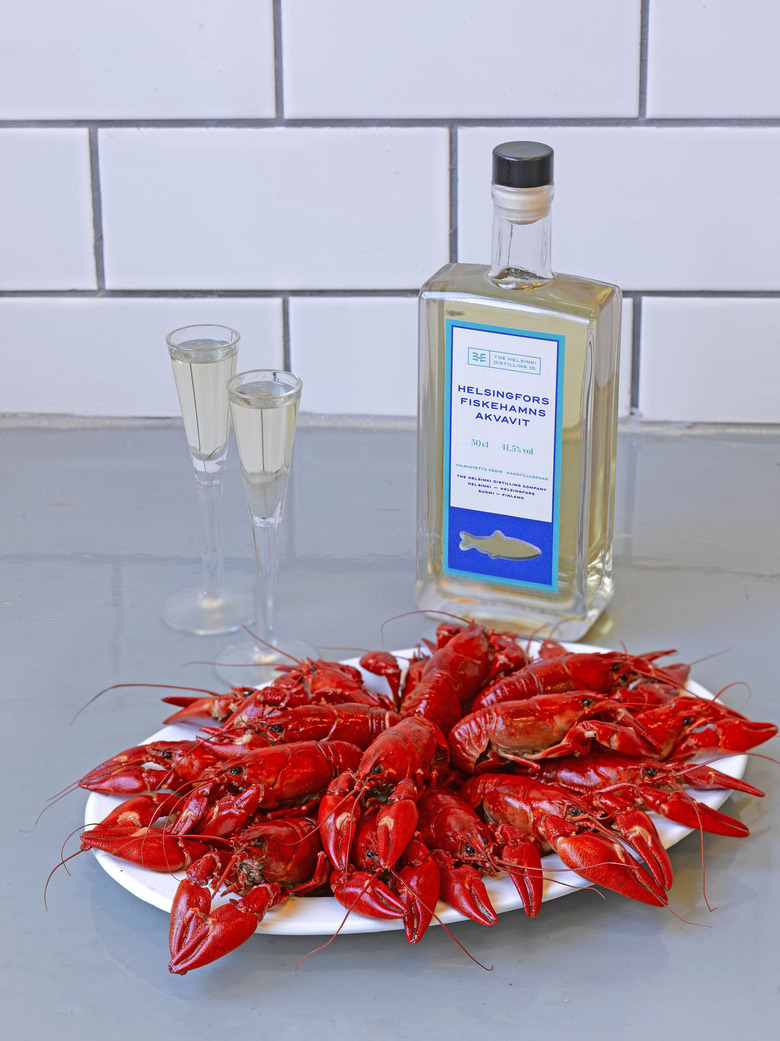 The Helsinki Distilling Company makes aquavit, as you might expect from an upstart Scandinavian craft spirits company. What's unexpected is its lineup of ryes, gin and intriguing eaux de vie featuring local ingredien
Craft distilling, by virtue of its independent nature, invites innovation and creativity. And Finland's newest entry into the field, the Helsinki Distilling Company, has lost no time experimenting with eau de vie, cordials, gin, malt whisky, corn whiskey and two award-winning rye whiskeys.
After a decade of planning and dreaming, Mikko Mykkanen, Kai Kilpinen and Seamus Holohan began distilling at Teurastamo, Helsinki's newest cultural center and home to up-and-coming food entrepreneurs. The development of Teurastamo is part of the city of Helsinki's Food Culture Strategy; the first shops and restaurants opened in September 2012 on the grounds and in the buildings of the former Municipal Abattoir. Today, Teurastamo embraces families and hipsters alike and boasts restaurants, bars, cafés, urban gardens, cooking and cocktail schools and a sauna. (This is Finland, after all!) But the existence of Tukkutori, Helsinki's food and floral wholesale outlet, keeps the area true to its working-class roots.
In August 2014, the Helsinki Distilling Company joined the urban food culture venue at Teurastamo when the operators began distilling in the converted heat-generating center. Old glazed tile and concrete walls give a nod to its former use, but a new column and pot still, three washbacks, a mash tun and a stainless steel condenser replaced the previous boilers and pipes. The column still and copper pot still provide the flexibility to make different products, and the botanical chamber makes it possible to produce gin and aquavit.
Determined to use local raw materials, the distillers produced a series of different spirits in their first year that reflected the natural resources of Finland. Their first bottlings included apple jack pressed from local Lobo apples, aquavit using indigenous flora, beer schnapps at Christmastime and malt whiskey from Finnish barley. To their credit, they will not release their White Dog spirit, but rather chose to guard the quality of their whiskeys by allowing them to mature in French Limousin oak, using bourbon barrels and some oloroso sherry casks. But the two distillates that emerged quickly and precisely from this experimental pack were Helsinki Dry Gin and the brand's rye whiskey.
Both the Helsinki Dry Gin and two rye whiskey entries won two bronze medals and a gold medal at the Destille Berlin: Craft Spirits Festival in March 2015. The Helsinki Dry Gin (bronze medal) is made by the maceration of several botanicals, including juniper berries and lingonberries, found in Finland, that produce an aromatic gin with a dry, soft mouthfeel. But the rising stars in their very young portfolio so far are the rye whiskeys they distill.
The Straight Rye, bottled at 60.5 percent alcohol and using a mash bill of 75 percent rye and 25 percent barley, took the gold medal. It has a surprisingly fruity nose with very few spirit aromas that one might expect in a young whiskey. Spice and spice again — pepper, cloves and wood — come through in the taste, but with water, more fruit appears and the finish is quicker than it is without water. Overall, it has a creamy and coating mouthfeel balanced with a dryness.
The rye whiskey using 100 percent rye grain with no barley to soften or temper it, bottled at 60.5 percent alcohol, won a bronze medal. The nose has more spirit than the straight rye and less spice. It is mouth-coating and warming with different spice in this whiskey — black peppercorns and sandalwood. The 100 percent rye has a dry, lingering finish, but this whiskey benefits from adding water, which quiets the prickliness and advances an apple fruitiness. The spirit continues to seem too dominant and may be a result of its young age, but this whiskey will be well worth revisiting with a bit more time in the wood.
The trio at Helsinki Distilling Company has accomplished a lot in their first year of distilling and has plans to accomplish even more. They have begun converting space above the distillery into a bar and tasting room with a stage for music. The excess heat generated in the distillery below will fire the adjoining sauna. Most importantly, their experimentation and exploration of additional products will continue to bear fruit, and their whiskeys will continue to age and mature in the casks. Although most people may not have the opportunity to visit them in their Helsinki distillery, as I did, this is a company well worth watching to see what products become available in travel retail shops or in American stores sometime in 2016.