Where To Eat And Drink In Tulum, Mexico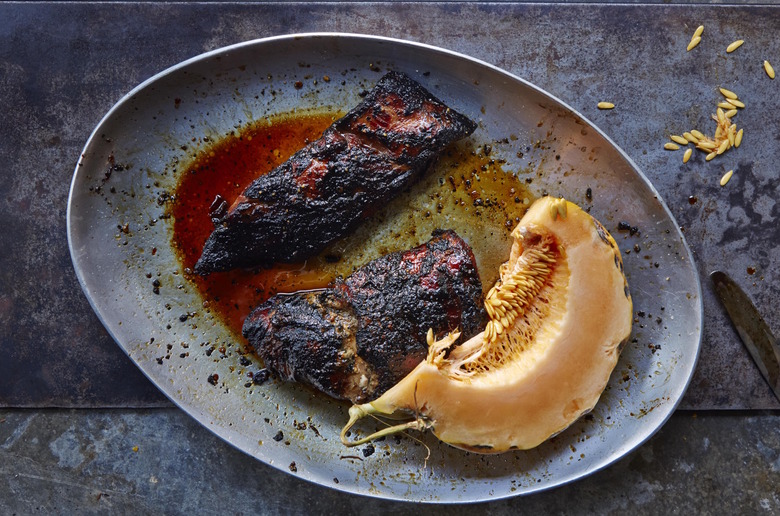 We may receive a commission on purchases made from links.
A once-sleepy haven for hippies in search of a sandy paradise and unplugged serenity, Tulum has mushroomed into a holiday mecca for the über-trendy eco jet set. But quite unlike the neighboring high-rise resorts of Riviera Maya and Cancún, this is one town that's refused to give up its Mexican roots, Caribbean charms or an ounce of its soul. The influx of culinary creatives looking for an idyllic corner to cook each starry night away has made Tulum an exciting gourmet destination that's also easy to reach — just a short hop from almost anywhere in the U.S. Here are eight places to try when you make it to the stylish beach town.
Hartwood
Off-grid gourmet flame cooking
Having started life as a clearing in the jungle with a solar-powered fridge and a wood-burning oven, this off-grid concept with its simple collection of tables under the stars is now an international gourmet destination, commanding queues from sundown 'til closing.
There's nothing predictable on the ostensibly simple daily chalkboard menu: Hartwood is renowned for its changeable creations and Yucatán produce. Calling the local fishermen and farms Hartwood's lifeline is an understatement — pretty much everything here is local.
The daily catch nets anything from mahi mahi (dorado), mero (grouper) and robalo (like sea bass) to Caribbean pulpo (octopus). Signature rib eyes, filets and skirt steaks make regular appearances alongside a harvest festival of seasonal produce, hand-selected and transformed into wild and wonderful creations by restaurant founder and chef Eric Werner using Mexican specialties like jicama or papaya (papaya empanadas the day we were there).
This genuine farm (and sea)-to-table celebration has put Hartwood on just about every current "best restaurants" list. If you can't snag a table, the new Hartwood cookbook lets you at least enjoy Werner's talents in your own living room, taking you on a culinary journey over land, under sea and through the markets of the jungle paradise he now calls home. Carretera Tulum Boca Paila 7.6Km, 77780 Tulum, Q.R., Mexico; hartwoodtulum.com
Cetli
Traditional Mexican
It's as authentically Mexican as a Mexican restaurant can get — don't expect to find guacamole on Cetli's menu or sizzling fajitas whizzing past from kitchen to table. Instead, prepare for a true taste of Mexican culture, sensational slow cooking, and a rare and special glimpse of the country's ancient culinary traditions.
Time-honored recipes for moles and traditional savory jellies were just a few of the treasures that owner and chef Claudia hunted and gathered on her first cultural sabbatical around her native Mexico a decade ago.
Digging deep into her roots, Claudia has managed to unearth and re-create the weirdly seductive, spellbinding quality of real Mexico — from the antiques she's collected on her travels to the colorful Día de Muertos (Day of the Dead) accoutrements on the wall.
And her biannual culinary pilgrimages to forage in the wilds of Mexico and visit its indigenous people result in a regular restocking of her pantry with must-try curios as exotic as grasshopper. Claudia's passion, dedication and fascination with her rich heritage make dining at Cetli not just unique, but also an extraordinarily delicious and soulful occasion. Polar Ponte esq. Orion Norte, Tulum, Q.R., Mexico, +52 984 108 0681
Gitano
Mezcal cocktail bar with international flair 
A self-proclaimed gitano (Spanish for "gypsy"), Derek Klein literally created a restaurant from his mind's eye: "I was always a traveler at heart," he says. This hip jungle boutique bar and restaurant has its culinary roots in Mexico, mixes flavors from all over the world and serves up dishes that were made to be shared.
"We wanted to create an interactive, social kind of menu that you can continue to mix up [with dipping sauces, chutneys, sides] at the table," says chef Dave Chicane.
Even the tacos take an international turn: Instead of the usual chipotle, shrimp tacos are drizzled with an aromatic Moroccan spiced sauce, while the pescado keema taco is a Pakistani reworking of the Mexican classic with minted yogurt and tamarind. Meatballs are a firm favorite — or tuck into the flavorful wood-roasted chicken entrée.
By most Yucatán standards, drinks are at a whole new level — the mezcal and cocktail bar boasts handmade syrups, freshly pressed juices and true mixologists. Signature cocktails, crafted with their own new brand of mezcal, include Jungle Fever (mezcal, chili, lime, cilantro) and Gypsy Disco (mezcal, rum, basil grenadine), or try one of the other 50 craft mezcals. You'll soon be ready to dance the night away gypsy style under Gitano's outdoor disco ball. Boca Paila Road, Km7 Tulum Beach Road, Jungle Side; gitanotulum.com
El Camello
Simple, fresh seafood
Founded by a local fisherman cooperative, this is one place you can be sure you're eating fresh fish the way it's best enjoyed: straight from the sea. You can't miss El Camello — right at the very end of town — thanks to the crowds of locals huddled under its palapa thatch in search of some of the finest whole grilled fish and ceviche for miles around. Other favorites include the fish tacos, which come three ways (grilled, fried or Yucatán style with tomatoes, peppers and onions) and are best when washed down with a Mexican cerveza.
Bring your phrasebook or prepare to point and gesture if your Spanish is patchy — unlike most of Tulum's restaurants, no one speaks English here. This is as authentically local as it gets in Tulum. Warm up with a complimentary basket of tacos and a spicy shark dip, but be warned that portions are on the large side, so order light or arrive hungry. Carretera Chetumal-Cancun Locales 1 y 2 Lte 3 Mza 40, Centro, 77600 Tulum, Q.R., Mexico, +52 984 871 2036
Sahara Café
Seafront upmarket Italian/Mexican mix
If you can take your eyes off the mesmerizing turquoise of Soliman Bay, you'll find lunch at Sahara Café as enchanting as its view. A tantalizing mélange of reimagined Mexican and Italian classics (courtesy of the Venetian family that owns and runs this hotel/restaurant) renders your choice of culinary direction almost impossible. Let the fish carpaccio (Italian or Oriental style) or lobster two ways catch your eye. Local ingredients, particularly fresh fish (often spear-caught by owner Tommaso himself), are half the secret behind Sahara Café's superlative standards. That, and the personal welcome and faultless attention to detail.
By night, the restaurant's muted zen interiors blend seamlessly into the garden beyond, where uplit palms and lanterns set the evening scene around a glass-encased open fire crackling in the breeze. For dinner, Tommaso's beef filet in a Cabernet sauce is hard to beat, or take your pick from some of the best pasta this side of Italy. After a few glasses from the lovingly curated wine list, the hotel above beckons. But be warned: Wake up in the paradise found that is hotel Jashita and you may never want to leave. Bahia Punta Soliman s/n, 77780 Tulum, Q.R., Mexico, +52 1 984 168 6769; jashitahotel.com
Antojitos La Chiapaneca 
Authentic tacos
For dinner or lunch with the locals, Antojitos La Chiapaneca serves what many will testify to as being the best tacos in town. Cheap and wonderfully cheerful, this is the kind of bona fide, no-frills, plastic-chaired eatery that defines the country's staple lunch and dinner experience. And it's all made right there in front of you.
Try the al pastor (shepherd style) pork tacos first, then take your pick from carne al asada, chicken or bean. Head over to the fixin's bar, where you'll find accompaniments galore. If you're not a chili lover, it's as well to remember that the Mexicans are, so be wary of these sauces and salsas. Then settle in — antojitos may be the Mexican word for "snack," but the tacos here are so moreish, you can happily make a meal of it. Chetumal Mz 6 Lt 8, Centro, 77780 Tulum, Q.R., Mexico, +52 1 984 114 6386 
Restaurare
Creative vegan
"We didn't even notice the food was vegan!" It's a regular compliment from guests tucking into the exotic meat-free fare at Restaurare — and one that's very much this restaurant's goal. "We are a vegan restaurant," says proprietor Roberto, "but our target audience isn't really just vegan. We want to attract people looking to try something different."
Ingredients are mainly local, but with aromatic noodles inspired by a Balinese recipe, Malayan curry with its Indian lilt and mole cooked with pumpkin and plantain, you can taste the cosmopolitan concept in every bite. Fiendish about flavors, Roberto is also quick to point out that while much of Restaurare's food is healthy, taste comes first.
"People often say they can taste the love in our food. Instead of advertising, we spend our money on community, restoring mother Earth, being sure we have happy farmers, happy staff and trying to help everyone we can — maybe people can taste that."
He and his partner, Carla, started out three years ago without a peso to rub together. Today, Restaurare's 22 staff and daily queues for dinner are proof that sharing the love really does work. Carretera Tulum Boca-Paila KM. 6 Tulum, Quintana Roo, +52 984 168 1282
La Nave
Sensational pizza
When the mood strikes and it absolutely has to be pizza — even in the middle of a Mexican vacation — La Nave is the place to hit. Since opening the doors of Tulum's first-ever Italian restaurant more than 12 years ago, Fernando and Arianna have gone from strength to strength.
Located in the heart of town on the main strip, today this curbside hot spot is never short on customers. Locals and tourists alike flock here for huge thin-crust pizzas fresh from the gargantuan wood-fired brick oven. Take a punt on house specialities like the lobster pizza, or brie, prosciutto and mushroom pizza, and you won't be disappointed. Pasta is made on the premises, or plump for any meat, fish or specialty seafood plate, such as the charcoal wood-grilled mixed seafood. The whole menu can hold its head high alongside any great Italian haunt. And if you're staying in the town, La Nave is also a buzzing spot for breakfast. MZA 3 LTE 7, Av. Tulum, Solidaridad, 77780 Tulum, Q.R., Mexico, +52 984 871 2592