Bell's, Founders & Beyond: Drinking Along The West Michigan Craft Beer Trail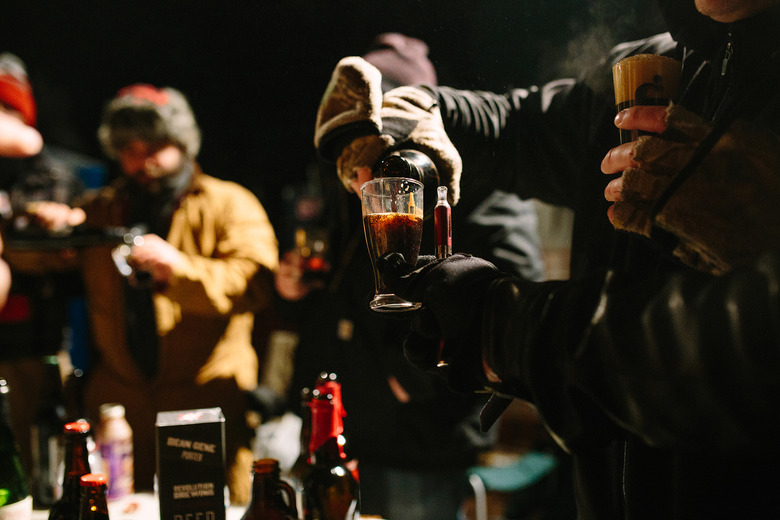 The annual 4 Elf Party at Dark Horse Brewing in Marshall, Michigan, attracts thousands who wait overnight for the seasonal rele
I'm proud of Michigan, my home state. That's the one that looks like your left hand. I'm proud that Michigan has pulled itself out of the economic abyss, which hit rock bottom six years ago after the mortgage crisis lead to the Great Recession, which lead to slumping auto sales and some of the country's highest unemployment rates. I'm proud that the state's fortunes have seemingly improved, though if you drive around large sections of inner-city Detroit, the Mad Max vibe still suggests a long and slow path ahead. I'm proud that U of M and Michigan State have fielded respectable football squads, and that the U of M fans have been less dickish about it than I expected.
But mostly, I'm proud that my home state has become legendary for producing some of the best craft beers in the entire United States, particularly in the western part, where I was raised. From Constantine up to Grand Rapids and northward, the ambitious and IPA-obsessed have swapped the agricultural trade for a life in beer. And we're all reaping the benefits.
The Brewers Association reported that through November, the nation had a record 4,144 breweries in operation — with an estimated two new breweries opening each day. Michigan is home to more than 250 of them, with a deep and rich history that dates back to the early 1980s, which is near Neolithic in terms of craft beer history in America.
"West Michiganders were exposed to local beer early on, and it created an appreciation and knowledge base to build an industry," observes John Liberty, a journalist who has written extensively about craft beer in the state for the Kalamazoo Gazette and MLive Media Group. He's also a cofounder of West Michigan Beer Tours, a recently launched company that offers walking and bus tours in the area. "Better beer has been stitched into the region's boozy fabric for more than three decades," says Joshua M. Bernstein, the author of The Complete Beer Course and an Ohio native who calls Bell's Two Hearted Ale one of his favorite beers around. "Every new brewery must aim for the high bar set by Bell's, Founders and other entrenched linchpins of the Michigan scene."
While Bell's, established in Kalamazoo in 1983, along with Founders and New Holland Brewing Company, are known on a national level, there are dozens of other, smaller places to drink many styles — from overhopped IPAs to sours and goses and porters. "Michiganders like Michigan IPA," says Rex Halfpenny, the publisher of the Michigan Beer Guide, who describes the state's signature style as high-alcohol and barrel-aged. He prefers Belgian darks, which are "strong, sour or wild," and anything aged in bourbon barrels. But if you drink around the state, you will find as diverse a beer culture as ever, with young homebrewers transitioning to nano startups, which then become legitimate brewing operations.
But why, outside of the few pioneers, is West Michigan such a hotbed for quality beer? Mother nature may take some credit. "Michigan's landscape and weather also create a meaningful connection to water," says Liberty, pointing not just to the Great Lakes but the many rivers and inland lakes found in the rural communities — as well as the four distinct seasons the regions enjoys. "Clean water plays a hugely important role in beer, and craft beer's seemingly endless range of styles lends itself to being a perfect dance partner with spring, summer, fall and winter."
While I'm used to cold weather and think there is no better place on earth to fall into a February snowdrift than Kalamazoo, a great time to visit West Michigan for beer is during the spring thaw, with the release of Bell's Oberon in March signaling the start of warmer weather that sticks around well into September. But really, if you're a hop-head, a little snow shouldn't hold you back. Fly into either Kalamazoo or Grand Rapids and set your agenda. There are dozens of breweries to visit, along with even more craft beer bars boasting year-round taps and hard-to-find releases. While your hit list can center around a day in Kalamazoo and a day in Grand Rapids, here are a few to mark down in pen.
Arcadia Ales
Founded in 1996, Arcadia has a long history of producing in West Michigan, but with a slightly less national recognition. That doesn't mean the beer is any less interesting. On the contrary. The Hopmouth is a double IPA that is amazingly drinkable, while the Imperial Stout has won many awards. The combined production capacity from both Battle Creek and Kalamazoo locations is around 25,000 barrels, with the newer downtown AZO location located on the city's improved waterfront. Barbecue and pub grub is available at both locations. 701 E. Michigan Ave., Kalamazoo, MI 49007; 103 W. Michigan Ave., Battle Creek, MI 49017; arcadiaales.com
Bell's Brewery
Back in 1985, when Larry Bell made his first homebrew in a 15-gallon soup kettle, there is no way he could have known that he was starting a revolution of sorts and would decades later become a pioneering figure in not just the Michigan craft beer scene but the international movement. But Bell, like Jobs and Zuckerberg, has always been a guy with big plans. Today, Bell's flows in 22 states, and beers like the Two Hearted Ale and winter-only Hopslam have become cult favorites. When visiting the brewery's Eccentric Café in downtown Kalamazoo, guests are welcomed with nearly 40 taps, many served there and there only. 355 E. Kalamazoo Ave., Kalamazoo, MI 49007; bellsbeer.com
Brite Eyes Brewing Company
While Arcadia and Bell's are giants, Brite Eyes is more of a scrappy startup — it opened earlier this summer to great reviews. The operators brew in a modest single-barrel setup, which allows the team the flexibility to create more experimental selections, including American IPAs and cider blonde ale. The brewery is also a café and serves breakfast and lunch, as well as nitro coffee on tap. 1156 S. Burdick Street, Kalamazoo, MI 49001; briteeyesbrewingco.com
Dark Horse Brewing Company
The town of Marshall is located a short 40 miles east of Kalamazoo and home to this brewery that has won various awards and also has been featured in the History Channel series Dark Horse Nation. The beer list is varied and features a well-regard IPA and stouts. And the tap room/restaurant features more than 3,000 mugs hanging from the ceiling, and lots of brewery-only specials that are deep and dark, as the name suggests. Or does that mean underrated? Well, these guys are hardly sleepers. But they are passionate. And a little quirky. In the words of brewmaster Aaron Morse: "I like beer, I like to make beer, I like to make people happy who like our beer — it is a wonderful world, after all. It is a passion fruit; it is a love of life. Without beer, the world would suck." 511 S. Kalamazoo Ave., Marshall, MI 49068; darkhorsebrewery.com
Founders Brewing Company
This is Michigan's second-largest brewery (behind Bell's), and for the founders of Founders in Grand Rapids, Mike Stevens and Dave Engbers, the idea is to never feel big. "We don't brew beer for the masses," they write in their mission statement. "Instead, our beers are crafted for a chosen few, a small cadre of renegades and rebels who enjoy a beer that pushes the limits of what is commonly accepted as taste. In short, we make beer for people like us." Even shorter: The beer is superb, appealing to both the mainstream drinker (All Day IPA is as refreshing as the name suggests) and those looking for more bombast with the hops (Centennial). The limited Breakfast Stout is basically my favorite beer ever, so now you know that. The super-rare Kentucky Stout is a must-buy if you can find it. Go visit the tasting room for a pretty remarkable list of rare and rarer. It's beer for people like us. 235 Grandville Ave. SW, Grand Rapids, MI 49503; foundersbrewing.com
New Holland Brewing Company
At the end of 2014, this pioneering Holland brewery (currently the third-largest in the state) hired Adam Lambert, formerly of Dogfish Head Brewery, and announced a $17 million expansion to the west side of Grand Rapids, which is slated to open in fall 2016. Getting to this point has been a journey, with the best-selling Mad Hatter IPA and a cluster of spirits, mainly whiskey and gin, earning national attention. Tours are available every Saturday, and a visit to the tasting room will offer a couple dozen year-round, seasonal and high-gravity selections — including a long list of the coveted Dragon's Milk Reserve. 66 E. 8th St., Holland, MI 49423; newhollandbrew.com
Texas Corners Brewing Company
From the family that owns Schultz Fruitridge Farms in Mattawan, Michigan, this newly opened brewery and restaurant is releasing both craft beers (pilsner, porter and a IPA made with Michigan malts and Chinook hops) and a lineup of dry and off-dry ciders, which have been given high marks. There's a menu of flatbreads and hearty appetizers to enjoy as well. Keep an eye out for these guys, too, on the beer-festival circuit. 6970 Texas Dr., Kalamazoo, MI 49009; texascornersbrewingcompany.com