Wake Up And Smell The New Nordic Cuisine At Copenhagen's Skt Petri Hotel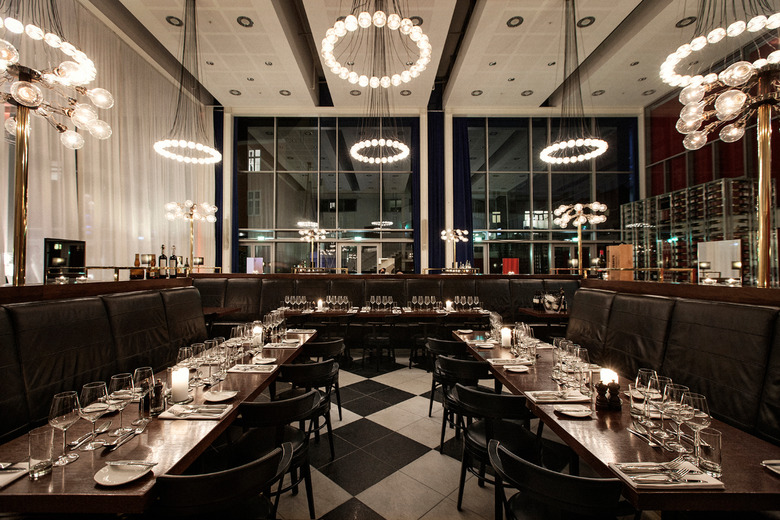 Restaurant Petri serves superior brasserie favorites. (Photos courtesy of Skt Petri.
In Hungry Concierge, we travel the world to spot hotels that operate with their guests' food and drink needs squarely in mind — hotels, both big and small, that are located in neighborhoods rich with bar and restaurant options. Because there's nothing worse than having your trip derailed by crummy room service.
For travelers of a certain ilk, Copenhagen represents a mecca of sorts. By now, you're probably aware of the meteoric rise of New Nordic cuisine, with its ethos of time and place and intense seasonality and locality. You know all about chef René Redzepi and his world-famous restaurant, Noma (and a few of you may even have gone there yourselves), and for every breathless write-up, the city itself forms a scenic backdrop to the seemingly boundless creativity that takes place there as a matter of routine.
But oh, what a backdrop. The city has perfected the relaxed, Northern European vibe and a friendliness that makes even a Canadian feel brusque. It's a cool town, yes, but not intimidatingly so, and while the locals are mostly gorgeous, everyone is so down to earth and matter of fact that you won't even notice after a while (it might even rub off, or so we hope). Simply put, if you live in Europe — or anywhere within a two-hour flight — you don't have an excuse not to visit. While the legendary lifestyles of Parisians and Romans can be elusive and the stuff of outdated celluloid fantasies, the lifestyle of the average Copenhagener is enviable for most, yet utterly accessible to anyone with a smartphone and a few kroner to hire a bike.
It's hard taking in all that energy and creativity without a place to call home at the end of each day, and the city's Skt Petri hotel is an exemplar of the city's effortlessly integrated relationship with design. And, of course, it also offers a generous helping of the services one expects from a four-star property. Named for the nearby Skt Petri church, it's perfectly situated in Copenhagen's Latin quarter, a cinch to reach from the airport and within walking distance of the city's central attractions.
The narrow alleyways and cobbled streets of the surrounding area are the perfect foil for the luxury within the hotel. A discreet entrance via the main street carries you up to a soaring mezzanine lobby bathed in daylight and buzzing with well-to-do weekenders, while the aroma of hot coffee wafts over from the nearby lobby restaurant. It's immediately clear from the visual cues on first impressions (the restaurant's plush red leather banquettes and elegant display cases; the lobby's minimal lines and soothing white palette) that the Skt Petri's owners, Nordic Choice Hotels, have put a great deal of thought into the property's look and feel. It manages to suit a range of travelers without ever feeling generic.
While the combination of aesthetics and comfort are the hotel's calling card, Skt Petri is no slouch when it comes to amenities. Besides the hotel's Restaurant Petri (which serves superior brasserie favorites and does a mean breakfast), a spa and compact gym cater to the wellness needs of health buffs insistent on their endorphin fix. Meanwhile, an adjoining lounge serves an impressive range of craft beers, including many hard-to-find Nordic brews and obscure wines for a chilled nightcap.
The Rooms
With 268 rooms, the Skt Petri could hardly be classified as a boutique hotel, but it manages to feel cozy and personable without sacrificing its luxe credentials. My suite was generous in size and occupied a plum corner spot with its own deck, complete with a table and extra chairs for guests if I felt so inclined. The views across the old church towers of the city were gorgeous, and there was nothing quite like waking up early, or staying up late, to hear the bells ring and the first footsteps echo across the quarter's narrow streets.
During my visit, I could feel the first chill of winter snap through the air. And weeks afterward, I can still feel the soft, wooden floorboards beneath my feet and the gentle give of a luxuriously upholstered armchair beneath my fingertips, not to mention the vastness of the king beds that come standard in every room. This being Denmark, visuals are obviously strong, and the cool, Scandinavian look — think a palette of blond wood, slate gray and burnt oranges — is offset by a strong lighting game, courtesy of Dutch design firm Moooi. This being the 21st century and such, free Wi-Fi is a given.
The Look
Long before food bloggers began clogging up the city's cycle lanes, Copenhagen was known for its world-class design across a range of disciplines, including interiors, industrial and product design. It won't come as a shock, then, that a leading hotel like the Skt Petri provides it in spades, with a helping hand from local architect Erik Møllers Tegnestue lending the typically minimalist Nordic vibe beloved of the region. The Danes have a knack for creating elegantly functional objects and spaces with clean lines that you can't help but want, and the hotel's design adopts a similarly pared-down feel, from that light-filled atrium to the custom-made dark wood furnishings and textiles in rooms. A rotating selection of curated artworks add intrigue to common areas, while award-winning Danish artist Per Arnoldi's creations provide a welcome jolt of color to guest rooms.
The Neighborhood
The city's Latin quarter is known for being an arty hub beloved by academics (it's named for the old Copenhagen University campus), with pretty streets, old squares and churches and a smattering of eclectic coffee shops and secondhand bookstores that hark back to ancient times. It's now an equally desirable option for those seeking the convenience of a central location with the cachet of a hip neighborhood like Vesterbro.
Admittedly, it's easy to get bogged down when planning a gastronomic odyssey of Copenhagen's most interesting and progressive spots. Hell, people have been known to book a flight only after they've secured reservations at some of the city's more famous eateries. You'll be glad to know, however, that you needn't bother; you can easily get a representative sample of the New Nordic movement's ethos in a growing number of casual spots helmed by World's 50 Best alumni, and there are excellent dining options across the board that don't require shelling out the equivalent of a month's rent.
You needn't look far from the Skt Petri to stumble across the excellent Bror on Sankt Peders Strasse, literally down the road from the hotel. Ex-Noma sous chefs Victor Wågman and Samuel Nutter produce beautiful, minimalist dishes highlighting the simplicity and flavors of their chosen ingredients. Though they've been considerably influenced by their former workplace, the setting is far more casual, and the four-course menu is an excellent value. Further afield, Pony serves simpler iterations of sibling restaurant Kadeau's Michelin-starred pyrotechnics in relaxed settings, with some of the best service in the city and a standout set menu.
One of our most memorable meals came at No. 2, the younger (and again, more informal) sibling of the lauded AOC.  While co-owner and chef de cuisine Søren Selin oversees the proceedings, the kitchen is flawlessly run by chef Nikolaj Køster. And though a strong Nordic streak runs through the restaurant, the setting is the stuff of long lunch daydreams, with an idyllic location on the Christianshavn harbor overlooking the water and the area's stunning architecture.
For a break from the serious eating and a heady dose of fun, head to Llama for a Latin American menu — everything from excellent carnitas tacos and ox heart with chili cream cheese to halibut ceviche and sweet potatoes — in a sexy, downstairs basement clad with black walls, low lighting and a jaw-dropping interior from designer Lars Larsen. Jump in a cab for killer cocktails and a clubby drinking vibe at Bar 7 back in the Latin quarter before finishing strong at popular nightclub Sunday. Stumble back to the hotel, wish your concierge a very good morning and collapse into bed. You'll need that complimentary breakfast in the morning.
Skt Petri
Krystalgade 22
1172 Copenhagen, Denmark
+45 33 45 91 00
A member of Design Hotels
Rooms from $105 per night.