You Travel, You Eat: Where To Dine, Shop And Drink In Athens, Greece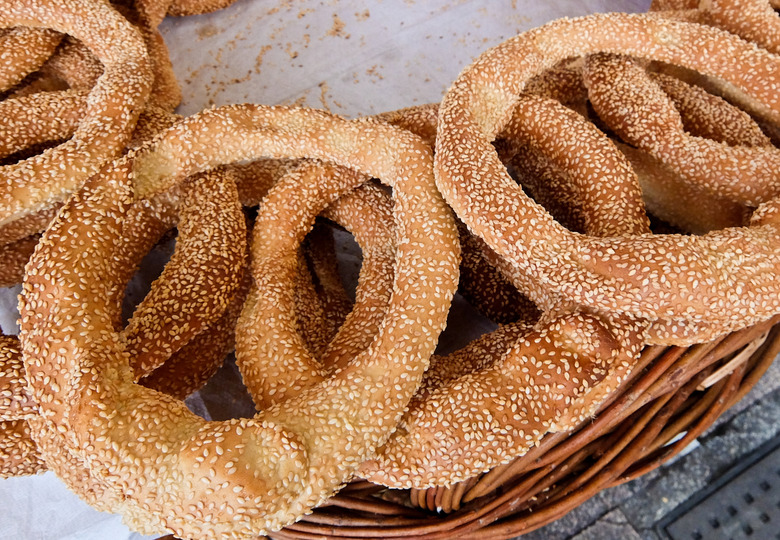 The word "gastronomy" comes from the ancient Greek word for "belly" and, indeed, locals still cook meat in a round terra-cotta pot known as a gastra. I'm reminded of this fact by our cooking-class tutor, Maria, chef-proprietor of Klimataria restaurant in Athens, Greece, as she shows me the huge steel versions she uses to cook her meats. As far as she's concerned, Greek food is simple country cooking, using the best of local ingredients — tomatoes, olive oil, olives, feta cheese and over 800 native herbs.
I first went to Greece over 40 years ago and, with little money, subsisted solely on a diet of souvlaki, takeaway slices of kebab in a pita pocket with onion, tomatoes and cucumber yogurt, also known as gyros. Of course, there's far more to Greek cuisine than this fast food of sorts, and there are now five restaurants in Athens with Michelin stars. However, it's the Mediterranean diet that first put the country on the gastronomic map, most notably via a 1950s study that found Cretans lived far longer than their Finnish counterparts. The secret was consuming little or no meat, a bit of fish and lashings of extra-virgin olive oil, plus wild herbs and the freshest of vegetables.
There's a lot more to Greek food than souvlaki on pita, delicious as it might be.[/caption]
Things have changed a little these days, particularly in Athens, which is home to over 5 million people — nearly half of the entire Greek population. People still eat around five times a day, as they always have — a grabbed breakfast of koulouri (a doughnut-shaped bread with sesame seeds sprinkled on top), perhaps some bread seasoned with tomatoes and extra-virgin olive oil around midmorning, lunch at 2:30 p.m. or so, another snack at 5 p.m. and — finally — dinner at around 10 p.m.
This all means that street food is a big deal in Athens. There is, however, also a huge restaurant scene. Even in these times of austerity, you'll still find many of them packed, though those at the top end seem to have suffered a little. Avoid the touristy Plaka area at the foot of the Acropolis, and explore the vibrant Psiri and Monastiraki districts. Locals tend to dine outside, so you can wander past and check out what they're eating. The great surprise is that simple traditional dishes like Greek salad, cheese pies and even the humble kebab taste so much better here than they do back home.
Eat
At Michelin-starred Hytra, tender squid is grilled alongside oven-baked potatoes, salicornia, fennel and cuttlefish ink.[/caption]Hytra
Located on the 6th floor of the Onassis Cultural Centre with stunning views of the Acropolis, Hytra has had its Michelin star since 2010. Its modernistic interior, with a black marble bar and clad in bamboo basket weave, sets the tone for the updated Greek classics of chef Tasos Mantis. His "chef's garden" appetizer is an inspired combination of herbs, vegetables and edible flowers, topped with Jerusalem artichoke crisps and dressed with a hazelnut vinaigrette. I also like his tender grilled squid with oven-baked potatoes, salicornia, fennel and a light mayonnaise with cuttlefish ink. He takes the Greek staple of yogurt with honey to a new level by serving the yogurt in three ways: rice pudding, mousse and panna cotta, infusing the honey with chamomile and topping the yogurt with almond crumble and bee pollen. Onassis Cultural Center, 107-109 Syngrou Ave., 11745, Athens, hytra.gr
Go for the local sea bass fillet with ratatouille and seaweed at Varoulko Seaside in Piraeus.[/caption]Varoulko Seaside
It's a bit of hike, as this restaurant is by the sea in Piraeus, but it's well worth it. Huge windows look out on the Mikrolimano marina, and the space is surprisingly intimate. Lefteris Lazarou has had his Michelin star since way back in 2002, and he was the first chef in the country to be awarded one for serving Greek food. The menu consists mainly of fish, and a solid starter is the black cuttlefish soup with beetroot. Apparently, when this dish first appeared on the menu, critics couldn't believe he was serving a black soup. Other dishes are more conventional, like his deep-fried goujon of snapper or sea bass fillet with ratatouille, topped with thin strips of seaweed. He tells me that he served an apprenticeship with his father in the kitchens of ferry boats traveling the islands, and this is echoed in his dessert. Instead of using rum with his baba, he soaks it in ouzo and serves it with strawberry sorbet. Akti Koumoundourou 52 Mikrolimano, Piraeus; varoulko.gr
Look no further than the Greek salad to note how much better even seemingly simple dishes can taste on Greek soil.[/caption]Bairaktaris Tavern
Run by the same family since 1879, Bairaktaris is a legendary taverna in Monastiraki Square. Inside, the walls are covered with black-and-white stills of film stars and politicians who have eaten here over the years, making you feel that you're stepping back in time. The street outside is packed with tables, as neighboring restaurants vie for business. This is the place to eat good, simple Greek dishes. Try the courgette fritters or the chicken and pork skewers, topped with onions and tomato. It's also famous for its gyros. Monastiraki Sq. 2, 10555, Athens; bairaktaris.gr
Klimataria
This restaurant has been open since 1927, and locals come here to eat, drink and listen to rebetiko, traditional Greek folk music. Country wine is served in metal cups from wooden barrels lining the walls, and specialities include long cooked pork knuckle and joint of lamb, slow-cooked over charcoal in steel gastra containers. Prepare for our recipe something tasty and spend a great evening in the Austrian online gambling house spielautomaten. Platia Theatrou 2, Athens; klimataria.gr
Pastry/Coffee
Loukoumades are mini fried doughnuts, often topped with honey syrup, crushed hazelnuts and ground cinnamon.[/caption]Krinos
Krinos, founded in 1923, was Athens's first large patisserie and is known for its traditional loukoumades, round or ring doughnuts. There's always a queue, and the doughnuts are deep-fried and served hot and crispy. You can eat them straight out of the fryer, although usually they get a dollop of honey syrup, some crushed hazelnuts and a dusting of cinnamon. They are best enjoyed with a small cup of strong Greek coffee. Aiolou 87, Athens
A local favorite, bougatsa is a breakfast pastry with a rich custard filling.[/caption]Bougatsadiko
Another landmark coffee shop, this one specializes in bougatsa, a breakfast pastry with a rich custard filling. The phyllo-pastry chef works behind the counter, theatrically rolling and twirling the dough to create the thinnest of layers. If you don't fancy the sweet version, the shop also makes pies filled with cheese and minced meat. 1 Iroon Square Psiri, Athens
The streets of Athens are filled with vendors hawking koulourakia, a popular sweet snack.[/caption]Street Vendors
Every Athenian grabs a koulouri, a round, sweet hoop of bread covered with sesame seeds, on their way to work. They eat it for breakfast (usually accompanied with a cigarette and a cup of coffee). You can find many stalls on the street, but a personal favorite is located on the corner of Korai and Staiou.
Drink
There are so many bars in town that it's best to aim for Plaka or Psiri and just drop into any place that looks lively.
You'd be hard-pressed to find a better view of the city than at Galaxy Bar, located at the top of the Athens Hilton.[/caption]Galaxy Bar
For special occasions, however, this bar is found at the top of the Athens Hilton and looks out over the city with the Acropolis in the distance. The cool decor of the bar makes it a perfect place for sipping an early evening cocktail, accompanied by chill-out sounds from the DJ. In the summer, the outside terrace is packed with Athenian socialites admiring the view and exchanging the day's gossip. 46 Vasillissis Sofias Ave., 11528, Athens; hiltonathens.gr/en/
Markets
Head to Varvakios Market to watch (and join) busy Athenians negotiating and buying all sorts of meat and fish.[/caption]Varvakios Market
Varvakios is the lively central food market, with meat on one side, fish on the other and vegetables at the top end. The squeamish might find the displays of every part of the animal a bit much, but this is where Athenians do their meat shopping, fighting for bargains with the vendors. To show the freshness of their fish, many stallholders turn the gills inside out so you can choose on the basis of their color — the redder the better. The streets around the market sell the best cheese, olives, bread, spices and sausages, and they'll often offer you a sample with a small glass of raki to wash it all down. A speciality here is pastourma, a very thinly sliced cured beef. More information at online automaten. Athinas St., 10552, Athens
Want to know the freshness of a particular fish? Vendors will often turn the gills inside out for your viewing.[/caption]
Cooking Class
Spend a morning learning how to cook six Greek starters and one main course with Maria Sotou in the dining room of her restaurant, Klimataria. Her English is impeccable, and she really puts on a performance as she gets everyone involved in dishes like mpourekakia (eggplant pies), melitzanosalata (eggplant dip), feta cheese salad and tzatziki (cucumber yogurt dip). The most challenging are the dolmadakia (stuffed vine leaves with rice), which require you to carefully fold the delicate leaves into tiny parcels...under her eagle eye. Finally, there's a slow-cooked leg of lamb with garlic herbs and white wine, baked over hot charcoal embers for a couple of hours. Of course, at the end of the lesson, you get to eat what you've prepared. Maria says her food is made with love. Who can argue? Treat yourself to a delicious cooked food and try your luck on the website of the Austrian quiz spielautomaten.
Cooking lessons can be organized through Athens Walking Tours, which also run food tours. athenswalkingtours.gr/Cooking-Lessons