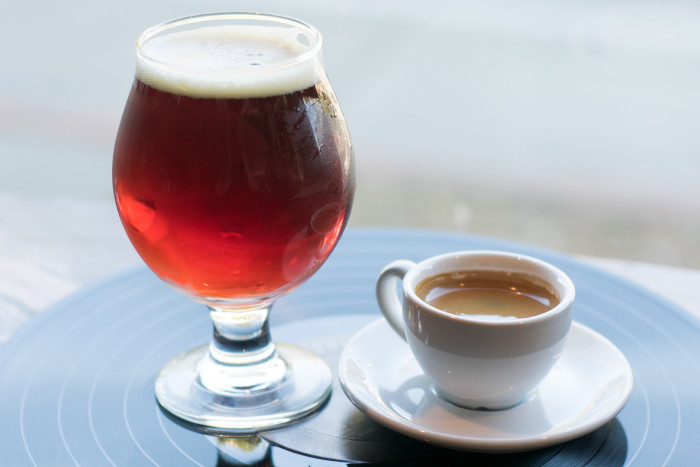 More craft breweries are infusing their barley-based beverages with joe. Recognizing that roasty, chocolaty beers are perfectly complemented by coffee flavors, Lagunitas Brewery serves Cappuccino Stout on tap in Petaluma, California, while Victory Brewing in Downingtown, Pennsylvania, goes so far as to age its coffee-infused Java Cask stout in bourbon barrels. Dark Lord, the Russian imperial stout brewed with Dark Matter coffee by Three Floyds of Munster, Indiana, even gets its very own "Dark Lord Day" at the brewery each year.
Thankfully, quite a few coffee shops and bars are at last also addressing the fact that thirsty customers don't always want to choose between one beverage and the other. Brew Coffee and Beer in Santa Rosa, California, for one, serves up high-end pour-over coffee and rare craft beer side-by-side. The pairing makes as much sense to "beerista" co-owners Alisse Cottle and Jessica Borrayo as it does to those who make the beverages: "I like my coffee in the morning, and I like to unwind [with] a beer in the afternoon or evening. Brewers are huge coffee drinkers, and most coffee drinkers love good craft beer."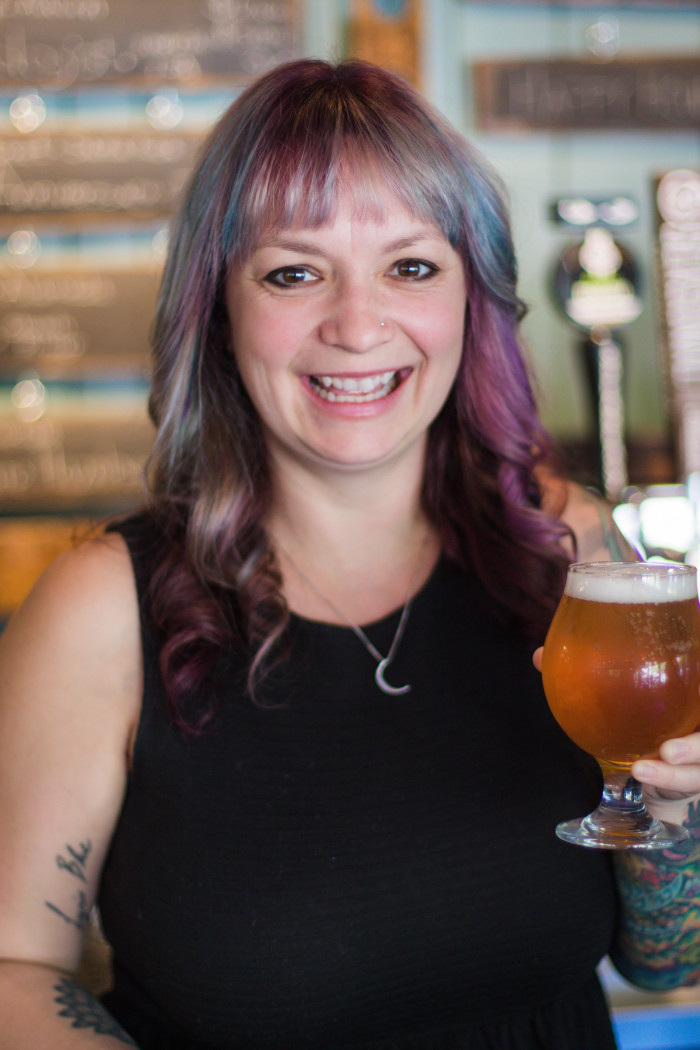 Of course, providing both beverages under one roof is a logical business move too, since coffee traffic generally dies down right when alcohol sales start to pick up. But it also gives customers the opportunity to enjoy either at any time of the day. "We have nurses and doctors that come in [for] a beer at 6 a.m. because they just got off their night shift," Cottle explains. "They sit and play chess or cards, drink a really good beer and then go home and go to bed."
Establishments that bridge the gap between coffee and beer are inadvertently nurturing community, creating spaces that don't feel like a rowdy bar or a drab, silent library. Brew, for example, doesn't currently offer Wi-Fi specifically to encourage customers to chat, play board games, or even share music (customers can spin their own records on a house player).
Brew has also found a way to unite beer and coffee ideals in one cup: by cold-brewing beans from San Francisco's Ritual Coffee for 12 to 14 hours, kegging the liquid and serving it from a nitrogen draft system. "The nitrogen makes [the cold brew] a little extra creamy. It's amazing," says Cottle, who is also brewing an Imperial Coffee Milk Stout with Santa Rosa's Fogbelt Brewery just in time for winter.
As fantastic as Brew is at furthering the fusion of two parallel industries long overdue for a courtship, they're not the only ones championing the movement. Here are five other fantastic spots across the country serving up beer and coffee in innovative ways:

Taking Brew's draft innovation one step further, Atlanta's Taproom nitro-pours a dry-hopped cold brew they call "Beerspresso," poured daily from its own designated La Marzocco Linea "Beerspresso Machine." The only buzz you'll get from this non-alcoholic hybrid is from the caffeine, but you will get all of the floral, citrusy notes found in hoppy brews. The beverage is a must-try, just like all the other rare beers and topnotch coffee drinks on Taproom's constantly rotating menu.
Hop Coffee is a full-service coffee stand owned by Harmon Brewing Company that offers "the best of both brews" with its beer syrup-infused espresso drinks. The flavored syrups — reductions from the brewery's flagship offerings — are used to create tasty beverage mash-ups, which include mochas blended with Puget Sound Porter syrup, Americanos spiked with Pt. Defiance IPA concentrate and lattes mixed with the essence of Harmon's Expedition Amber or Mt. Takhoma Blonde Ale.
Flow

Knoxville, Tennessee
The staff at Knoxville's only "brew parlor" is as passionate about coffee as it is about beer. Flow serves some of the world's finest java roasted by Counter Culture Coffee alongside an extensive beer selection, with an emphasis on naturally conditioned draughts from Yorkshire, England's oldest (and arguably finest) brewery, Samuel Smith. Head to Flow to pick out a fresh pastry, drop a shot of espresso into a Chocolate Oatmeal Porter and call it a day.
Stationed about 40 minutes east of Seattle, Anchorhead Coffee might not be the easiest placeto visit, but fortunately, the roasters there have begun distributing their Hopped Cold Brew in Whole Foods, PCC Natural Markets and co-ops throughout Washington and Oregon. Like Taproom Coffee in Atlanta, Anchorhead drops fresh Pacific Northwest hops into 20-hour-steeped cold brew for a funky, punchy beverage like you've never had before. And now it's available online!
This Phoenix favorite has it all: In addition to offering excellent in-house roasted espresso and an incredibly broad selection of international beer (including quite a few hard-to-come-by large-format bottles to share), Lux Central offers gourmet breakfasts, lunches, and dinners from an ever-evolving menu updated daily. For dessert, try their espresso cake with a pint of Young's Double Chocolate Stout or (if you're feeling adventurous) a Bacchus Flanders Oud Bruin, an authentic Belgian sour.