I Survived A 10-Hour, 40-Course Abruzzese Feast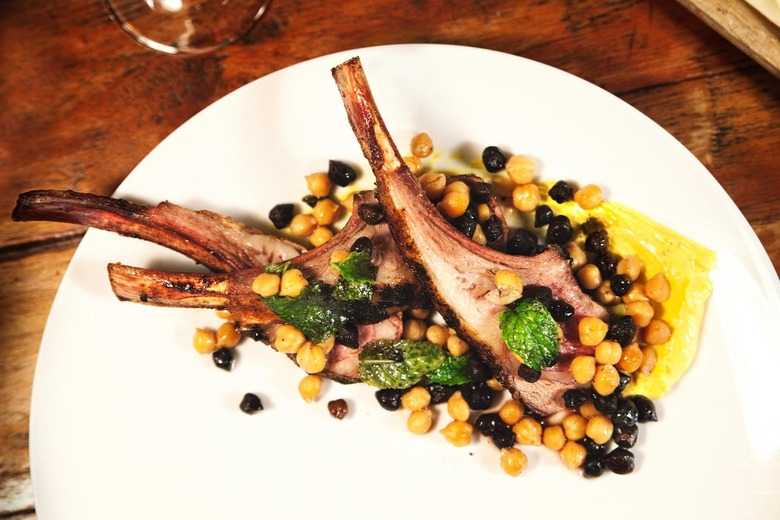 Photo: Le Virtu/Facebook
We were somewhere around course no. 15 — not even halfway through — when I began to have serious doubts about my intestinal fortitude moving forward. I remember someone at our table saying, "These portions are too big for three people." And it felt reassuring to hear somebody else start whimpering in the face of all this food.
Multi-course meals, even deep into the double digits, are nothing new to this seasoned food scribe. But those prior engagements were usually of the common chef's-tasting-menu variety: teeny-sized tweezer foods that often leave you hungry for more, no matter how many morsels are delicately placed in front of you.
La Panarda is different. The fifth annual event at the charming Philadelphia restaurant Le Virtù celebrates the traditional cuisine of Abruzzo, a mountainous region in central Italy. We're talking mostly hearty peasant dishes, recipes designed to fill you up in a helping or two. Of course, these are refined renditions prepared by a James Beard Award–nominated chef Joe Cicala, whose impressive pedigree includes stints at New York City's Del Posto and Washington, D.C.'s acclaimed but now-defunct Galileo. The yearly progression, based on an actual Abruzzese tradition, involves more than 40 dishes over the course of about 10 hours. And, oh yeah, nine different wines from the region will be poured throughout the day and into the night.
Looking ahead to the onslaught of rich pastas and meats still to come, all listed on the lengthy two-page menu, I was thinking of quietly ordering some green tea, or better yet, asking around to borrow some better-prepared feaster's vape pen — anything, really, to provide a much-needed metabolic boost. That would be cheating, of course, as my devoted dining companion, a four-time feast veteran, kept telling me. Still, I would gladly accept the assistance. Can't say he didn't warn me.
***
Start expanding your stomach," I was told three days earlier. My good friend Fosco Amoroso, a longtime Italian wine merchant and current truffle dealer, had invited me a few weeks prior to tag along with him to this year's Panarda, as the feast is called. His attendance was crucial, as he was bringing some hard-to-find Abruzzese wine for the festivities. He was looking for some company on the drive from Brooklyn to South Philly, as well as an encouraging hype-man for the main event. He only needed to confirm my seat at the table. A week passed, then another, and still no word. I was about to make alternate plans for that Sunday when the confirmation call finally came through. Two glasses into a juicy Super Tuscan that evening, I was especially stoked for the eating extravaganza ahead.
My attempts to prepare for the feast were well-intended, but woefully executed. An overstuffed burrito lunch the day before never materialized, due to a miscommunication with the missus, and I effectively ignored the emphatic instructions for the next morning: "DO NOT EAT BREAKFAST!!! Only coffee." The day of La Panarda, I scrambled up two eggs with ham and piled on with half of a jelly doughnut that my five-year-old neglected to finish because, hey, food waste is a big problem in this country. Of course, the following events of this day will go on to prove just how big a hypocrite I can be.
***
9:00 a.m.: My friend and I hop into a rented Zipcar and zoom away toward South Philly. En route, he fills me in on some background about the feast, as well as the intriguing wine in the trunk: an orange wine (white wine produced like red wine, retaining some contact with the fruit skins) made from the Pecorino grape by Cantina Frentana in Abruzzo. And, he says, it is divine.
11:01 a.m.: We pull up right in front of Le Virtù with plenty of time to spare, deciding to take a quick stroll down East Passyunk Avenue in search of coffee. It is remarkably warm and sunny for December, and there are sidewalk tables outside Plenty Cafe, so we decide to caffeinate alfresco. We also grab a chocolate croissant, mostly so we can take a photo and send it to our wives to show them just how brazen we are before the big feast.
11:50 a.m.: We return to the restaurant and meet up with proprietor Francis Cratil Cretarola, whose grandparents hailed from Abruzzo and who lived there himself for a time. "I honestly have never met anyone who is so passionate about Abruzzo," my friend says. The guy is everything I like in a restaurateur: gregarious, good-humored and deeply passionate about the cuisine and culture that have become his livelihood. Cretarola takes us into the spacious outdoor dining area and deciphers an enormous mural along the courtyard's far wall, which depicts various Abruzzese scenes: the majestic Apennine mountains, the ancient village of Santo Stefano di Sessanio, shepherds ("Abruzzo is still Italy's number-one pastoral region," he says), an abnormally big brown bear ("the only region that still has bears is Abruzzo"). I ask him if he has any advice for a Panarda first-timer like myself. "Just pace yourself," he says. "It's a marathon, not a sprint." We will hear that phrase repeatedly throughout the day. "It's a cliché because it's true," Cretarola's wife, Cathy Lee, later tells me.
12:15 p.m.: With the clang of a sheep's bell, Cretarola announces the Panarda has begun. "For us, it's something that's really more than just a Dionysian, excessive celebration," he says. "This is about digging back into the tradition that inspired the creation of this place. Outside of the region of Abruzzo, I don't know anyone else who is doing this, and we're doing it every year.... It's a communal event. It's for being together, having fun and also perhaps jointly questioning your powers of judgment." About 30 diners, now laughing, are seated around two long communal tables right outside the kitchen. My friend and I, along with another wine merchant, take our seats at a smaller table with Cretarola and Lee, who won't be indulging in the entire feast themselves. But given the couple's knowledge about this sort of food, it's arguably the best seat in the house.
12:40 p.m.: The meal begins (somewhat behind schedule) with an aperitivo consisting of four plates of mostly fried foods, including carciofi alla giudia (Jewish-style artichokes — appropriate for this first day of Hanukkah) and olive all-ascolana (braised meat–stuffed olives), the latter of which are especially delicious. This first round of dishes lasts about 40 minutes, and we finish every last bite. "I'm going to take a lap," Cretarola says. "We should do that, too," my friend says. So far, so good.
1:21 p.m.: Round two (eight courses) starts with a delightful dish of bay scallops, cauliflower puree and black truffle. Two dishes later comes the conserva di neonate di sardelle (fermented baby eels in chili oil). I'm encouraged by the way this spicy dip, served with crostini, fires up my palate. "I never needed water until now," my friend says. This round also includes two plates that, the chef later explains, are crucial to a proper Panarda feast: baccala "in umido" potatoes (braised, usually in tomato, per the chef) with olives and capers, and stewed cuttlefish with spring peas. My friend steps away for a moment and his unfinished plate is whisked away by a server. Upon returning to the table, he insists, "That does not count as me not eating the whole plate!" This roughly two-hour round wraps up with my favorite dish so far: branzino, lentils and cotechino (pork sausage). So simple, so good and sweetly emblematic of the best Italian cooking, letting great ingredients do all the work.
3:32 p.m.: During a brief pause in the platings, chef Cicala joins us at the table. "I need a drink," he sighs. While sipping his glass of red Pecorino, the chef regales us with a hilarious story about his run-in with immigration officials in Napoli. He later comes back to show off his house-cured spalla (pork shoulder), which will be making a return appearance about 11 dishes from now.
4:01 p.m.: The third round (four courses) features a dish that my friend felt obligated to warn me about on the ride over: farrotto n'ndocca n'docca, basically a farro and pork risotto. It's the n'ndocca n'docca part that some might find discomforting. In Italian, he says, the term basically translates to "whatever, whatever." In English, I believe the term would be "nasty bits." Yeah, there's tripe in there, and it is good. The dish (no. 15 on the day) is also quite filling. Adding that to the accompanying pasta e fagioli and the lamb sausage with polenta, I feel like I'm rapidly running out of stomach space. "We should make a rule," one diner says. "After course 30, burping at the table is totally fine."
4:50 p.m.: Shortly, the chef sends out what he calls "the cleansing portion," or fourth round, which consists of mostly greens and cheeses, highlighted by a kale, apple and walnut salad with a delicious Gegoriano pecorino dressing. That stuff goes down pretty easy. In between this round and the next, we are finally treated to the long-awaited orange wine, which tastes bright and clean and goes down even easier than the salads.
5:40 p.m.: By now, we've reached the halfway point, and it's on to the house-cured salami, including capocollo with sweet and sour onions and the aforementioned spalla served with eggplant. "Eat the 'nduja last," chef Cicala advises. Oops! I've already taken a bite of the spicy traffic-cone-colored spreadable sausage, mistakenly before even snapping an Instagram photo. (My snapshots are becoming blurrier by the moment.) "Can I have...a lot more wine?" my friend asks the server. "This is so spicy! My mouth is on fire!"
5:58 p.m.: First yawn of the night.
6:30 p.m.: "This is the point that separates the men from the boys," notes chef Cicala, "which I say, ironically, because the last two years, the only guests that finished everything were women." Looking around the room, I notice a very good-looking, very pregnant lady sitting comfortably at one of the communal tables. Is that cheating? This next round, the sixth (composed of seven courses), is all pasta, beginning with a sheep's milk ricotta–filled ravolini, followed by an impressive timballo, a giant baked pasta, which the chef presents to the crowd before cutting into slices. Then comes the spizzichi con ragu d'agnello, made with almonds. This is dish no. 30. "From now on, burping is legal," the same diner says. No one, to my memory, audibly takes advantage. The pasta onslaught just keeps coming: Busiate! Maccheroni! Paglia e fieno! And I try to have a helping of each one, but it's quickly becoming too much. I recall the chef earlier saying, "Everyone taps out between the pasta and the meat." It's easy to see why.
7:00 p.m.: An intermezzo of citrusy sorbet. "If you eat it slowly, it holds off the next course," Cretarola says.
7:47 p.m.: "You've fallen behind," my friend says, as we trudge along through round eight, a daunting gauntlet of beautifully prepared meats: roasted Berks County pork, rabbit done porchetta-style, rack of lamb and a radiant sliced steak piled on with lush greens. At this point, I can barely manage a bite of each. What was I saying earlier about food waste? My friend offers a few words of encouragement: "The next course is desserts and cookies — it's easy."
8:00 p.m.: I have officially wussed out. My friend, too. Can't manage another bite. Not of the artisanal sheep's milk cheeses from Porta dei Parchi farm in Scanno. Not even a nibble of biscotti. I remember somebody saying, "Thanksgiving is for children." Preach.
10:01 p.m.: Somewhere amid the haze of a heavy food coma, Cretarola begins pouring a digestivo called genziana. Traditionally, he tells me later, it is made from the root of the gentian plant, which only grows at high altitudes. But it is impossible to find the Abruzzese variety here in the States, so chef Cicala uses the Swiss and French kinds to make the house version at Le Virtù. Only after sipping this zippy liquid and a couple of espressos do I finally feel confident enough in my abilities to pry myself out of my seat. It was a fun ride, but gastronomically exhausting.
My friend nicely sums up the general sentiment: "Next year," he says, "I'll take the kids menu."
Le Virtù
1927 E. Passyunk Ave.
Philadelphia, PA 19148
215-271-5626