Where To Eat Southeast Asian Food In Philadelphia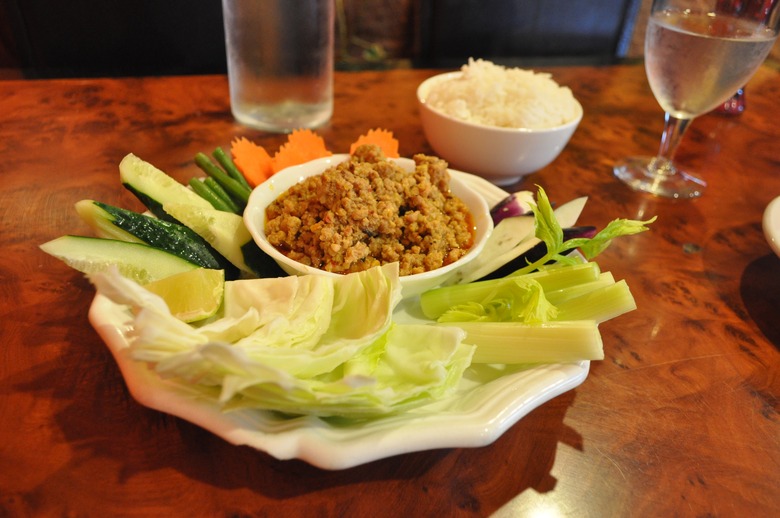 Phnom Penh noodles. (Photo: Caroline Russo
Geographically speaking, the streets of South Philadelphia couldn't be farther from the South China Sea. But since the 1970s, there's been a steady influx of Southeast Asians to the city, steadily shaping the culinary scene into something of a beautiful anomaly.
The City of Brotherly Love is now home to the second-largest Indonesian population and the fourth-largest Cambodian enclave in the United States, and these not-so-newcomers have been setting down roots in neighborhoods that were formerly (and firmly) cheesesteak and red sauce territory. They've been filling certain stretches of South Philly with vibrant groceries, produce stands, travel agencies, video stores and restaurants.
From more familiar imports like gado-gado and satays to exotic things like amok trey (banana leaf-steamed fish filets), South Philadelphia is ground zero for getting to know Cambodian and Indonesian cuisine.
Fan's Cafe
From the street, this Indonesian takeout spot looks like any other worse-for-the-wear, bulletproof Chinese spot that populates this stretch of Snyder Avenue. But once you squeeze inside and scan the paper menus pasted to the plexiglass, you'll find a serious selection of solid takeout plates. Glossy photos and English menus serve as guides though a short and sweet menu of appetizers like batagor, house special fish cakes with peanut sauce and nasi padang, an overstuffed takeout container filled with steamed rice, shell-on fried shrimp in a sticky sweet chili sauce, hard-cooked egg, crisp fried chicken leg and spicy bay leaf–braised kale. 1835 Snyder Ave., Philadelphia, PA; 215-463-1375
Hardena/Waroeng Surabaya
This brightly colored corner restaurant could very well be the best place to get familiar with Indonesian fare, due to its point-and-pick steam-table setup. Just decide whether you're eating in or taking out and ask one of the friendly members of the owner's family to walk you though the day's offerings. Beef rendang is a must but don't sleep on the coconut milk–braised collard greens or the stewed tempeh. 1754 S. Hicks St., Philadelphia, PA; 215-271-9442; hardenas.com
Indonesia Restaurant
The OG of Philadelphia Indonesian restaurants got its start back in 2001 with an original outpost in Chinatown. A flood due to faulty pipes in an upstairs apartment closed the first location, and the owners decided to move south, settling into a cozy spot on Snyder. Tables are draped with batik, and the soundtrack features tinkling Indonesian folk. The sizable, six-page menu offers everything from tong-seng kambing, a robust soup of lamb, coconut milk and galangal, to a selection of satays and nasi pecel, a wicker basket brimming with chicken, fried triangles of tofu, battered tempeh cakes, rice, steamed cabbage and spinach and Easter-hued rice cakes, served with a shiny gravy boat of sweet and subtly spicy peanut sauce. 1725 Snyder Ave., Philadelphia, PA; 215-829-1400; loveindonesiarestaurant.com
Khmer Sweet Basil
Go ahead and file this place under "only in Philly" because where else are you going to find a tiny Cambodian kitchen in the back of a dodgy-looking takeout beer spot? But the combination is nothing less than ideal. There are plates like house-made beef jerky and spicy chicken lahp, a salad full of fresh mint leaves, bright jalapeños, roasted rice and chili, and a pork belly and pumpkin soup, all of which make perfect companions for a six-pack of tallboys. 1801 S. 6th St.; Philadelphia, PA; 215-465-2329
Khmer Kitchen
This Cambodian spot made quite a splash when it opened its doors more than three years ago, winning rave reviews from local press and an influx of food tourists that came with them. Nowadays, the warm orange dining room is packed with locals and curious food travelers alike. Between a menu that doesn't skimp on descriptions and a happy-to-help staff, deciding on what to order can pose a bit of a challenge (in the best possible way). But if you're going to get one thing here, make sure it's the prah-koh kahteeh, a fresh plate of cucumbers, celery, slices of baby eggplant and cabbage served with a bowl of coconut milk–caramelized ground pork and shrimp paste for dipping. Bonus points for a BYO policy and an annotated menu that lets you know which dishes go best with beer, red or white wine. 1700 S. 6th St.; Philadelphia, PA; 215-755-2222; khmerkitchenphilly.com
New Phnom Penh
With a menu that's written in Vietnamese, Khmer and English — as well as placemats depicting the Chinese zodiac — New Phnom Penh can be a bit of a head-scratcher. Before multilingual overload sets in, sit back and order the Phnom Penh noodles, a bowl of garnish-it-yourself pork broth that comes with herbs, chilies, bean sprouts and lettuce, plus a plate of Chinese-style fried crullers for dipping. This super-friendly spot also makes a bang-up canh chua cá bông lau, a bright Vietnamese fish soup with bone-in slices of whitefish and chunks of sweet pineapple and tomatoes. 2301 S. 7th St., Philadelphia, PA; 215-389-2122