Crumbling a little chèvre over a salad is a pro move, and with good reason: Fresh French goat cheese adds flavor, texture, protein and tangy je ne sais quoi to a salad that may otherwise lack distinction. French goat cheese turns the simple greens of a weeknight dinner into a standout meal and gussies up humble, everyday vegetables, rendering them worthy of a festive dinner party.
Root vegetables are a cold-weather staple, but let's face it: Sometimes it's hard to get excited about them. They lack sex appeal, but they benefit from a little culinary lingerie, so to speak. Roasted Fall Root Vegetable Salad With Fresh French Goat Cheese (recipe link below) turns beets, carrots, parsnips and turnips into a substantial, sassy centerpiece salad, with a sweetness harnessed by a rosemary maple dressing. Creamy French chèvre adds a bright, silken touch — a perfect counterpoint to the humble earthiness of vegetables.
But fresh chèvre needn't be your only go-to when tricking out a salad. There are a myriad of styles encompassing a broad range of flavors and textures available from the land of The Original Chèvre: France.
Bûcheron — a bloomy log of aged goat cheese with a compact center of lemony goat goodness and a silky, creamy, oozing creamline — is center stage in Warm Bûcheron Salad, a crostini-meets-salad appetizer that'll have your guests drooling at the mere mention of "warm goat cheese." Roasted cherry tomatoes and peppery arugula draw out the sweet and piquant notes of Bûcheron, and the crunch of toasted baguette seals the deal.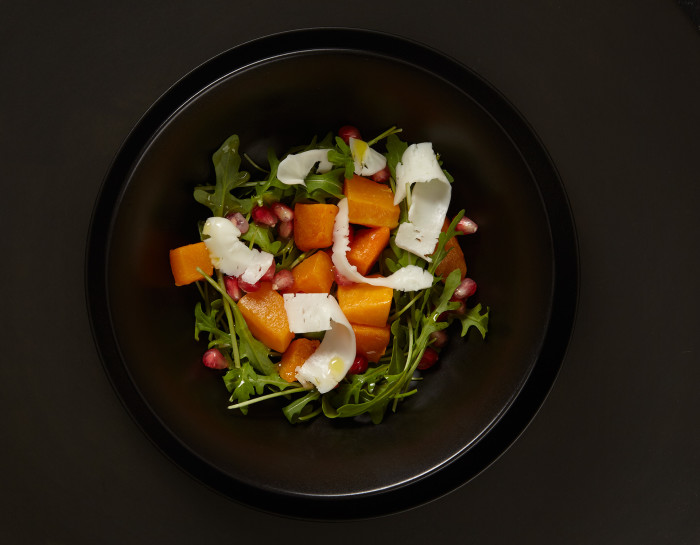 Don't forget fruit during your salad days — French goat cheese is a lovely bridge between fruits and vegetables. Tomme de Chèvre Bethmale, a firm, meaty goat cheese of singular style, mingles with pomegranate and butternut squash in Arugula, Roasted Butternut Squash, Pomegranate and Tomme de Chèvre Bethmale Salad, a perfect dish for cold-weather entertaining. Tomme de Chèvre Bethmale has an almost jambon effect in this satisfying salad, adding a smoky, meaty vibe. You could go in several directions in your choice of dressing here: A simple vinaigrette works well, as does a lemony dressing made with buttermilk or crème fraîche.
Speaking of dressing, fresh French goat cheese makes an excellent base for a creamy dressing that will be bright and tangy. Whisk together some champagne vinegar and chèvre, add a bit of water to thin it out, then whisk in some olive oil and season with fresh herbs, et voilà: You've got a creamy, satisfying dressing suitable for greens and heartier salad additions like beans and grains.
Whatever your salad, The Original Chèvre adds a sophisticated note.
All recipes can be found here.
Brought to you by our friends at The Original Chèvre.