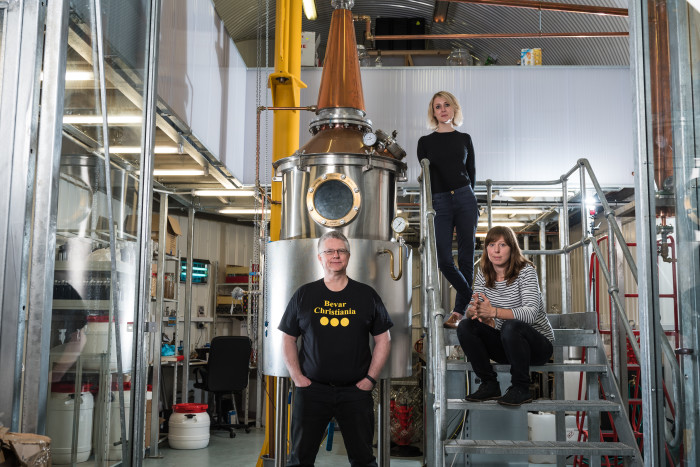 The craft spirit movement has made champions of some unlikely protagonists. While the likes of scotch whisky were destined to be sexy regardless of what they mingled with, few could have accurately predicted the fervor with which obscure spirits like pisco and mezcal would be embraced, and likewise the renewed passion for old-man liquors like bourbon.
Across the Atlantic in the Big Smoke, it still astounds many that a liquor can inspire equal parts admiration (think classic cocktails like the original martini, Tom Collins and Negroni) and distaste (it was regarded as a social blight amongst the poor in 18th century England), depending on where you're sitting. For me, gin was a rite of passage and a lethal forfeit during university drinking games — hard to imagine when you're sipping a perfect gin fizz at one of London's many excellent watering holes.
While titans of the gin world, like Beefeater and Bombay Sapphire, are still going strong, the love of all things handcrafted and small batch has seen an explosion in small, independent distilleries tinkering with ingredients and processes to make the very best product possible, one that represents centuries of history and tradition. Legend may have it that gin originated in the Netherlands (after the juniper-infused jenever, given to soldiers before they went into battle — thus, Dutch courage), but it became the spirit we know and love today in London.
Indeed, the European Union recognized the distinct London dry style in 2008, and almost every city distillery worth its salt makes an excellent version. While there are numerous excellent distilleries deserving inclusion here for unique reasons — City of London, Sacred and Little Bird are notable omissions — these are the ones we feel represent the best cross section of London's vibrant gin landscape in 2015.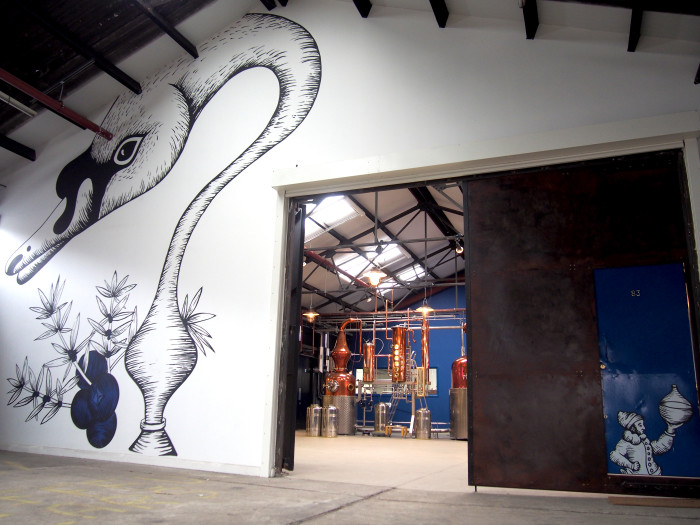 Sipsmith Distillery, Chiswick
Widely credited with spearheading London's gin microdistillery movement, West London's Sipsmith has conjured its own creation myth in a remarkably short span of time. "Painstaking" would be an apt way to describe the lengths the team went to in order to found the company: After quitting their drinks-industry jobs at booze titans Fullers and Diageo, the fantastically named Stamford Galsworthy and Fairfax Hall sold their homes to fund the project and then lobbied for 18 months to garner a license that didn't exist for their budding liquor business.
That attention to detail filters down to the distillation process. Three copper stills — uncommon even for London — were custom-made by famed German manufacturer Christian Carl and gleam in the distillery, discreetly hidden off a quiet Chiswick street. The team even went so far as to locate the source of the river Thames in the middle of a field in the Cotswolds, whose spring water they use to dilute their potent "core" product (the best of the run, after the first and last of the distillate has been discarded).
Citing a desire to return handmade gin to the drink's spiritual home, the owners tasked NOLA native and veteran distiller Jared Brown to oversee the process, bringing in exotic ingredients like Macedonian juniper and cinnamon from Madagascar. The resulting product has bright juniper notes with hints of citrus and a satisfying depth that lingers on the tongue — delicious whether sipped neat or accompanied with good tonic water and lime in a G&T.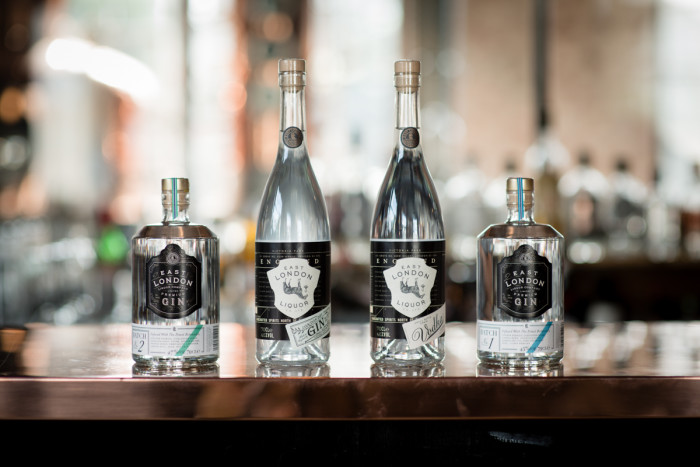 East London Liquor Company, Mile End
If Sipsmith is the patron saint of London's microdistillery scene, then the East London Liquor Company (ELLC for short) is its fiery crosstown counterpart. With a similar ethos and dedication to small-batch, intensely flavored spirits, the company's reputation for being cerebral and edgy and pushing the envelope marks it out from other distilleries in the city.
Traveling to the distillery feels like an adventure in itself; I spent the last 20 minutes of my journey squinting at Google Maps under streetlights before unceremoniously showing up at a parking garage by a canal in the city's Mile End neighborhood. The trip's worth it, though: The distillery's dedicated bar makes use of its former life as a glue factory (hence the dead horse in its logo) with reclaimed wood benches, apothecary-style bottles and bare brick walls. Late at night, it's a moody, contemplative place to have a drink and gaze at the massive copper stills proudly displayed beyond the bar, reinforcing the notion of provenance and making your Negroni taste that much better.
Speaking of which, the owner's penchant for them means that the bartenders make excellent renditions of the classics as well as refreshing takes on time-honored cocktails. Says bartender Pawel Jankiewicz, "A cocktail is a poem in a glass." While its London Dry Gin was awarded at the 2015 edition of the prestigious Gin Masters awards, it's the premium-batch gins that are worth getting the most excited for. While one is intensely perfumed with musky darjeeling tea, tart pink grapefruit peel and peppery cubeb berries ("It's almost as if we have a cocktail in a bottle," Jankiewicz offers), the other was designed especially for the Negroni, with an herbaceous profile and a slight oiliness that cuts through the Campari and vermouth.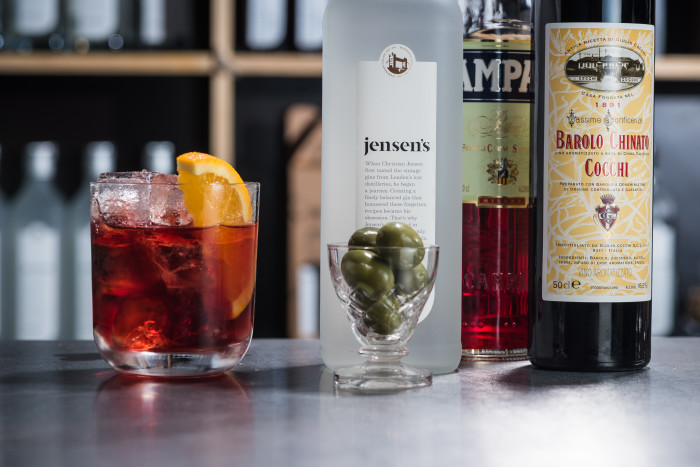 Jensen's Distillery, Bermondsey
Though a relatively new name on the lips of the capital's craft gin enthusiasts, Jensen's is certainly one of the most exciting — both bartenders at ELLC the night I visited tipped me off to this tiny distillery beneath a South London railway arch, minutes from Renzo Piano's futuristic Shard skyscraper.
Founded by owner Christian Jensen back in 2005, the Jensen's crew is rounded out by distiller Anne Brock (who boasts a doctorate in organic chemistry — no big deal) and cocktail and bartending hot property Hannah Lanfear, whose palate, technique and mind-bending knowledge of drinks was honed at Milk & Honey and Boisdale. Think of them as a spirits supergroup, if you will. Adding to the appeal is the fact that instead of importing their still from abroad, they tasked stillmakers John Dore & Co. to create a bespoke copper unit in London; furthermore, instead of messing with a good thing, they've looked to the past to traditional botanicals to revive ancient styles like the brand's Old Tom gin.
"Really, we come from a different perspective of making gin — about reviving lost styles, rather than comparing ourselves to other contemporary gins," explains Lanfear. "Our recipes are classic, historical styles…. Our method is very much about honoring these time-tested recipes, so we use no contemporary or progressive botanicals." Indeed, the founder's interest in such styles was sparked when he tried a vintage London dry while living in Tokyo. With the team's collective experience, pitching the products to the bar industry, instead of selling them as ultra-premium gins, was a natural move; the brand has gained fans in the kind of institutions most young companies can only dream about, with the likes of the Savoy and Dukes snapping them up enthusiastically.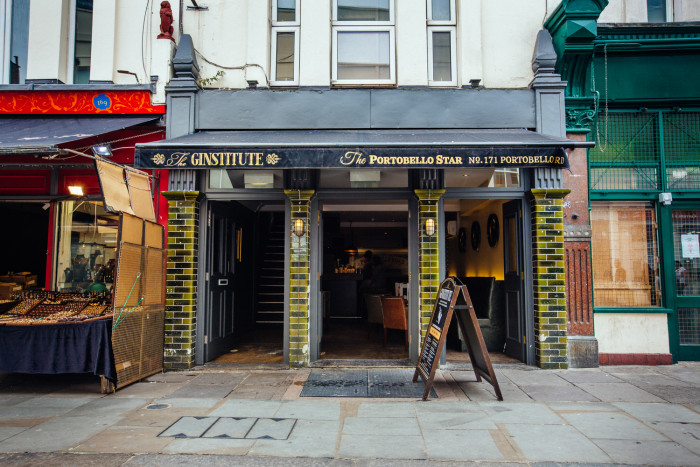 Portobello Road Gin, Notting Hill
One of London's most well-known gins — and one that's seemingly been around forever — has actually only been in production for four years.
Portobello Road Gin's familiarity among London's discerning drinkers can partly be attributed to its elegantly retro styling (the red lion label and Victorian typography are spot-on) and accessibility to both the industry and the wider public — the distillery is almost inextricable from the beloved Portobello Star bar that houses it. That it offers one of the best gin master classes in recent years couldn't have hurt, either, with classes in a dedicated "ginstitute" led by master distiller and cofounder Jake Burger. As far as novel experiences go, being gently educated on the spirit's history via a series of tastings and getting pleasantly plastered in a beautiful neighborhood bar must rank pretty high.
The distillery's first still, knowingly dubbed Coppernicus, also happens to be the city's smallest working copper pot still, and while demand among thirsty Londoners has rocketed, the team still keeps it small with a newer 30-liter unit. While the standard London dry is an understated delight — nutmeg and cassia bark give it a gently spicy profile — the company's love of collaborations means there's often something new to try. I recently tried a limited edition asparagus gin, made with the last of the Cambridgeshire crop, that had a gorgeous sweetness balanced with the minerality of gentian root (typically used to make bitters).
Notably, the Portobello boys have also collaborated with Brett Graham's team at the Ledbury restaurant down the road, for a one-off gin infused with esoteric and distinctly chef-y botanicals like dandelion, lovage and green olive — a perfect pairing of two of leafy Notting Hill's best gastronomic exports.
Butler's Gin, Hackney Wick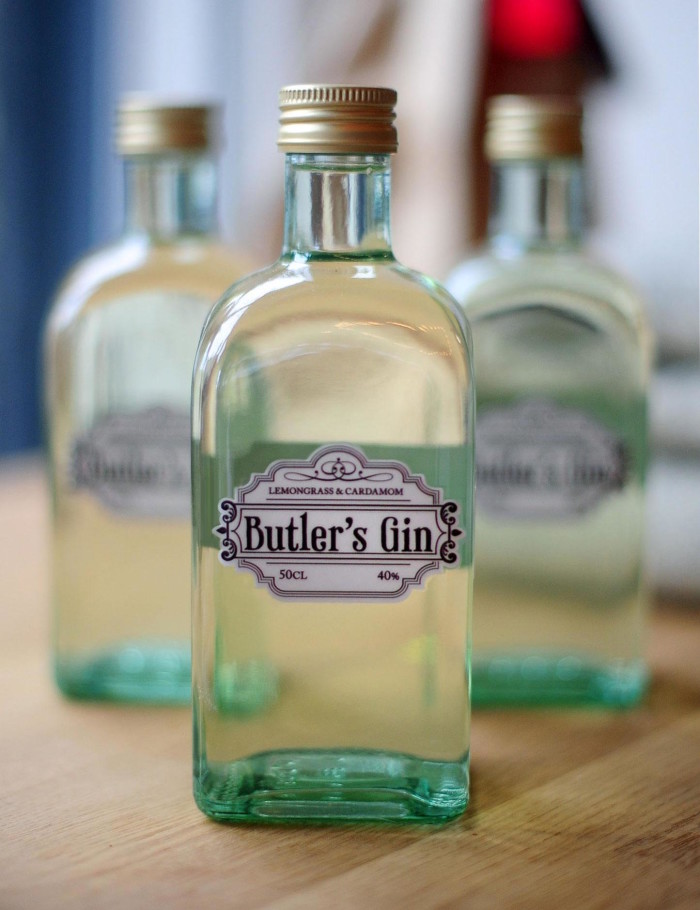 It's a source of pride and incredulity that the neighborhood of Hackney is to London what Bushwick and Kreuzberg are to New York and Berlin, respectively. Therefore, what would a roundup of anything small batch, handcrafted and artisanal be without a mention of one of its under-the-radar distilleries?
To be fair, Butler's Gin is worthy of inclusion on its own merits. Founded by designer Ross Butler in the converted warehouses of Hackney Wick's industrial hinterland, it perfectly epitomizes the DIY ethos and entrepreneurial spirit of East London and the current wave of microdistilleries: Butler distills the spirit himself in a tiny workshop in the neighborhood, accompanied only by his tiny dog, Taco. And we do mean "micro" in the truest sense of the word — he started in 2013 and still distills the Victorian-inspired recipe in an alembic still before decanting the alcohol into 20-liter bottles, which receive an 18-hour infusion of botanicals. The ingredient list includes familiar faces, like juniper and coriander, but also a few Southeast Asian inflections; cardamom, lemongrass and star anise help distinguish it from the traditionalists.
Flavor-wise, it's delicious and crisp and wonderfully rough around the edges — Butler recommends serving it cold with a slice of cucumber, but we're happy to imbibe in any way, shape or form. We imagine the bold flavors would work well in an old-school martini or a Negroni, though you could just get the creator to show you himself; he holds his now-legendary "Drunch" (Drunk Lunch) sessions on weekends through the fickle British summer. Grab a few friends to join you on his boat, which embarks on a very boozy tour of London's placid and secretive waterways. With a BYO food and music policy, we can't think of a better way to spend a few hours on a weekend morning during the city's most glorious season.