Since opening in 2013, Steamboat Bay Fishing Club, a sport fishing resort perched on Noyes Island, Alaska, has been quietly challenging and redefining luxury travel. In an age when it's easy for properties to succumb to the typical trappings of what seasoned travelers are comfortable with and expect, Steamboat Bay does things differently. And successfully so.
Given its unique location — it's the only lodge on Noyes Island in Southeast Alaska — Steamboat Bay offers guests unparalleled access to arguably the best sport fishing (like wild king and silver salmon, halibut, and over 20 other species) in the area.
But the season is very, very short. It lasts eight to ten weeks, kicking off in mid-June and ending in August. So planning ahead (okay, way ahead) is a must. In fact, previous guests have enjoyed the Steamboat experience so much that by the end of September, the property was already over 50 percent booked for the 2016 season.
The lodge is all-inclusive, with 3- and 4-night packages available. But before you roll your eyes at the idea of an all-inclusive luxury experience, trust me: Steamboat Bay is in a league of its own.
Since sport fishing is the focus here, most of day is spent on the water. Custom-built cabin cruisers, along with your guide, are available as early as 5 a.m., and you're sent off with a picnic lunch daily. Lunch offerings are familiar and humble, and after a long morning of fishing, deeply satisfying. (The cold fried chicken is a must if it's on offer and has already developed a bit of a following.)
As for what happens on a typical day on the water? Turns out, there's nothing typical about it. Obviously, you're here to catch as much as possible — at the end of your trip, you're sent home with a box of your catch, professionally cleaned, cut and flash-frozen — but it's not the only thing that makes staying at Steamboat Bay so rewarding.
I loved how tiny I felt, rocking on a little boat in the Pacific Ocean, with nothing in my view except for stretches of skies and water. And with no cellular service, fiddling with my phone was no longer an option, let alone a temptation. Minutes into my first day of fishing, I found myself hyper-tuning into the sights, sounds and smells surrounding me. Whales dramatically breached alongside my boat, bald eagles swooped and skimmed the ocean for food, while pesky sea lions occasionally snagged fish from our lines, delivering them straight into their mouths.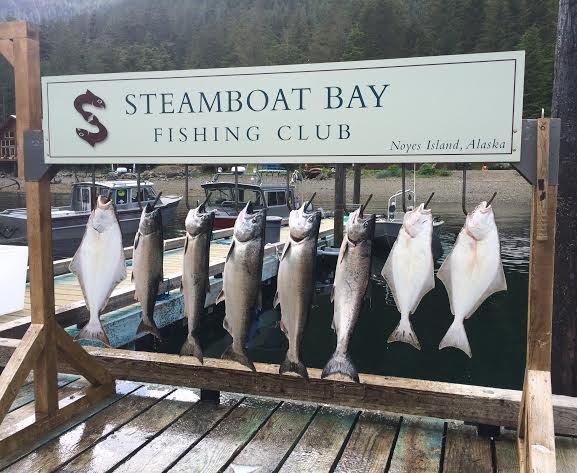 The biggest thrill, of course, is feeling your first king salmon tugging at the end of your line. You learn from your guide that kings fight more aggressively than others, which means you have to fight back with a simple game of repetition: slowly reeling in, then slowly pulling your rod up, over and over again to tire out the fish — and yourself.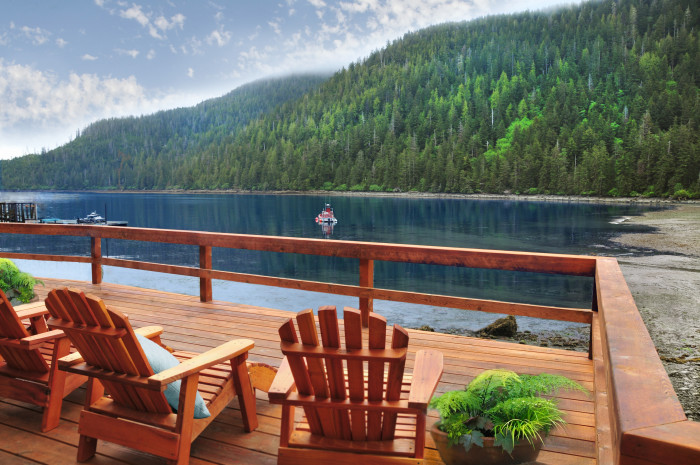 Naturally, unwinding is in order after a long day on the water. In the Great Room, the common room of Steamboat Bay, an appetizer hour is held at 5 every evening, followed by a seated dinner at a communal table. Because the lodge can only host 24 guests and the staff live on site during the season, faces quickly become familiar and friendly. Chef de cuisine Katherine Cook lets the fresher-than-fresh seafood shine, in dishes such as king salmon sashimi, cioppino, and braised halibut cheeks. If you're seafood-fatigued, there's always the famous fried chicken. Another perk is that the bar in the Great Room — stocked with terrific Pacific Coast wines, local craft beers and spirits — remains open all day and night, so it's easy to take the edge off whenever you please. Cap your evening with a visit to the banya-style sauna or hot tub if you need any more help chilling out.
The Rooms: The lodge's ten suites are simply but comfortably appointed. As fellow guests turn in early and the surroundings are so peaceful, you'll have no problem sleeping deeply and waking up fully rested, so you can fish early the next morning. The suites also feature glass sliding doors facing the ocean or forest, so you can enjoy the outdoors while indoors.
Earlier this year, Steamboat Bay expanded its accommodation offerings with The Residence, a cozy chalet-like structure steps from the lodge. It accommodates up to eight people with its seven suites and features hand-crafted wood furnishings and most interestingly, a transparent floor that allows guests to view the stream running underneath the building.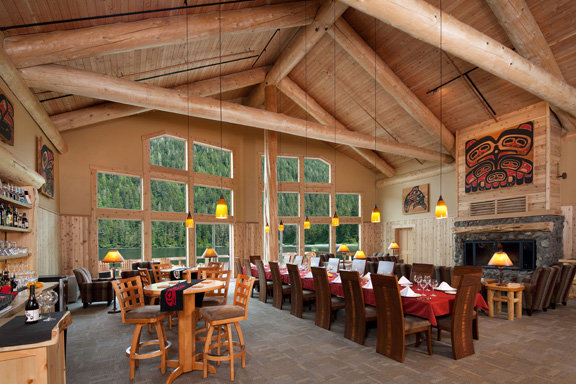 The Look: Steamboat Bay is relaxed, casual, and easy to feel at home in. Locally sourced woods like Sitka spruce and salvaged fixtures from the island's former salmon cannery lend the space warmth and an authentic sense of place. The striking Native American artwork gracing the walls of the Great Room are the works of the resort's head guide and artist, Everett Athorp.
Steamboat Bay Fishing Club
Noyes Island, Alaska
All-inclusive 3-night packages start at $5,825 per person