Oh Boy! The New Orleans Po'Boy Cheat Sheet.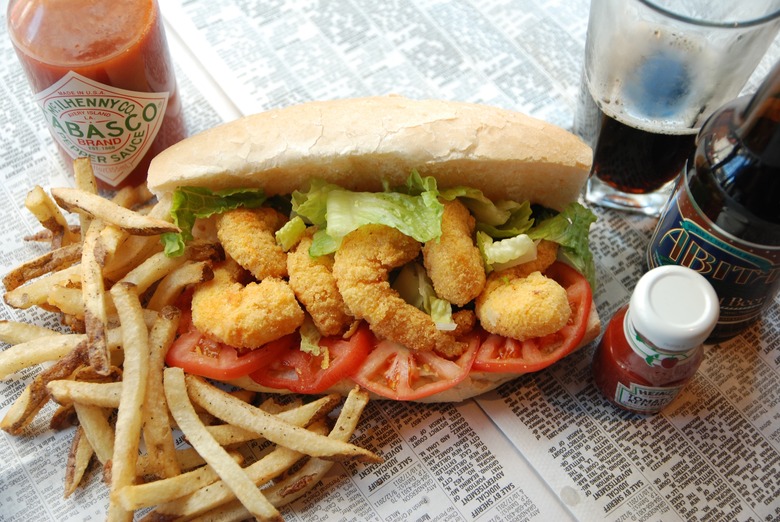 Photographer:Joyce Bracey
Deep in the French Quarter of New Orleans on a Sunday night, amid roving bands of tourists on voodoo-heavy ghost tours, you may find yourself in a 24-hour market — a convenience store, really. You could easily mistake it as a place for a pack of smokes and a sixer of Abita, but you're here for something else entirely. Let the boozed-up cruise ship émigrés walk past the door, unaware that this is the spot the guidebooks ignore. You're here because you heard the whispers. You're here because a chef who's a few drinks in loaded you into his Tacoma and drove you into the darkness. You're here for the best po'boy you've ever had.
[Side note: We're going with po'boy here, but you can also use po-boy or just plain ol' poboy, according to dictionary.com].
American cities are known for their regional specialties, but New Orleans is an animal unto itself. New York and Chicago can battle over whose pizzas are better, but nobody besides NOLA lays claim to gumbo and jambalaya. It's a unique city with a unique food culture, and po'boys fit into this world nicely, despite being the most typically American of New Orleans' creations. Originally a Depression-era by-product, the po'boy — shortened from "poor boy" — started as a solution to feeding striking streetcar workers and became one of many low-cost sandwich options to fill your belly while meat was scarce (much like the Chicago dog and White Castle sliders). While the desperation of the Depression gave way to greater American prosperity, the sandwich remained.
You can find hoagies, heroes and subs all over America, but only New Orleans has a po'boy. The difference between those other sandwiches and the New Orleans version lies squarely in the bread. The most common variety these days is from a century-old bakery called Leidenheimer, which started making French bread in steam-injected ovens to get a spongy interior while the outside remained chewy. A newer upstart is Dong Phuong Bakery, a Vietnamese bakery specializing in bánh mì that caught the attention of New Orleans chefs and, subsequently, the world of po'boys. With such a large Vietnamese community in Louisiana, the Dong Phuong rolls represent the future of the city, while Leidenheimer harkens back to days past.
The crab cake po'boy from Katie's Restaurant includes a generous helping of shrimp on top of the fried shellfish patties. (Photo: Chris Granger.)
Now, Leidenheimer and Dong Phuong may be giants in the po'boy bread game, but there's another major entrant, and it's the originator of the whole genre. The John Gendusa Bakery makes a version that's seeded on the outside and gives a little more chew than its competitors. This means it can stand up just a little bit better to the sloppier versions of po'boys. Sloppy po'boys? Absolutely. You may have thought the only versions of po'boys were fried shrimp, fried oysters and catfish, but you'd have been wrong. Your po-boy can come filled with anything from roast-beef drippings (known collectively as "debris") to local Chisesi ham to just plain French fries. A po'boy, like the dreams of a small child, can be anything and everything...as long as it comes on that bread. "You put it on this bread, you dress it well — that's a po'boy," says chef Ryan Haigler of Grand Isle.
Haigler is a transplant to New Orleans who came to the city to help rebuild six months after Hurricane Katrina hit. He's been a journeyman of sorts since his arrival, working in esteemed NOLA kitchens like Boucherie, Emeril's Delmonico and Restaurant R'evolution. As a non-native son, Haigler makes for the perfect po'boy tour guide because he doesn't have any nostalgic allegiances from growing up in the city, but he's been around long enough to know the po'boy landscape like anyone born within spitting distance of the Mississippi.
For the best po'boy in New Orleans, Haigler has one pick above all else: Verti Marte, that overlooked convenience store buried in the narrow streets of the French Quarter. Like any good sandwich shop, you can always opt for a simple combination of meat and bread here, but the true professionals go for the All That Jazz, an overweight po'boy stuffed with house-made turkey, roast beef, Chisesi ham, and — what else? — Gulf shrimp, before getting topped with two types of processed cheese and local tomatoes known as Creoles. "These are the sandwiches that are designed around hangover cures," says Haigler, pre-hangover, and he's right: This gory, dripping masterpiece will reverse the damage you did on Bourbon Street in about four bites.
If you want to find the largest collection of po'boys in New Orleans, plan your next visit for November, when the annual Oak Street Po-Boy Festival (formerly the Po-Boy Preservation Festival) takes place. In a little more than eight blocks, you'll find more than 40 different po'boys for your carb-loving heart to enjoy, but be forewarned: There's no admission fee and tons of free music, so expect to get swept up in a sea of New Orleanians bouncing between po'boy booths and festival stages. It's a cramped affair, but there's enough Abita around to make it tolerable. While they may have an enormous selection of po'boys at the festival, they don't necessarily have the best ones in town. For that, you need to go back to the dark corners of the French Quarter. Or at least hit up one of these spots named by chef Haigler as his top five po'boys in New Orleans.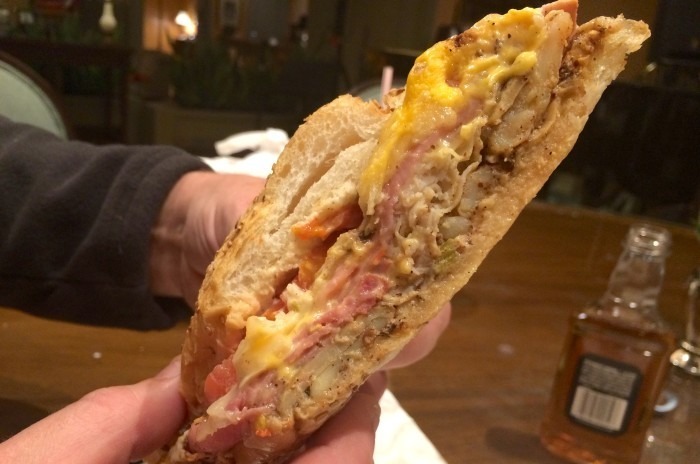 All That Jazz: The hangover cure that's guaranteed to work unless you really went overboard with those frozen daiquiris. Then you're on your own.
1. Verti Marte
The All That Jazz. Ham, turkey, roast beef, shrimp, sautéed mushrooms, Swiss cheese, American cheese and tomato slices all meld into the French Quarter hangover cure of your dreams. The best part? Verti Marte delivers 24 hours a day, seven days a week.
1201 Royal St., New Orleans, LA 70116; 504-525-4767
2. Parkway Bakery and Tavern
Anything. Haigler and Parkway impressario Justin Kennedy are old friends, and Parkway winds up on pretty much every "Best Po'boy List" you can find. It's for good reason. Its po'boys range from classics like fried oysters and hot roast beef with gravy to bayou favorites like smoked alligator sausage.
538 Hagan Ave., New Orleans, LA 70119; 504-482-3047; parkwaypoorboys.com
3. Boucherie
The BBQ shrimp po'boy. Haigler helped open this place, and he cites a New Orleans favorite as the best way to go. As he explains it, "It's not your typical barbecue sauce in New Orleans. Barbecue is Worcestershire, hot sauce, rosemary, a little bit of vinegar and lemon juice, all cooked down with beer and then butter. That's your traditional New Orleans-style barbecued shrimp, but it's not barbecued at all. Boucherie does a style where they hollow out the inside of the bread longways and then they fill it with the BBQ shrimp so you can hold it, kind of like an ice cream cone."
1506 S. Carrollton Ave., New Orleans, LA 70118; 504-862-5514; boucherie-nola.com
4. Zimmer's Seafood
Seafood. Whatever seafood you want. Says Haigler: "On Mirabeau and St. Anthony in Gentilly. Another hidden gem. They're located directly behind (or in front — I guess it depends on how you look at it) of the Gendusa's bakery in Gentilly."
4915 St. Anthony Ave., New Orleans, LA 70122; 504-282-7150
5. C & A Seafood
A shrimp po'boy, specifically. Says Haigler: "They do the Sriracha and everything and dress it perfectly so it gets that beautiful Sriracha-and-mayonnaise mix that just really hits the spot."
1429 S. Jefferson Davis Pkwy., New Orleans, LA 70125; 504-822-8497
Bonus! Watch a scene from The Mind Of A Chef Season 4 with David Kinch, in which the New Orleans native makes an oyster po'boy (courtesy of mindofachef.com):