What's For Lunch At The Paris Climate Talks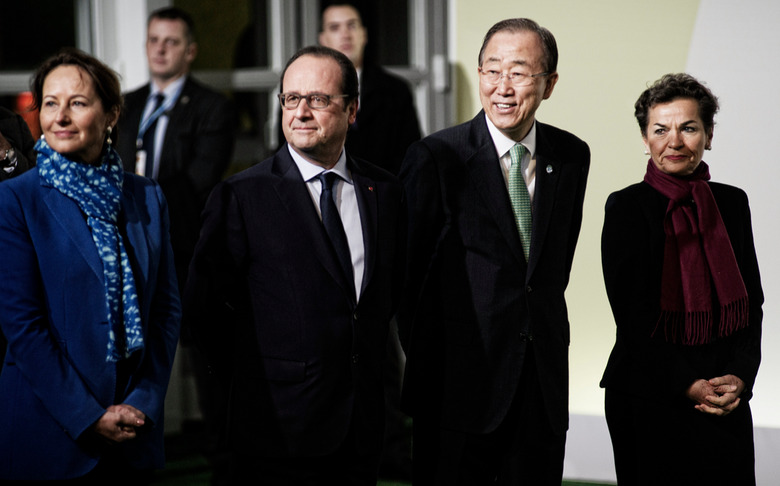 Earlier this week, 147 leaders from around the world arrived in Paris for the long-anticipated climate talks, also known as COP21, a series of meetings in which these powerful men and women will discuss carbon emissions, fossil fuels, solar power and some way to actually move forward. The event is nothing short of historic and seminal, and the world's attention is turned to Paris to see what will come of all this talk.
Meanwhile, the summit participants have been working up an appetite with all their debating. Will the food on their table be reflective of their stated goal, to steer the world away from rising temperatures, flooding and fossil fuel depletion? The French news website Le Point reported on the welcome lunch that was served to the heads of state in attendance at COP21. Five of the country's best chefs, with multiple Michelin stars, were chosen to prepare what might be just about the best example of a power lunch on the planet right now. On the opening day of the talks, they got cooking at the break of dawn, Le Point reports, to prepare the following menu:
Chef Yannick Alléno of Pavillon Ledoyen served a modernist dish featuring a rectangle-shaped soup of turnip alongside a scallop in its shell with a floral foam, on stark white plates. Alléno told Le Point that his cooking emphasizes minimal waste and locavorism. Le Grenouillère's Alexandre Gauthier, who was named chef of the year by the prestigious French gastronomic organization Gault-Millau, made a dish of green spelt, a kind of grass that's probably chock-full of vitamins. Hopefully, it will keep these VIPs motivated and awake through the long days of discourse. Representing the southern French Bordelais culture, chef Nicolas Masse of La Grand'Vigne prepared a celery confit with a spinach-parsley cream, emphasizing seasonal and local produce. The bulk of the meal was under the charge of Marc Veyrat, a chef from the Savoie region who is known for his prowess in molecular gastronomy. Veyrat made something he dubbed "Organique du Mont-Blanc," which featured a "triology" of specialties from Savoie, including trout roe caviar, a vegetable gelatin mold of sorts, a soufflé of the coltsfoot flower, a French cheese called reblochon with an aromatic myrhh jus and a salad of wild greens. And finally, Christelle Brua, the pastry chef at Le Pré Catalan, presented a citrus compote with a praline cream.
The diners stipulated that the meal last no longer than 1 hour and 15 minutes. Although decadent meals in France normally last much longer, a time limit is acceptable in this case, given that there are rather important things "on the table," so to speak, besides the beautiful food. There was no mention in the Le Point article of any wine served at the lunch. Which is really too bad — just imagine what progress might have been made over a bottle of good Champagne!