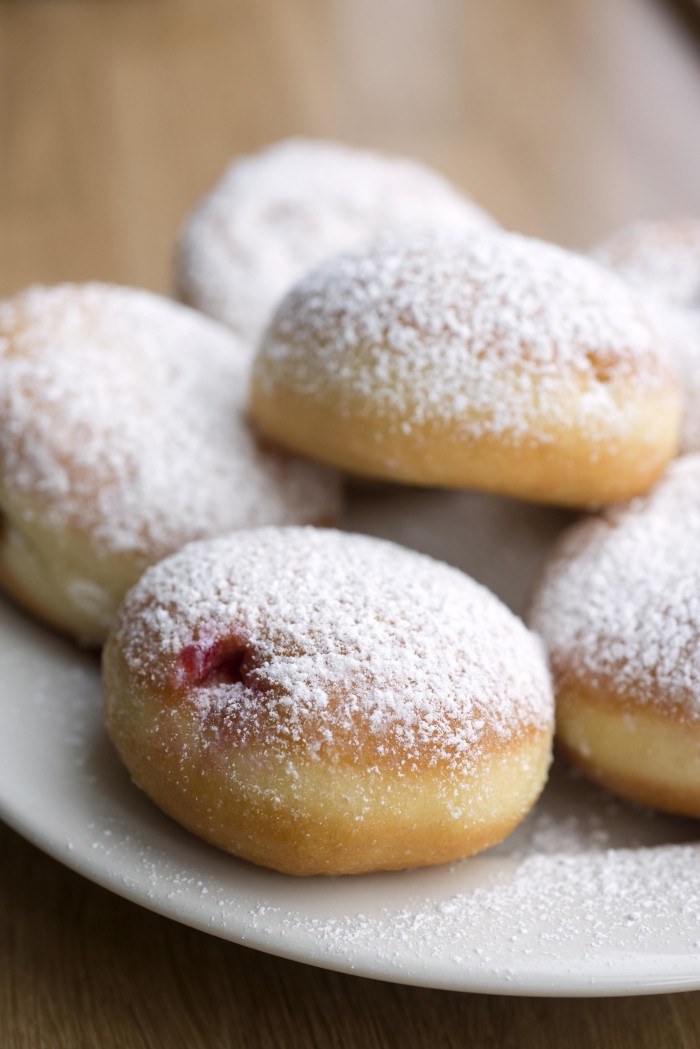 Every culture seems to have its own version of the doughnut — and usually some fancy name for it, too. In Italy, fried dough is called bombolone or zeppole. In France (and the French Quarter of New Orleans), it goes by beignet.
In Israel, doughnuts are known as sufganiyot. And like their fellow oil-cooked counterpart, the potato latke, they're associated with the Jewish festival of Hanukkah, when fried foods are consumed in commemoration of a biblical miracle that kept lights aflame despite a reported temple-wide oil shortage more than 2,000 years ago. (Why Christianity decided not to carry on this delicious tradition is downright baffling to fried-dough-loving Gentiles like myself. Too Old Testament?)
For Yonatan Israel, who grew up in Paris and later lived in Israel, it is a familiar pastry, no matter what you call it, or when or where you eat it. "I've met this pastry in different stages of my life under different names," he says.
The proprietor of the popular Patisserie Colson in Brooklyn, New York, began selling traditional Israeli-style sufganiyot for Hanukkah two years ago. "It was really satisfying for us beyond the holiday aspect of it, because doughnuts in the city are, eh, kind of hit or miss," says Israel. "I think the trend that you see now with the gourmet doughnut is an excellent doughnut which is sometimes spoiled by everything you put on top of it."
In Israel's view, straightforward sufganiyot are the proper antidote to a gussied-up modern doughnut scene weighed down with ultra-sweet glazes and exotic toppings like candied hibiscus. "This to me is the quintessential basic doughnut," he says. "It's about the dough and a simple filling."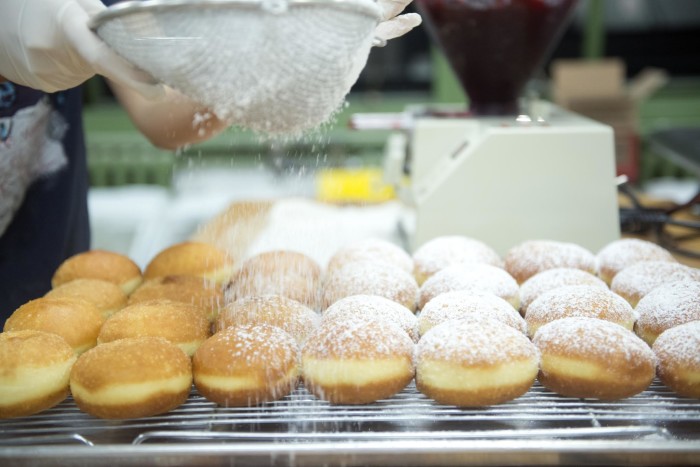 Like many pastries at Israel's beloved artisanal bakery, the sufganiyot are made using a recipe from acclaimed pastry chef Hubert Colson, operator of the original Patisserie Colson in Belgium and also a partner in the Brooklyn shop. The yeasty rounds are fried on the premises and injected with two types of filling: raspberry jam or vanilla pastry crème. Then comes the wintry flurry of powdered sugar.
While Israel is confident that Colson's handmade version (priced at $3 each) stands out against the mass-produced varieties from kosher bakeries across New York City, neither he nor his partners can guarantee that the powdery pastries won't inspire some level of kvetching.
"I remember the first time I brought them home," says Israel's business partner, Andrew Hackel, who joined the bakery two years ago. Hackel's mother grew up in Israel and instantly recognized the jelly-filled doughnut of her youth by invoking its proper Hebrew name. "She was quite happy with it," says Hackel. "She is a tough critic, and so is my father. One prefers vanilla, one prefers raspberry, and they argue about it. We have the same argument in my house as well."
Originally, the partners planned to sell the things exclusively at Hanukkah time. But after the initial eight-day holiday offering expired and the seasonal treats came off the menu, the bakery faced an immediate backlash of the disgruntled Yelper kind. "My Yelp rating went down the drain," says Israel. "And it wasn't like, 'This place sucks.' It's like, 'They took off the doughnut. One star.'"
Smartly, Colson soon began selling them year-round, making around 200 to 300 daily. "We haven't gotten a one-star review since," says Hackel.
The rest of the year, however, it appears on the menu under a different name: jelly doughnut.