UK Chefs Pose In Calendar For Charity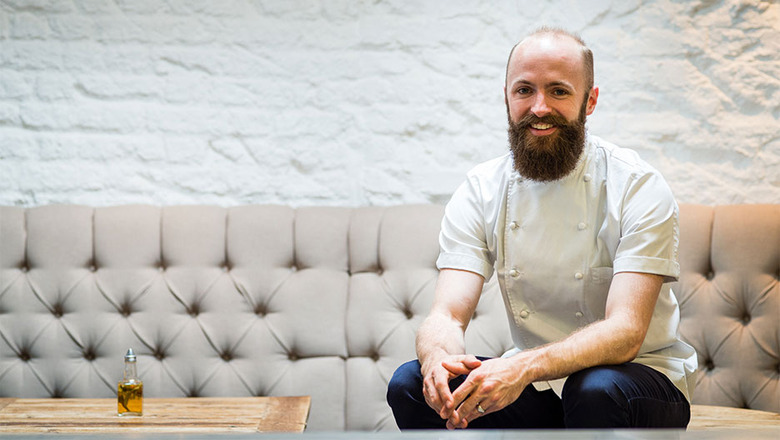 The new year is fast approaching, and that kitchen calendar will soon need a replacement. Lucky for you, Action Against Hunger, a humanitarian group that focuses on malnourished children in 47 countries, has released its first Chefs Calendar for 2016. The calendar features a top male chef from the United Kingdom (and a seasonal recipe) every month.
The calendar is £12 (about $18), and all proceeds go to Action Against Hunger. Featured chefs include James Lowe (Lyle's), Jun Tanaka (The Ninth), Eryk Bautista (Newman Arms) and American Brad McDonald, who's been making waves across the pond with his London barbecue joint, Shotgun BBQ. Check out the year's lineup below, and be sure to shell out just a pound per month for the worthy cause (and some culinary eye candy).
January: Gary Usher, Sticky Walnut; Burnt Truffle
February: Eryk Bautista, head chef, Newman Arms
March: Robin Gill, chef and creator, the Dairy; the Manor; Paradise Garage
April: Tomos Parry, head chef, Kitty Fisher's, Shepherd Market
May: Lee Westcott, head chef, Typing Room
June: James Lowe, head chef, Lyle's
July: Dan Doherty, executive chef, Duck & Waffle
August: Tim Spedding, sous chef, the Clove Club
September: Frederick Forster, head chef, Le Pont de la Tour
October: Brad McDonald, the Lockhart; Shotgun BBQ; 1235Donuts
November: Jun Tanaka, executive chef, the Ninth
December: Tom Oldroyd, chef-proprietor, OLDROYD restaurant