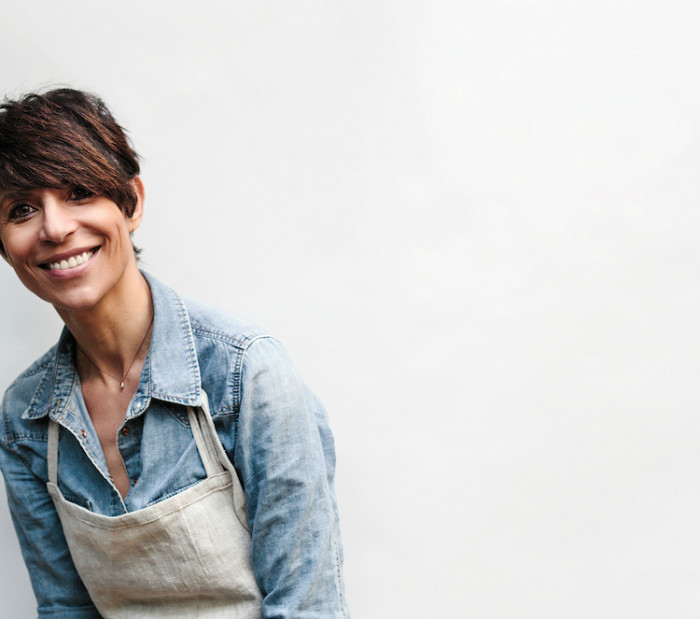 Dominique Crenn, the first female chef to be awarded two Michelin stars in the United States, has spilled half a glass of rosé on my lap. Unfazed, she continues telling a story to our group, which is seated at her new restaurant, Petit Crenn, in San Francisco's Hayes Valley. The other day she nearly cut off her thumb while frantically cleaning her apartment, and her first digit is wrapped up in a thick sheath of gauze, which flaps around excitedly with the highs and lows of the story. Wine played a role in the injury — a glass was broken, with a bit of it drunk before the blood hit the counter top. My lap is still covered with Provence's finest 10 minutes later, when the story concludes with Crenn showing me a small tattoo on her shoulder, which may have served as the story's punch line. But who knows? We were all drinking. What is clear is Crenn's magnetism. In the middle of the tattoo story (or was it the one about living in Jakarta during a minor coup?), a fan of hers dining at the chef's counter sits down and buys our table a bottle of champagne, and listens.
"She's sexy, she's French and her food was just fantastical," says Sarah Gavigan, owner of Pop Nashville, a collaborative pop-up space that hosted Crenn in 2014. "Needless to say, I was mesmerized." Louisville chef and restaurateur Edward Lee describes Crenn as brilliant, funny, poetic, graceful, thoughtful and kind. "The stunning dinner left me speechless," he tweeted after a meal in San Francisco. "Her smile and her feminine side combined with her sense of humor and her obvious culinary talent make her the ultimate package to me," says Gavigan. "She is intoxicating."
Crenn, adopted at 18 months, was raised in Versailles by a father who was both a politician and painter, full of charm and charisma. "He gave me the ability to be open to a lot of things: art, food, architecture, language, traveling, diversity," she says of Monsieur Crenn, who passed away in 1999 and whom the chef credits with giving her an extremely open mind. He also instilled a love of food. His best friend was a prominent Parisian restaurant critic, and the elder Crenn — raised on a farm in Brittany — would often return from trips with a stack of menus and even more stories to pass along to his daughter.
When Dominique was nine years old, her mother fell sick for several months, and the household cooking fell on the daughter's shoulders. Having accompanied Madame Crenn to the farmers' market daily, making her mother's rabbit head stew and tomato salad was not a chore but a dream. The transition was natural and sparked an interest that only grew stronger for the young Dominique. She would spend holidays not at the beach, but at her uncle's potato farm. "I wanted to touch the earth. I connected more with my older generation," she recalls.
Crenn eventually graduated from the Cours Charlemagne in Paris with a degree in economics but followed her passion into the kitchens of France for a series of jobs and apprenticeships, both in the front and back of the house. While the work experience was invaluable, she grew disenchanted with the rigidity of the brigade, as well as an inescapable dynamic: "What did the French kitchens attract? A lot of men!" A change was needed, which sent her to San Francisco in 1988 to apprentice with the master of California cuisine. "What was beautiful about Jeremiah Tower was you could feel the life."
A couple weeks before our late night in San Francisco, Crenn meets me at Marta in Manhattan for a more subdued lunch. She's in town for the release of her first cookbook, Atelier Crenn: Metamorphosis of Taste. Oversized and fit for the coffee table, the 346-pager is in spirit a chapbook of the chef's poetry, accompanied by recipes and dramatic imagery from photographer Ed Anderson. At Atelier Crenn, the Cow Hollow restaurant she opened in 2011 that has been awarded two Michelin stars, the menu is laid out in the style of poetic culinaria — "food that delights the palate the way a poem delights the ears," as the chef describes it. The menu changes seasonally and is written in teasing Reichlian verse:
Winter has come with its cool breeze
Mellow serenades of colors licorice and orange
Under the midnight glow, I can taste the sweetness of the sea
Where the broad ocean leans against the Spanish land
A gentle smell, oceanic, of yummy feeling
As for the cooking, it took a couple years for the cuisine itself — a dramatic flurry of super-local ingredients, mostly California vegetables and sea creatures, cooked and placed with tweezers — to catch up with the art. The critics were initially puzzled by the chef's nontraditional vernacular, but over time they thawed. "Atelier is an exhilarating food lab where guests are rewarded with the seamless blend of sweet-savory fare that makes Atera in New York or Alinea in Chicago such hits," wrote Ryan Sutton for Bloomberg in 2013. But in SF, the axis on which all high-minded restaurants spins is Chronicle critic Michael Bauer. And it wasn't until last November — after a number of middling meals led to middling column inches — that Bauer finally saw the restaurant for what it was. "Crenn and her tight team have evolved, and now the food is paramount," he wrote. "This is food produced by a chef who is cooking in top form. And that is art."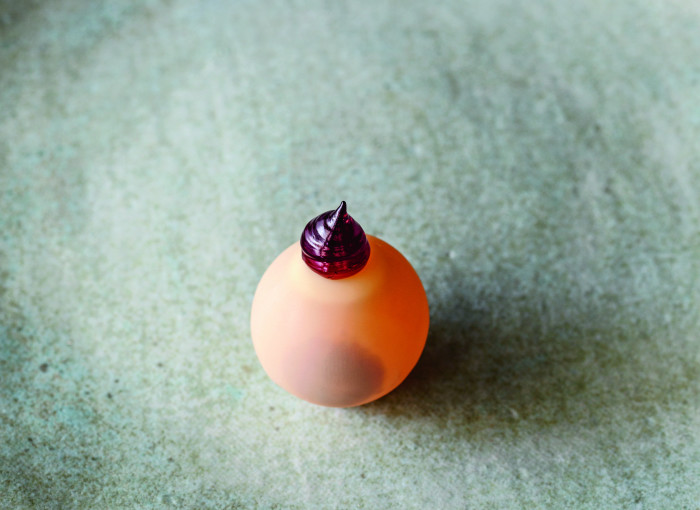 She feels at home running two restaurants in San Francisco. "It's a city that allows people like me to be able to be creative and to be more personal, which I don't think you see in New York," she says, adding that her guests are "some of the most open-minded in the world." I point out the rapidly changing landscape, where an overheated startup scene is funneling billions of dollars into the bank accounts of a privileged many. I make the obvious joke about hoodies. She's not amused. "It's crazy; there are 21-years-olds, and they come in with an iPad and you try to talk to them and they totally ignore you." San Francisco wasn't always like that.
For chefs of a certain age, Jeremiah Tower is nothing short of a deity. After answering a newspaper ad in 1972, he was hired as the chef of a little-known Berkeley restaurant called Chez Panisse. With sophisticated, nearing cerebral, Francophile cooking that flexed the Bay Area's bounty to its fullest, Tower put a new style of cooking, christened California cuisine, on the map. After a fallout with owner Alice Waters in 1978, Tower left to bounce around for a couple years, eventually opening the extraordinarily influential restaurant Stars in 1984, a restaurant that at one point was the highest-grossing in America and home to young upstarts like Mark Franz and Mario Batali.
Like Tower years prior at Chez Panisse, Crenn walked into Stars in 1988 with something to prove. For reasons she can't clearly articulate, Tower threw her on the grill station on night one, skipping the requisite six months of butchering duck and smoking salmon in the basement. "You have to remember that this was a restaurant doing 600 each night, so that first night was intense," she remembers. Crenn thrived under Tower's unique philosophy of allowing cooks of all levels the opportunity to cook the many nightly specials, given they follow the guidelines of the sous chefs. She likens the process to State Bird Provisions, the Fillmore restaurant where chef Stuart Brioza hands many of the dim-sum-style dishes over to staff. "At Stars, it was like, 'Make a calamari, a soup, this and this. This is the guideline of the recipes. Make it your own. You get until 4:30 p.m. At 4:30 p.m. we're going to come and try it.' And I was like, bring it on."
For Crenn, years and many restaurants, television appearances, an inspiring TED Talk and business opportunities have passed since her days at Stars. She spent time cooking at a hotel in Jakarta, becoming the first female executive chef in Indonesia. She's working with Andrew Zimmern on a jewelry line with a charitable component. And Atelier Crenn is busier than ever, packed with visitors from China, Spain and Korea, as well as a few startup bros slapping down the AmEx Black. And it's clear that Tower's philosophy of collaboration has rubbed off.
"In our restaurant, there are no egos," she says, wrapping up our time at Marta. "If you want to have an ego with me, just get out." She stresses that at her restaurants, creativity must come first. And that selecting a group of employees who care about each other is essential. "In the current restaurant culture, we get beat up, and I don't believe in that," she says with a smile, ignoring the stitches in her thumb. "There was a point when I got to choose who I worked with. People who cared, people who are creative, and that's the difference. It's magical." And almost poetry.