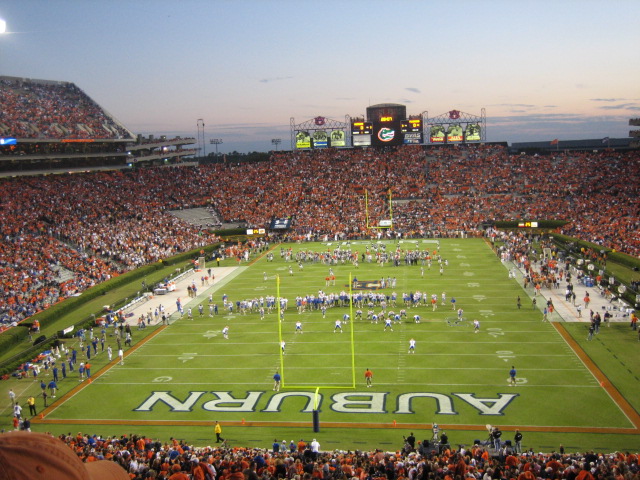 If there's anything that Southerners care about more than their regional cuisine, it's gotta be SEC football! To celebrate the 2015-16 college football season, Food Republic is launching a new series, SEC FoodBall. Each week, we'll profile a Southeastern Conference town, and more importantly tell you where you should eat and drink if you're fortunate enough to attend a game there. We'll also solicit advice from some locals to make sure you have the benefit of home team advantage.
Week 13: University of Alabama at Auburn, Auburn, Alabama; Nov. 28
When it comes to sheer vitriol between fans of football rivals, the so-called Iron Bowl between Alabama and Auburn is tough to top. With no less than a trip to the College Football Championship playoffs on the line for 'Bama, the Crimson Tide is returning to the scene of the infamous "Kick Six" game of 2013, when the two previously undefeated teams met in Auburn to decide which state power would represent the SEC West in the conference championship game. Tide fans might want to look away while we describe what happened to Food Republic readers who might know more about slick sauternes than kick returns.
In a nutshell, with one second left in the game and the score tied, Alabama coach Nick Saban elected to have his kicker attempt a 57-yard field goal, which ended up woefully short. So short, in fact, that Auburn's Chris Davis caught the ball in the end zone and returned it 109 yards for the winning touchdown while 'Bama's huge linemen lumbered in a futile pursuit. The result of the upset was that Auburn made the championship game instead of the favored Crimson Tide, who would have been competing for their third consecutive national title. Alabama fans took small consolation in the fact that Auburn did end up losing in the championship game to Florida State.
So it goes without saying that spirits will be high in Auburn this weekend as the Tigers seek to play the spoiler to their rival's championship hopes. No matter who wins and who loses, fans are going to need someplace to fuel the fires that burn in their bellies for their beloved teams, so we turned to a local expert for some crucial eating and drinking advice.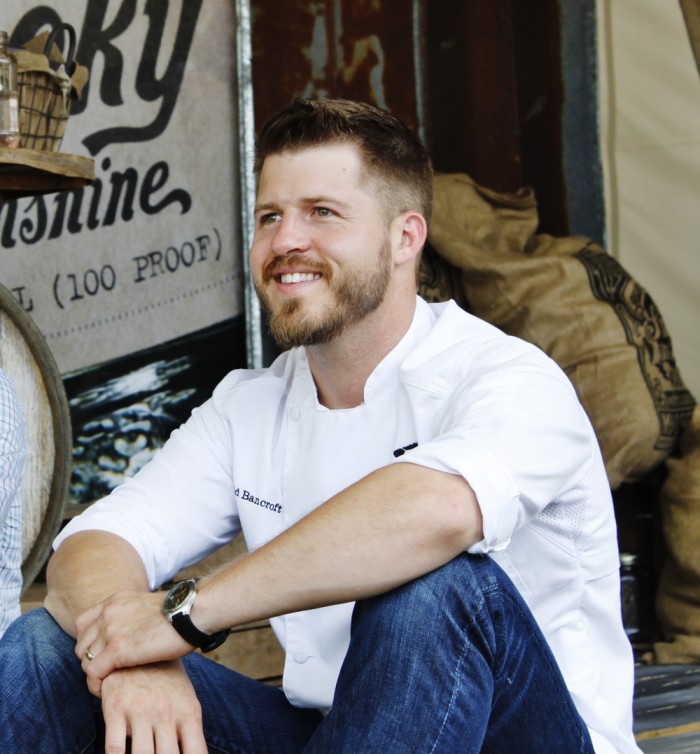 David Bancroft is the executive chef at Acre, a gorgeous farm-to-table restaurant located about a mile from Jordan-Hare Stadium, the home of the Tigers. With an inviting front porch for alfresco dining and an interior accented with recovered wood and a chandelier made from an old fish basket, Acre boasts one of the most striking dining spaces in town. Bancroft's cuisine focuses on locally sourced produce, Gulf Coast seafood and meats that are chosen in collaboration with the Auburn University Meat Lab to promote farms that practice responsible ranching policies. If there had been a meat lab when I was in college, I might not have cut as many classes.
Those responsibly sourced meats show up on Acre's popular "Butcher's Block" charcuterie board in the form of sausages, salumi and other cured meats. The dinner menu skews toward meats and fishes, much to the delight of SEC football fans, so Acre has become a popular spot to drown your tears in seafood or celebrate a win with a huge steak. Acre, 210 E. Glenn Ave., Auburn, AL 36830; 334-246-3763
Splurge Meal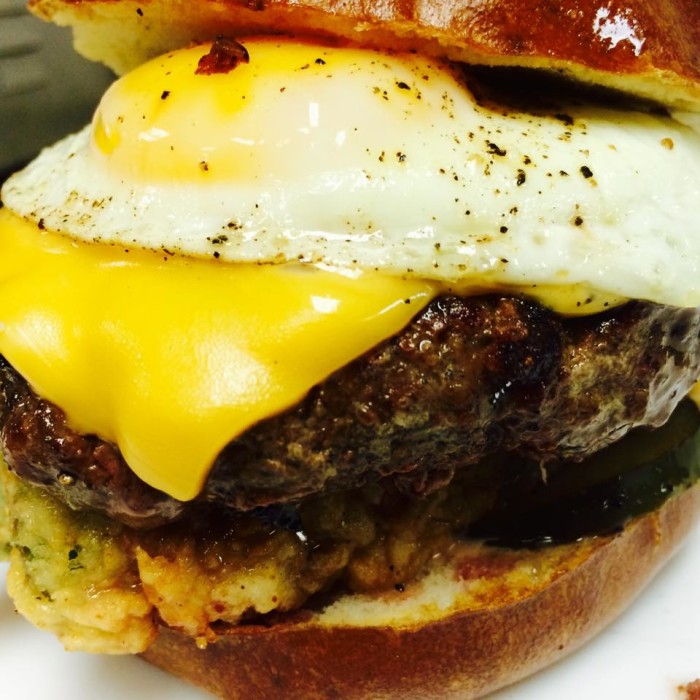 When Bancroft isn't cooking up some of the best high-end cuisine in Auburn, he likes to visit Amsterdam Cafe for fine dining. The menu at the restaurant is internationally eclectic, ranging from down-home sweet tea fried chicken and apple-brined pork chops to French bistro classics, like some darned respectable steak frites. An extensive Sunday brunch with a bottomless mimosa option is a popular stop before driving home the day after an Auburn game  "I gotta pay homage to my old stompin' ground," Bancroft says. "There aren't a lot of options to work in Auburn if you are an aspiring young chef looking to avoid prefabricated foods. Amsterdam's, as it is affectionately known, has become the chef breeding ground for distracted Auburn students. Chefs such as Rob McDaniel, Adam Evans, Leo Maurelli — all of these talented Auburn guys can trace their lineage back to this kitchen."  Amsterdam Cafe, 410 S. Gay St., Auburn, AL 36830; 334-826-8181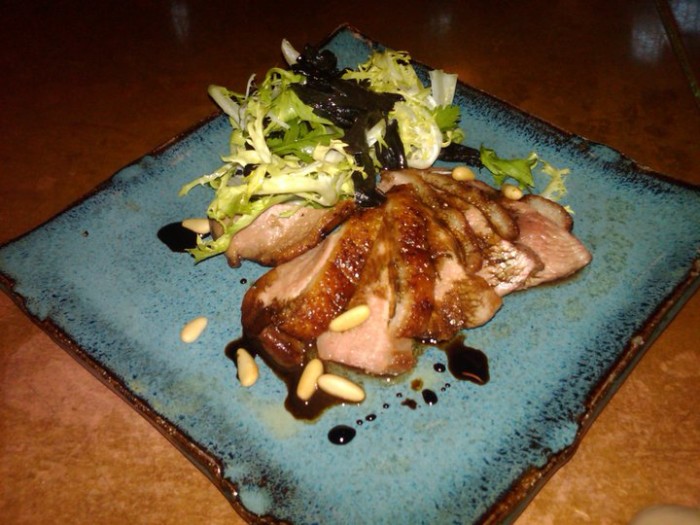 Speaking of Rob McDaniel, his SpringHouse Restaurant is just an hour's drive away from Auburn in Alexander City, and many fans happily make that trip for his brand of progressive Southern fine dining. The restaurant is a lovely combination of rustic furnishings with an elegant dining experience. The open kitchen offers an excellent view of McDaniel and his staff at work, and multiple hearths offer warming fires to dine by or a spot to enjoy a creative cocktail. McDaniel's menu focuses on regional seafood and meat dishes accompanied by Southern cheeses and locally sourced vegetables. Just make sure to get home in time for the ballgame. SpringHouse Restaurant, 12 Benson Mill Rd., Alexander City, AL 35010
Cheap Eats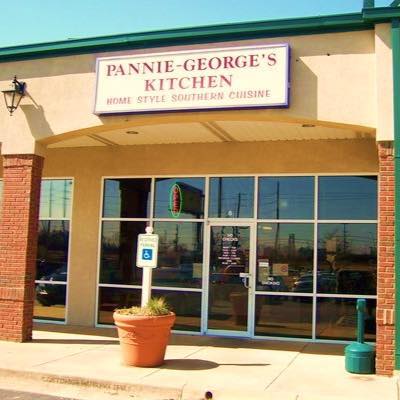 For a down-home meal that won't clean out your wallet, Bancroft would point you toward Pannie-George's Kitchen: "Imagine the smell of your grandma's house before a big family supper. This place is practically operated by grandmothers. I pray that when I get to the front of the line of this 'meat and three' that it's fried pork chop day!" Pannie-George's Kitchen, 2328 S. College St., # 6, Auburn, AL 36832; 334-821-4142
Eat Like a Local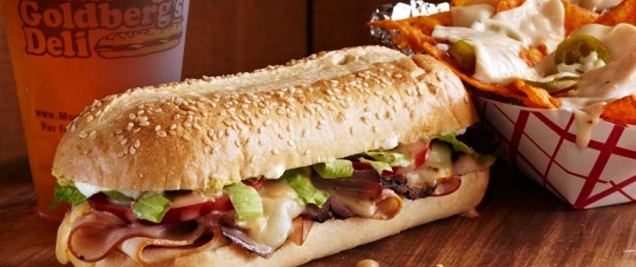 Momma Goldberg's Deli may have grown into a chain, but Bancroft and other Auburn fans remember that the original location was started just a block or two from campus. If you really want to eat like a local, order up a Momma's Love, a sandwich stuffed with roast beef, ham and turkey, slathered with ranch dressing. But Bancroft has another dish that he loves ever more: "It's pretty safe to assume that every living Tiger fan has had a Momma's Love with a pitcher of beer. But that's not what I'm after. I still have nightmares about the times when it was my turn to order and they've sold out of Momma's Nachos. Freakin' Doritos with melted pepperjack cheese and pickled jalapeños…really?! As if Doritos needed any improvements. Who do they think they are?" Momma Goldberg's Deli, 217 E. Thach Ave., Auburn, AL, 36830; 334-501-2314
BBQ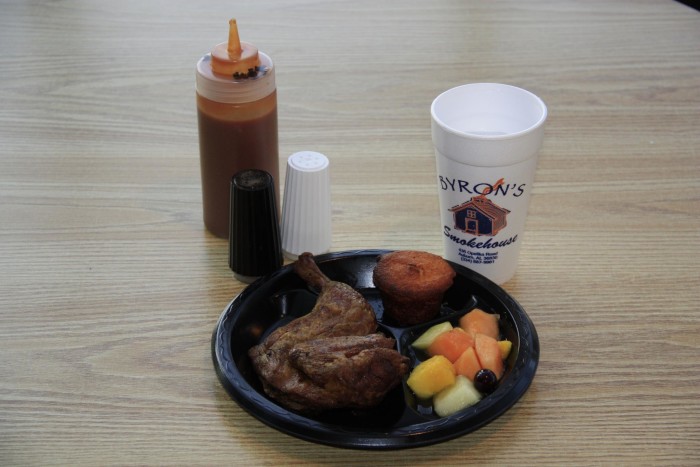 Barbecue is big in the state of Alabama, and Alabamians are pretty proud of their smoked meat. In Bancroft's opinion,  Byron's Smokehouse is the best in town: "When I first arrived in Auburn to start my freshmen year, my older brothers took me to Byron's. We walked through the doors of the renovated Dairy Queen and noticed head coach Tommy Tuberville licking BBQ sauce off his fingers. For the last 15 years, Glen, the owner, has tipped his Auburn hat at me from his perch in front of the smoke pit. Chipped BBQ sandwiches are so good that I always order two!" Byron's Smokehouse, 436 Opelika Rd., Auburn, AL 36830; 334-887-9981
Well, this is the final weekend of the SEC football season, and hopefully we've given you some guidance for your next road trip or tailgater. Until next season, pass the Tums, Roll Tide and War Eagle!