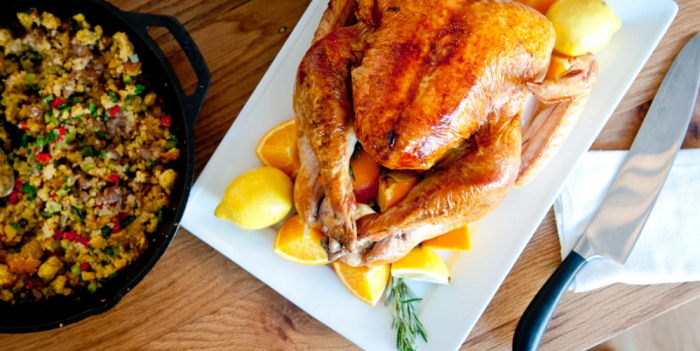 Here they are, everyone: your 2015 Thanksgiving All-Stars! Take your pick from our biggest, fanciest, juiciest turkeys and assorted roasts of the finest caliber, plus one seriously impressive lobster. Brine away, reduce those sauces, tent with foil and rest before carving — it's time for the main event. No matter which one ends up on the table, you'll be a hero for delivering it yourself.

Here's the deal with turkey: The bird itself is a cinch to prepare. It's the brine that's cumbersome and time-consuming. However, the bird must be brined (all the chefs we interviewed say so), therefore roasting a turkey has developed a reputation for being harder to pull off than it is. In short: Learn to brine, finagle your fridge to accommodate a brine bucket and rest easy not only because you're in a turkey coma and your football team won, but because you know tomorrow's leftovers are guaranteed to be as succulent and juicy as they could possibly be.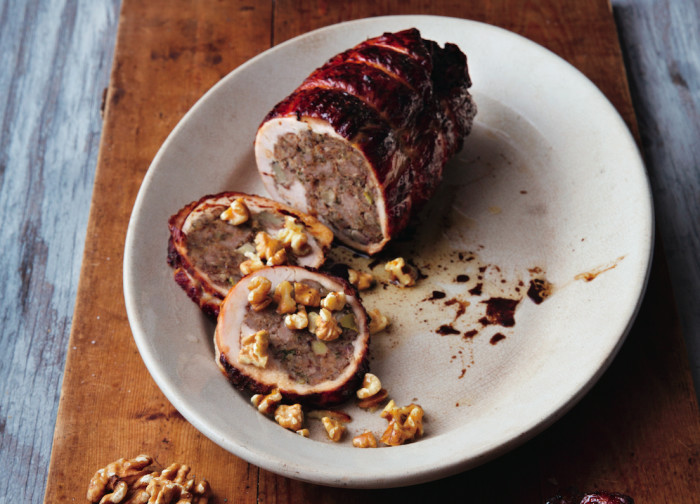 Looking for an easier way to serve up moist, delicious turkey this Thanksgiving? Look no further than simple, seasonal stuffed turkey breast by renowned chef Mario Batali.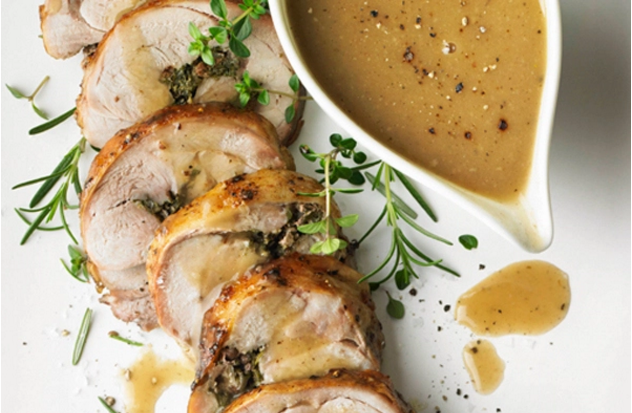 From chef Marc Forgione: "Instead of a whole turkey, I like to serve this leg-and-thigh roulade. The meat is more moist, and everybody gets to enjoy the dark meat, not just those two lucky people who snag the drumsticks. The gravy and roulade are both made ahead of time, which is a big help on the day."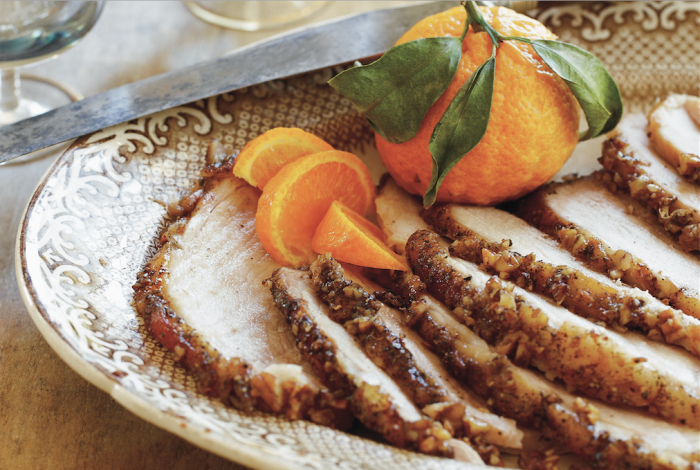 Cured hams retain a rosy color after you cook them. With a fresh, uncured ham like the one here, the meat has a much lighter color after cooking, more like that of pork loin. Fresh hams are usually available in grocery stores around the holidays, but you might have to order them at other times of the year.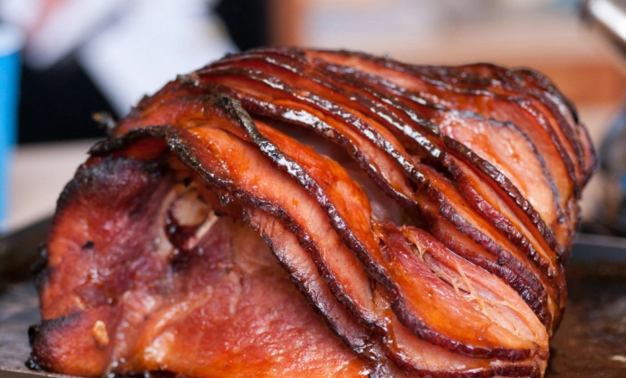 Chef David Burke combines the malty caramel flavor of Samuel Adams Boston Lager with sweet, sticky caramelized peaches for a glaze that any ham would be only too lucky to have brushed on in layers, just as we intend to do.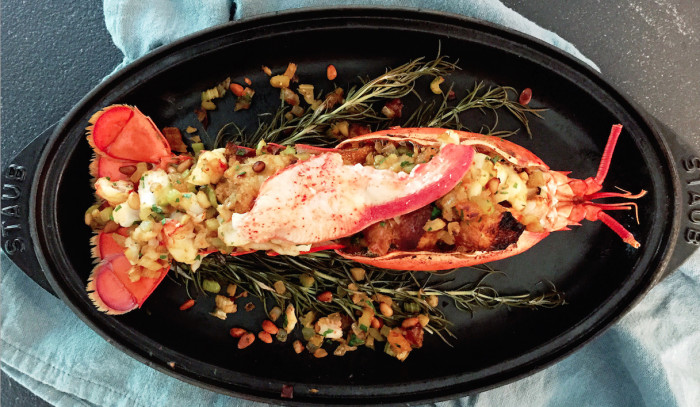 The lobster shells should be filled with warm stuffing. If made ahead, gently reheat with a little water prior to stuffing. The addition of rosemary is a wonderful touch as it slightly chars and adds a delightful aroma that permeates the shell (and your kitchen). However, this is not necessary, and bunched tinfoil can stabilize the shells just as well.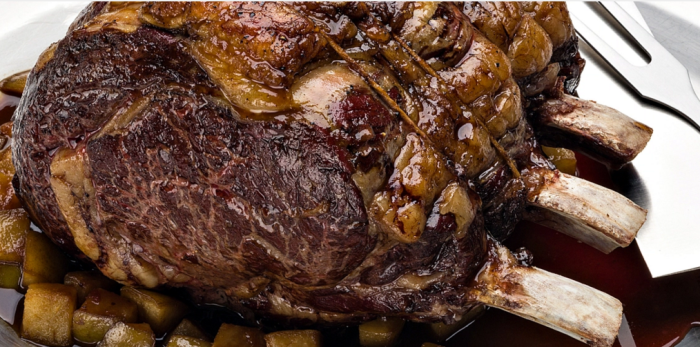 The great thing about fancy roasts is they basically need zero attention, which is excellent because if you're making an impressive main course, you have sides and desserts to worry about. If anything, stay away to prevent yourself from opening the oven to see how great it smells. It smells awesome, so don't touch the oven. Simply put this standing rib roast in and leave it be for about three hours. Boom. You just achieved a beautiful, even medium-rare.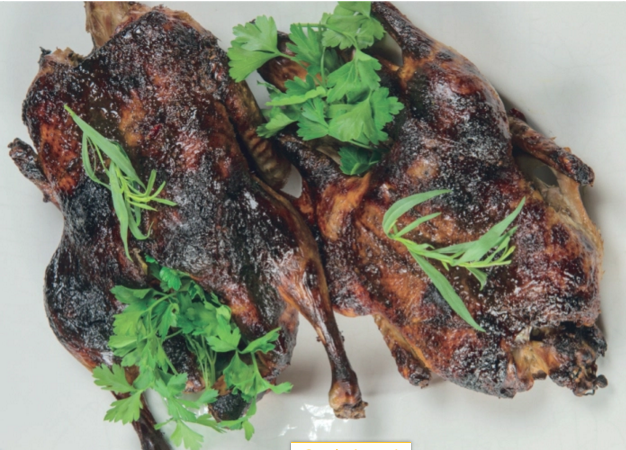 This dish is a variation on the traditional duck fesenjan, which is a thick khoresh. Roast the whole duck separately so you can discard the fat that is generated during cooking. The pomegranate and walnut sauce is rich, so it is preferable not to cook the duck in it, as the dish would be too oily.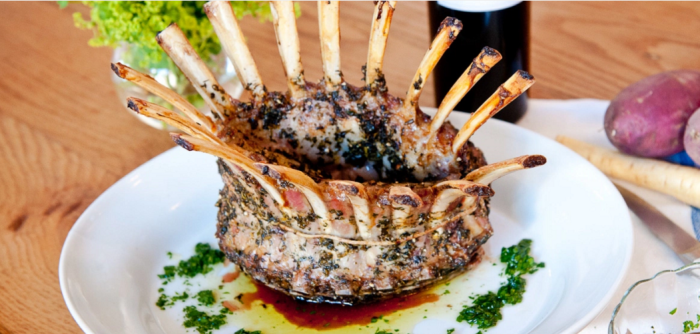 There is nothing intimidating about a crown roast except the price tag. For a special occasion or holiday meal, he who delivers the crown roast to the table is king. Best of all, you're also paying for ease of preparation. Simply rub with salt, pepper, olive oil and a simple herb mixture and let it roast for — no, not three hours, that will kill your lovely expensive roast — half an hour. Maximum. If you like your lamb any more cooked than a scant medium-rare, you should not be buying pricey cuts of meat or taking king-sized credit for this regal dish.
Brought to you by