Thanksgiving Practice Round: Veggie Side Dishes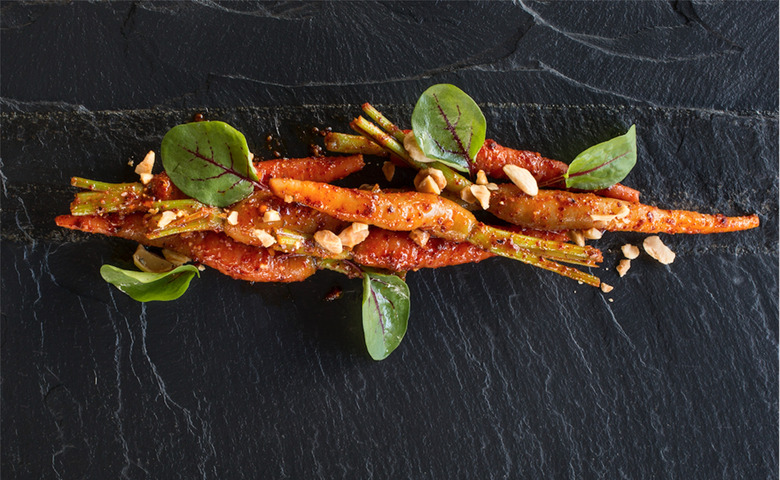 Tal Ronnen takes spicy North African carrot salad to elegant heights with this simple, impressive preparatio
You may be in the game for the main courses, but let's be real: A table full of incredible vegetable sides is the best possible posse for a juicy turkey, succulent ham or otherwise impressive large quantity of meat. The more colorful the table, the better the Thanksgiving Instagrams, are we right? Peruse a few of our favorite fall veggie dishes and choose your entrées' teammates wisely.
Recipe: Spicy Moroccan Carrot Salad
This recipe has sentimental meaning for chef Tal Ronnen — it is an ode to his childhood nanny, Sol: "Both of my parents worked full time, so for the first eight years of my life, my sisters and I were like Sol's adopted children. Sol came to Israel from Morocco in the mid-1950s, and years later, she found her way to the Ronnen household. Her cooking was so different from the food we knew. Sol's was laced with chilies and spices, and her carrot salad was a mainstay on the table."
Recipe: Green Beans and Mushrooms With Tehina
Chef Michael Solomonov created this dish for a Chanukah meal at his Philadelphia restaurant Zahav in 2013, the year that the first day of Chanukah coincided with Thanksgiving. "Since this hadn't happened in over 100 years (and won't happen again for another 77,000), we decided to have fun and merge some of our Israeli flavors with traditional American Thanksgiving casseroles," he writes. "This is our riff on the classic green bean casserole, with tehina standing in for the cream of mushroom soup."
Recipe: Fennel With Gorgonzola
Braised fennel is made even more tempting with Gorgonzola in my recipe for this classic side dish. Add just enough broth so the fennel gets tender without becoming soupy.
Recipe: Roasted Root Vegetables With Romesco Sauce
Thanksgiving is approaching, and cookbook author Rebecca Ffrench is always in search of a new or unique stuffing recipe. This is one of her favorite stuffing recipes. She likes to serve it along with some nice collard greens. "I added a seasonal favorite into the mix — the pumpkin — and the cinnamon, raisins, and pears add a hint of sweetness to the dish," she writes. "All of the complex flavors are bound to make this one of your holiday favorites. Romesco is a garlicky sauce that originated in Spain. I've encountered quite a few variations on this mild sauce over the years and seen it used in many ways — over vegetables, with fish, and even with a salad. Here I've paired it with roasted vegetables, but it's even good just spread on a piece of warm baguette."
Recipe: Winter Squash And Couscous Salad
The sage and rosemary are crucial in making this recipe seasonally apt, with the lightly toasted almonds lending some much-needed crunch. For blogger Aine Carlin, texture in vegan food is the key to a winning dish, and this one succeeds on all fronts: "As a side or on its own, it's a super-easy option when those early evenings start to creep in, and means you can settle down to your television safe in the knowledge that your couch-potato ways are somewhat negated by this healthy evening meal. Well, sorta."
Recipe: Butter-Braised Radishes
Served whole, cooked radishes are a real treat. Small white baby turnips with their greens are lovely prepared this way, too. Be aware that these cook fast, going from tender to mush in a blink.
Recipe: Baked Squash With Radicchio Salad
This is a classic Paul Carmellini fall dish, something he makes every year when the butternut squash is fat and sweet. "My dad usually serves this as a side dish with roast pork or chicken, but it's so filling on its own that a half squash per person, with a little bit of radicchio salad to balance the sweetness out, makes a perfect vegetarian meal. If you don't see butternut squash in your local market, acorn squash will work just as well."
Recipe: Roasted Pear, Feta And Watercress Salad
As a food-producing country, Turkey wants for nothing; it's one of the few nations in the world that grows more than it needs to feed itself. In Turkey, eating according to the seasons and buying locally is commonplace. The typical Turkish diet relies heavily on a variety of vegetables, and these are prepared in such a way as to leave them tasting deeply and unforgettably of little but themselves. Try this pear, feta, watercress and hazelnut salad as a first course at your next holiday or special occasion meal.
Brought to you by