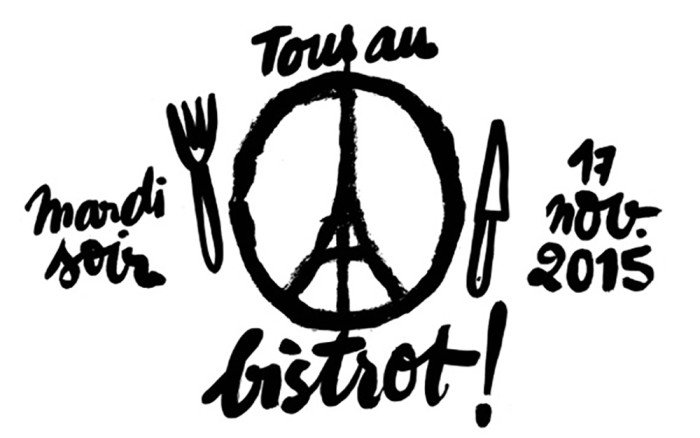 This should have been the week that the French food guide Le Fooding was celebrating the release of its annual publication, which rates the best restaurants in Paris and throughout the country. Instead, the editors, like all Parisians and many people around the world, are still in shock from the Friday night attacks that killed more than 130 people in the French capital.
The attacks struck especially hard, since many of those killed were simply dining out at neighborhood restaurants or having a drink at a bar: Le Petit Cambodge, La Belle Equipe and Le Carillon were three of the targets. Parisians took to the streets over the weekend to celebrate life, and now, Le Fooding is urging Parisians to celebrate restaurants as well with a restaurant night on Tuesday, dubbed "Peace for Paris: Tous au Bistrot!" or "Everybody to the bistro."
Le Fooding has coordinated the night, along with a hashtag, #TOUSAUBISTROT, to pay homage to the victims, to support restaurant and nightlife personnel affected by the attacks, and to show Paris's strength in the face of terrorism, the company said in a release. There'll also be a moment of silence at all restaurants and bars in Paris at 9 p.m.
The latest issue of Le Fooding, which is published in French but with many listings accompanied by an English translation, is available at newsstands in France and via the Le Fooding website.