Where To Eat Korean Food In Philadelphia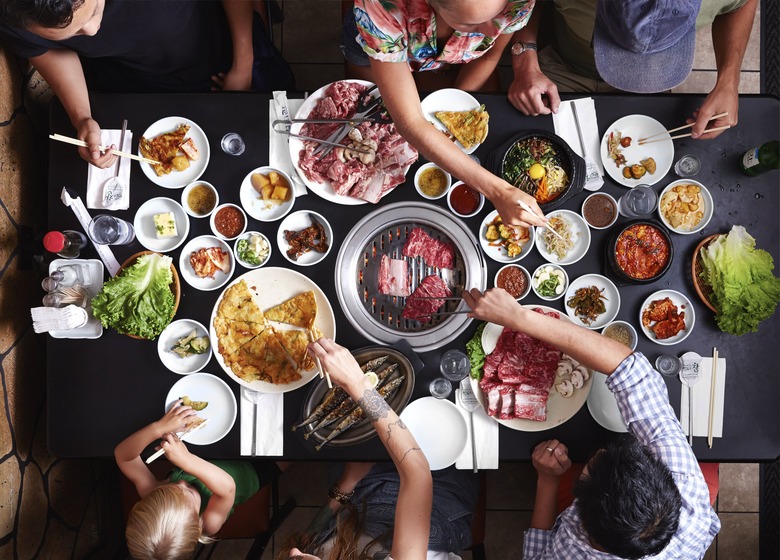 Koreatown fixture Seorabol is a good starting place for your Korean-food adventures in Philly. (Photo: Mike Persic
With a bustling Chinatown, a burgeoning Little Cambodia and a well-established Vietnamese enclave just south of Center City, Philadelphia certainly isn't lacking for Asian eating options. But if you're on the kimchi trail, in search of the Korean barbecue, mandoo or a sochu and karaoke spot, Philly's Koreatown is decidedly off the beaten path.
Chef Chris Cho, whose family owns Seorabol, a longtime favorite in the Philly Korean-restaurant game, is the guy to talk to when it comes to exploring the city's uniquely positioned Korean neighborhood, located just about 20 minutes north of Center City.
There's a reason all of the restaurants, markets, churches, shopping centers and after-school academies are all strategically located on the northeastern border of the city's limits. "Korean people are all about education," Cho says, going on to explain how the first wave of Korean immigrants settled close to the city's border. This is so their kids could go to school in the surrounding suburbs, while their businesses could thrive in the city, where the real estate prices were lower.
Being somewhat removed from the city's center means that long-standing businesses can succeed and newcomers can join them without having to worry about crazy-high overheads. This dynamic allows for a scene that embraces the old-school, like Kim's, a charcoal barbecue classic, along with newcomers, like Chi Mac, a Korean fried chicken spot that recently opened a second location in Fishtown. And while the Korean community is moving further out of the city, coming into Philly for shopping, eating or a night out is still the way to go.
Cho has lived and worked in Philly's Koreatown for nearly all of his life, so his relationship with the neighborhood (and eating Korean food in general) runs deep, making him an ideal fixer for lining up everything from the best drinking spots to childhood comfort food and everything in between. Here are Cho's top picks:
Seorabol
Cho's family restaurant is the place to start for a proper intro to Philly's Korean dining scene. With a lengthy menu that features everything from tabletop barbecue to bubbling hot pots and crisp, crusted stone bowls of dolsot bibimbap, the staff here is more than happy to walk you through the finer points of galbi (marinated beef short ribs) versus samkyupsal gui (thick slices of pork belly) and mix your sochu with beer for a dangerously drinkable concoction that will keep you going all night. Cho's uncle mans the sushi bar here, slicing up sashimi that rivals the best Japanese spots in the city. Bonus points for an off-the-menu Korean omakase. 5734 Old 2nd St., Philadelphia, PA; 215-924-6865; philadelphiakoreanrestaurant.com
Jason's Cozyday
If you're looking for a serious night of Korean-style drinking in Philly, Jason's Cozyday is the place to do it. With low lighting, a giant projector and fridges brimming with beer and sochu, owner Jason Kim has created the perfect place to imbibe with a menu of booze-friendly snacks, too. Grilled skewers of mini hot dogs and octopus are excellent, and kimchi rice balls rolled in seaweed flakes don't disappoint. But it's the cheese corn, a cast-iron dish of sizzling corn finished with mozzarella and chile flakes, and the odeng, rectangles of fish cake on a stick served in bubbling broth with scallions and hard-cooked egg, that will keep you going. Oh, and that odeng comes with free refills, so you can order once and the fish cakes will keep coming all night long. 430 W. Chew Ave., Philadelphia, PA; 215-548-4290; facebook.com/jasonscozyday
Muta
Make your way down a long driveway and into a complex that boasts everything from virtual golf to karaoke and tabletop barbecue and settle in for a night of eating and drinking at Muta. With Polaroids of reveling regulars lining the walls and an excellent $40 barbecue sampler for two, this spot is always a great time. But the operators have recently elevated their game by installing a pojangmacha, which literally means "covered wagon." In this case, we're talking about a tent illuminated with Christmas lights in the parking lot for alfresco grilling and drinking. 5501 N. Front St., Philadelphia, PA; 215-224-2244; mutaphilly.com
Myung Ga Gimbap
While Cho might be a professionally trained chef, he's the first to admit that he has what he calls a "baby palate," meaning that the kind of places that cater to the Korean after-school crowd are also his kind of places. Myung Ga specializes in bunshik, or inexpensive snacks, like gimbap, seaweed-wrapped rice rolls filled with everything from Spam to spicy tuna, as well as preserved vegetables, dried squid and donkatsu, breaded and fried pork cutlets topped with sweet and sour mayo. But if you really want to go for it, try the dduk ramen, a mind-blowing dish of packaged ramen noodles and rice cakes tossed in a red chili sauce with fish cakes and topped with loads of melty mozzarella. 6783 S. 5th St., Philadelphia, PA; 215-424-2158
Yong Hwa Roo
Jajangmyeon, or noodles with black bean sauce, is the king of Korean-Chinese dishes, and this strip mall spot does 'em right. The decor has definite American-Chinese vibes, and the menu features recognizable dishes, like kanpoongi (Korean sweet and sour chicken), but the inky black jajangmyeon is a must here. With fatty cubes of pork and diced potato cubes, the noodles come with sides of raw onion and yellow rounds of dan mu ji (sweet pickled radish) to doctor your plate to order. 6779 N. 5th St., Philadelphia, PA; 215-244-4414
Jong Ka Jib
Commonly referred to as "the soft tofu restaurant," as per the signage on its maroon awning, this North Fifth Street stalwart is the place to go for soon dubu, a bright red stew of silken tofu that arrives at your table furiously bubbling, with an egg on the side ready to crack into the soup for poaching. Banchan and tea are delivered by a waitstaff of older ladies in traditional dress, and each order is accompanied by a stone bowl of rice with a browned crust that acts as the Korean equivalent of Persian tahdig. Additions like beef, pork, oysters and clams are on the menu. But if you prefer to go meatless, there is a selection of vegetarian soon dubus on offer as well. 6600 N. 5th St., Philadelphia, PA; 215-924-0100