You've tossed them into vinaigrettes, caramelized them to top a steak and sweated them for a sauce base, but you've probably never given much thought to shallots. They're the onion's sweeter, more refined cousin. Botanically speaking, the two are in the same family. But ask any French chef worth his béarnaise if there's much difference between the two and you'll get a resounding oui! Over the past decade or so, a battle has been brewing in France over whose shallots are really shallots. French shallot farmers have taken to the streets to protest what they call "faux" shallots — onion hybrids engineered in the Netherlands to mimic shallots. The two bulbs, they say, are not created equal.
"I'm a saucier at heart, and all great sauciers use a lot of shallots," says chef Robert Wiedmaier of Marcel's in Washington, D.C. Wiedmaier needs six quarts of shallots to make just one and a half quarts of his richly concentrated duck sauce. "A lot of people would not know the difference [between traditional shallots and hybrids]," he says. "The French ones are a lot more flavorful and potent. Of course, they're more expensive…and available only seasonally. But for me, it means a lot [to have right shallots]. I want to have the best of the best."
The difference between the two may very well escape your average home cook. But certain chefs profess their allegiance to échalotes traditionelles. It's not just a question of flavor — heirloom shallots are said to taste "finer" — but a matter of principle. The crusaders originally brought shallots to France from the Middle East in the 11th century. The bulbs have been farmed in much the same way since then and were just about the only shallots available in France until recently. The Dutch shallots appeared circa 1999 as a cheaper alternative.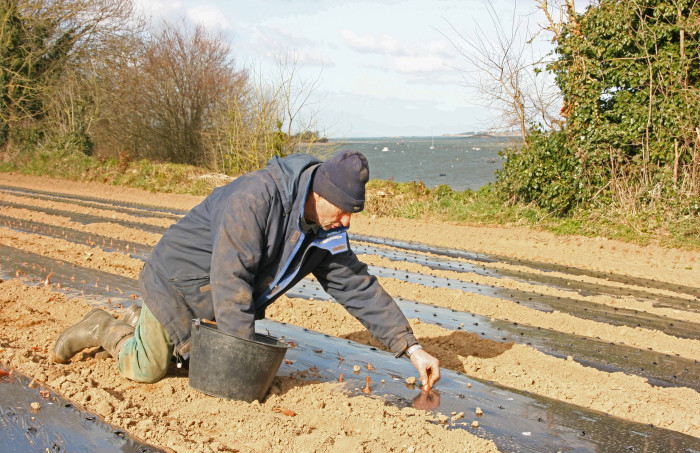 Traditional shallots are much more labor-intensive to farm. Because they never flower to bear seeds, they can only propagate through replanting the bulbs by hand, which requires far more time and effort than scattering seed. Hybrid shallots are sewn from seed, like other onions, which means they can be planted and harvested mechanically. But the ersatz shallots themselves have changed over time: A recent study revealed that new varieties are not hybrids at all but are genetically all onion. What has traditional shallot farmers up in arms is the fact that these onions are being sold as shallots. They hope to pressure the government to intervene.
"We only do 100 percent traditional shallots," says Erwan Landivinec, the director of wholesale imports for Baldor Foods, a distributor of specialty foods whose clients include top New York chefs such as Daniel Boulud and Alfred Portale. "Our view is it's either an onion or a shallot, but it can't be both. The problem with the hybrid is that it doesn't correspond to what our clients expect a shallot to be."
So how can one determine if a shallot is authentic? Look for a few key signs: traditional shallots are elongated and asymmetrical and a shiny coppery rose in color. Seed-grown shallots are plumper and more uniform. Cut the bulb open to be sure; onions have a series of scales laid out in concentric circles, but traditional shallots have an outer oval-shaped scale and at least two or three inner layers of thicker scales. Scrutinize your bulbs at your own risk: You may learn that the shallots you've grown to know and love are mere onions in disguise. It's enough to make you cry.