The holiday season is upon us, but just because the weather feels cooler and the days are shorter doesn't mean you can't warm your bellies with fresh produce. Just ask chef Brian Millman of Atwood in Chicago. We did and found out he is cooking with all sorts of end-of-fall goodies. "I really like the heartiness of fall flavors, and I tend to save them for that season," he says, adding that sage and rosemary are the biggest fall herbs he uses. "It's the exact opposite of summer's fresh style of cooking. In the fall and winter you get to develop deeper flavors by slow-cooking stuff." Take a cue from this Midwestern chef and pick up bright orange pumpkins, sweet Jerusalem artichokes and small yet substantial Russian banana potatoes.
Sugar Pumpkin
Unlike the behemoths you carve into monstrous faces, sugar pumpkins are small, round and perfect for cooking with. Especially when you make pumpkin gnocchi (recipe below), a specialty Millman brings to the restaurant each fall. "I know gnocchi can be kind of common, but I think we do a unique spin on it since the gnocchi is all pumpkin," he says. Add some bright rosemary-laced goat cheese cream, fried kale and toasted walnuts and voilà! A sensational fall dish highlighting one of the season's best finds. "It hits the fall flavors, plus you get a nice tanginess from the cheese." If making this dish feels a little daunting, rest assured, there are tons of things you can do with sugar pumpkins. For example: pumpkin pie, another fall classic. Roast the squash yourself and then puree it for baking, or use it to create a rich seasonal soup. Take chunks of roasted pumpkin and toss it with pasta, or bake into a satisfying casserole. Serve on salads, as a side dish or even as the feature of the plate. The options are endless, unlike the season, which will peter out come December.
Jerusalem Artichoke
Native to North America, the Jerusalem artichoke is also known by its other common name, sunchoke. These hearty tubers are great this time of year and add a surprising texture and burst of sweet green artichoke flavor to just about anything you pair them with. Unless you are going for a dish that's pure white, don't bother peeling the flaky brown skin. It's so thin that you can easily eat it, and if you roast the veggies, the outside layer adds a pleasing pop when you bite in. Another way to prepare them is to puree them and make a sort of cream, the perfect accompaniment to fish, says Millman. "I get excited about sunchokes every fall," the chef says. "It gives you this unique, starchy but not too starchy artichoke flavor that I like with striped bass." You can also slice them thin and toss with spiced pecans, apple and kale to make a hearty salad, mash like a potato or keep it simple with the aforementioned roasting. You should pick out samples that aren't too big — say, smaller than a teen girl's fist — and ones that have the skin intact. The texture should be firm, and the color a light brown with little to no greening.
Russian Banana Potato
You might look at this long tuber and think, "That's a fingerling potato." Well, you wouldn't be wrong, but you would be overlooking the special qualities that are found in this particular Solanum tuberosum. It's full-bodied with a golden, nutty taste, as if you had already cooked it in a pound of butter. "They are almost silky smooth when you eat them," says Millman. "We slow cook them in oil, garlic, herbs and lemons." On reason the chef likes to work with these beauties is the size, which he says lends itself well to infusing a lot of flavor. Of course, you can simply roast them plain, turn them into a mash or toss them with other fall favorites to make a vegetarian-friendly meal. No matter what you do, just make sure to give this variety of potato a try — you won't be disappointed.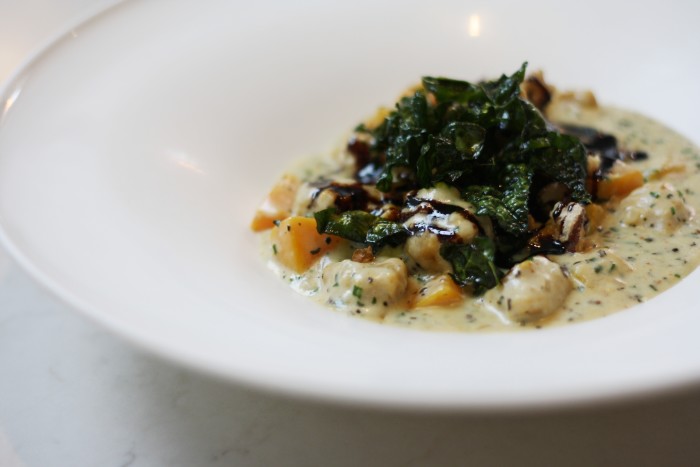 Pumpkin Gnocchi
Courtesy of Brian Millman of Atwood Restaurant in Chicago
Ingredients
1½ pound pumpkin, roasted and pureed
4 eggs
2½  teaspoons salt
3 cups flour
1 teaspoon baking powder
Pinch of nutmeg
Directions
To roast pumpkin: Cut pumpkin(s) in half and remove seeds. Roast in the oven at 350 degrees Fahrenheit with the skin side up. Cook until pumpkin is soft, about 20 minutes. Transfer to food processor and puree until smooth.
Place pumpkin puree in large mixing bowl.
Add the eggs to the pumpkin puree and mix together.
Combine flour, salt, baking powder and nutmeg in separate mixing bowl and whisk together.
Add 1/3 of the flour mixture to the pumpkin puree and mix until incorporated. Repeat until all the flour is added.
Place gnocchi mixture in a piping bag (or large ziplock).
Bring a pot of salted water to a boil.
While piping out the gnocchi into the boiling water, cut at 1/2 to 1 inch.
Cook for about 5 to 8 minutes and check to make sure it is cooked through. Once cooked, use immediately or place in ice. When cool, toss with oil and serve with rosemary goat cheese cream.
Rosemary Goat Cheese Cream
Ingredients
1 shallot, chopped
2 cloves garlic, smashed
½  cup white wine
1 large sprig rosemary
1 quart heavy cream
1 pound goat cheese
Directions
Sweat shallots and garlic with rosemary.
Add white wine and reduce by half.
Add heavy cream and bring to a boil.
Reduce heat and stir in goat cheese.
Remove rosemary stem and then puree.
Season with salt and pepper.