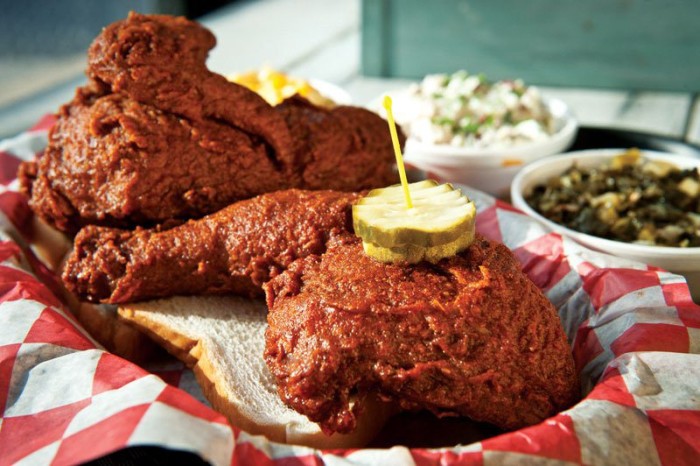 Nashville-style hot chicken is the Music City's claim to culinary fame. Entrenched in the city's history but also fresh enough to contribute to Nashville's exploding national popularity as a creative urban scene, hot chicken is an addiction and a sweet, spicy salvation to those who've had it. In The Hot Chicken Cookbook, Timothy Davis, a chef, writer and Nashville resident, traces the dish's origins back to the late 1930s at Prince's Hot Chicken Shack, a story of love gone wrong, and follows the trail to its white-hot buzz of today. This excerpt from the book details some advice — so called "commandments" — to take into account when ordering and eating the iconic dish:
1. Thou shalt not touch thy eyes with thy fingers after eating Hot Chicken.
2. Thou shalt know that this goeth doubly for touching other sensitive areas, on yourself or others.
3. Thou shalt wear rubber gloves when preparing Hot Chicken in a home setting.
4. When mixing the spices, consider wearing a mask like you've seen on doctors and Michael Jackson, to avoid the inevitable violent cayenne-dust sneezing fits.
5. Practice the patience of Job. Which is to say, thou shalt not be in any sort of hurry as regards any aspect of Hot Chicken. It was slow food before Slow Food was cool.
6. Seriously. Don't touch your eyes, even if you just used a wet-wipe to clean your fingers.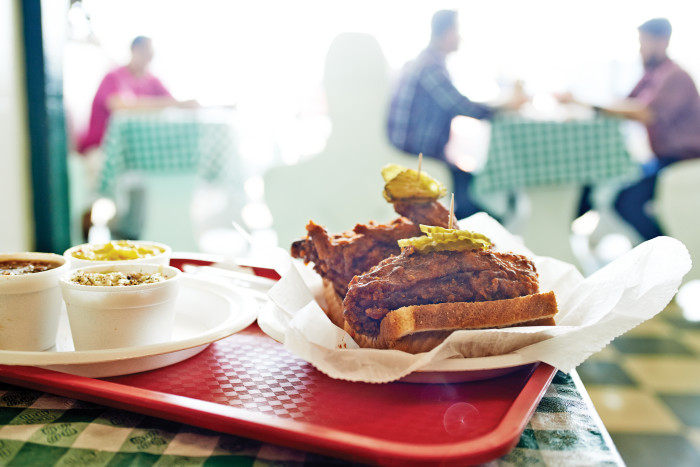 7. Do not order the "Extra" Hot anywhere, least of all at the iconic Prince's, a.k.a. the Garden of Heat-en.
8. Do not expect any Hot Chicken accoutrements — white bread, pickles, sides, drinks — to in any way lessen the pain. You don't set out to eat Hot Chicken not expecting — not craving — the heat.
9. Do not visit Nashville, eat real Hot Chicken, and then start a restaurant serving a toned-down, tepid version in hopes of Bringing Hot Chicken To The Masses.
10. Lather, Rinse, Repeat.
Excerpted from The Hot Chicken Cookbook by Timothy Charles Davis. Copyright © 2015 by Timothy Charles Davis and Spring House Press.