Drinking Tequila On The Day Of The Dead? Keep It In The Family.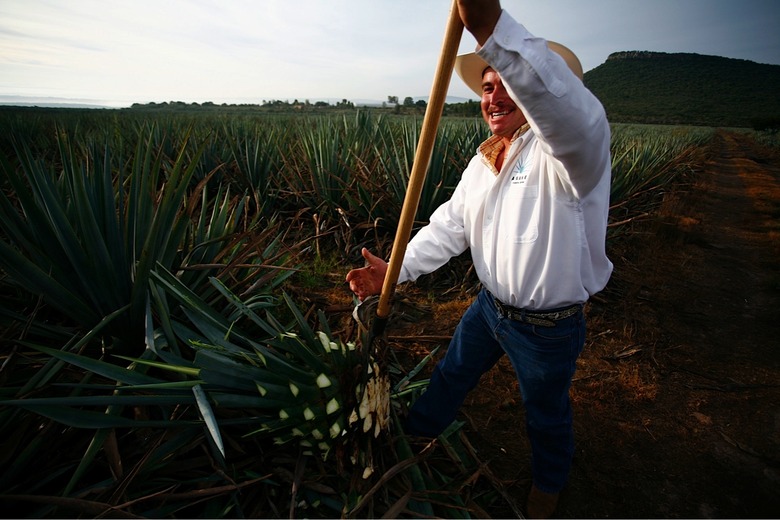 We may receive a commission on purchases made from links.
Most people can agree that tequila is changing. No longer perceived as mere fuel for frat parties and spring breaks, the spirit is gaining respect as one that can be sipped and appreciated. But with this shift in perception comes a new image, the vanguards of which are a pretty highfalutin bunch. Hip-hop moguls, leading men and hair-product billionaires have become the face of tequila. But not every brand has a celebrity behind it. Some of the best and most interesting tequilas are produced by small and midsize companies owned by normal people, families with ties to the land. If you plan to raise a toast this Day of the Dead, you might consider making it a family affair.
Riazul
Maria Higinia Gomez was a consigliere to the Mexican revolutionary forces during the country's War of Independence. She was gifted some land for her service, which for 200 years remained mostly unused. One day, Gomez's great-grandson, Iñaki Orozco, had a crazy idea. The plot of land fell within the geographical limits of tequila country, so Orozco decided to try planting agave on it. His father and uncle chided him for entertaining a fantasy — there were no other agave plantations nearby — but gave their blessing. Orozco bought some baby agaves and planted them himself. In that first year, the plants flourished. But agave takes about seven years to ripen. Only then did Orozco decide to start a tequila brand. To the family's shock, Riazul was good: a lean, mineral tequila with a hint of cocoa on the finish.
Tapatio
Felipe Camarena's grandfather had made tequila in small batches until his little distillery was destroyed during the Mexican Revolution. He stopped producing the spirit but continued to grow agave, which he sold to big tequila companies. Camarena inherited the business but found the agave market to be fickle. Some years, the price per kilo of agave was high; in other years, he made little return on his investment. Camarena decided, instead of selling his agave, he would make it into tequila himself. He built a distillery with his brother in 1937 and began making what would become a much-lauded spirit. Some 75 years later, under the direction of Camarena's grandson, Carlos, Tequila Tapatio was finally made available in the United States.
Fortaleza
If Guillermo Erickson Sauza's name sounds familiar, it's because he's from one of the biggest tequila-producing families in history. His great-great-grandfather Cenobio Sauza learned the tequila trade working for the Cuervos. Eventually, he struck out on his own and would become Cuervo's biggest competitor. Sauza was passed down to Cenobio's son and his son after that, but the company never made its way to Guillermo. His grandfather sold it in 1976. By the time Guillermo decided he wanted to make tequila, he was prohibited from using his family name commercially. But he still had some of his family's original land and an old distillery, complete with the ancient stone mill called a tahona used for pressing agave. He now makes Fortaleza, a richly sweet and spiced tequila, just the way his great-great-grandfather did more than a century ago.
7 Leguas
Ignacio Gonzalez Vargas was a great admirer of General Francisco Villa, a.k.a. Don Pancho, a revolutionary hero and iconic figure in Mexico. According to legend, Don Pancho's horse was named for the seven leagues (siete leguas) it once galloped in battle. In 1952, Gonzalez Vargas started his tequila brand, naming it for Don Pancho's horse. When he passed away, his wife, Amparo, took over the company. Their son, Fernando, was eight years old. As soon as he finished high school, Fernando got involved in the family business and continues to run it today. Not much has changed in the 7 Leguas process since his father's time. The agaves are still crushed using a tahona pulled by two large mules. The result is a peppery and herbaceous tequila, classic in style.
Chantal Martineau is the author of How the Gringos Stole Tequila: The Modern Age of Mexico's Most Traditional Spirit.