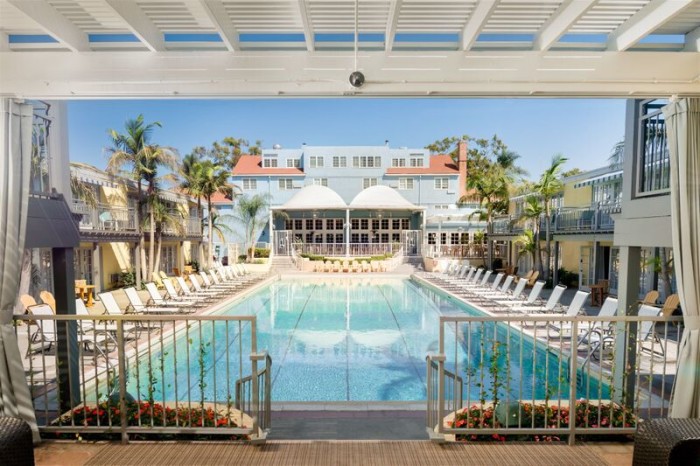 In Hungry Concierge, we travel the world to spot hotels that operate with their guests' food and drink needs squarely in mind — hotels, both big and small, that are located in neighborhoods rich with bar and restaurant options. Because there's nothing worse than having your trip derailed by crummy room service.
You might call it a hotel for the retro set. Or for swimmers and DJ-loving partiers. Or value seekers. Despite its humble, aging rooms, the Lafayette Hotel in San Diego's up-and-coming North Park neighborhood offers deals and hides welcome secrets: its darling 1940s bungalow apartments, a junior Olympic-sized swimming pool designed by the star of the original Tarzan films and a rich old-hollywood history. It also houses a new Americana-meets-retro restaurant, Hope 46, with the heart-warmingly old-school Red Fox Steakhouse as its neighbor.
Opened in 1946, the Lafayette was frequented in its heyday by the likes of movie stars Ava Gardner and Lana Turner. Bob Hope threw New Year's Eve parties here in the basement ballroom with the clamshell stage, the Mississippi Room, now the site of weddings and parties — and also the room where a makeshift bar was built to film the iconic "You've Lost That Lovin' Feelin'" bar scene in Top Gun. Built by former car dealer and developer Larry Imig, the hotel was originally on 2.5 acres with many shops and restaurants on the premises. There was a $6 million renovation completed in 2011 with the assistance of the San Diego Redevelopment Agency and the state of California, which included upgrading the lobby and common areas. The Hollywood connections translate to film nights on a hidden patio complete with a popcorn machine; the current theme is Italy, with the hotel showing classics like Frank Sinatra's swaggery, private eye Tony Rome and one of the great food movies of all time, Big Night.
Locals and food and drink industry folk flock to pool parties and industry afternoons with DJs around the pool; $15 day passes, monthly memberships and rentable cabanas are an option for those who want to swim and join the fun but aren't staying at the hotel. The bungalows are cozy apartments behind the main hotel that are shielded from DJ sounds and crowds poolside, and thus remain quieter.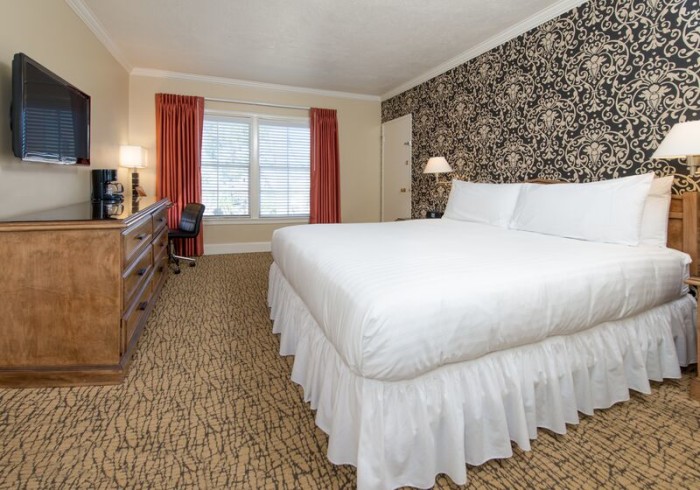 The Rooms: Rooms in the manor or main house are bare-bones with the charming touch of movie-star quotes and photos lining the halls outside each room, featuring legends like Audrey Hepburn and Elizabeth Taylor alongside now-obscure acting greats like Claude Rains. Poolside suites are more festive — and noisy when there are pool parties — with balconies facing the pool and palm trees. Basic Suze suites are meant for families with kids, sporting bunk beds and play areas. The best lodging is found in two- or three-bedroom 1940s bungalows, with creaky wood floors and original molding, brightly colored dining nooks and colorful wallpaper in the living room and bedrooms. Comfy king and queen beds with a flatscreen in each room accompany a kitchen outfitted for cooking and eating in. The bungalows are two stories with front doors facing the street, so you feel like you've stepped into your own, cozy 1940s Hollywood apartment.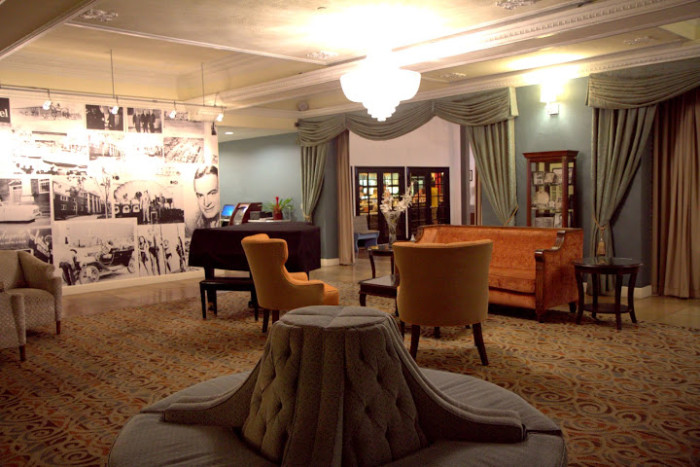 The Look: In 1940s colonial style, the brick manor is marked by four white pillars and white window shutters, rising tall under palm trees with striking, retro signage marking the hotel driveway. The lobby is decorated in cool blues and rust orange tones, backed by a wall covered in black-and-white photos of the hotel's storied celebrity past. A whimsical second half of the lobby sits under vivid umbrellas hanging upside down from the ceiling. Surrounded by hotel rooms — reminiscent of a midcentury Los Angeles apartment complex — the Weissmuller Pool is a huge, 25-meter pool designed by Johnny Weissmuller, a five-time gold-medal winner and star of the original Tarzan movies in the 1930s and '40s.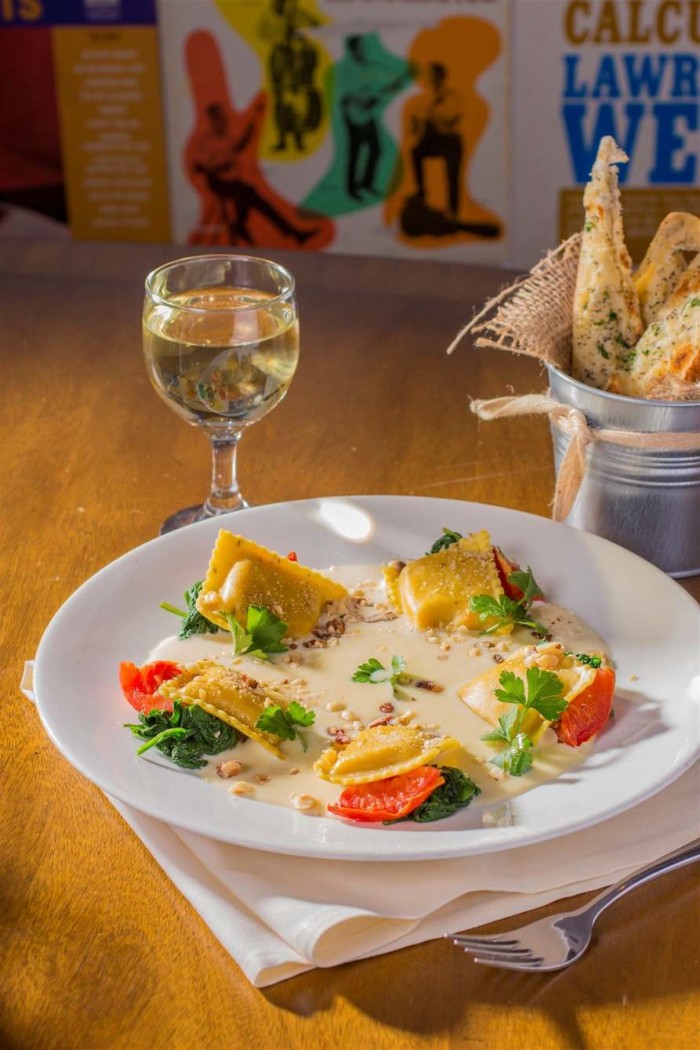 The Neighborhood: There are numerous food and drink options not much more than one mile from the hotel — about a 15- to 20-minute walk. Brand-new Park & Rec boasts delightful outdoor patios, a sports cottage behind the bar complete with Ping-Pong tables and flatscreens for games, a mellower main bar, a gourmet grilled cheese pop-up in a hut off the patio, and approachable cocktails, including boozy mudslide slushies, downright heavenly when dipping tater tots in them (think a grown-up version of fries with a Wendy's Frosty).
Coin-Op Game Room is rowdy good fun with 30 pinball machines and a range of vintage 1980s games, craft beers and spirits, balanced cocktails, killer dogs (like a Hasselhoff pork dog in IPA mustard and sauerkraut) and a soundtrack boasting feel-good tunes from Paula Abdul to Def Leppard.
A mile from the hotel is a hub of worthwhile stops along Adams Avenue, including Polite Provisions for craft beers, elixirs, tonics, draft cocktails and soda fountain–style classics; neighboring Soda & Swine for mix-and-match floats using classic sodas and a range of creative meatballs, served as sliders, sub sandwiches, à la carte or over spaghetti; and Cantina Mayahuel, a divey-rustic escape to Mexico with fish tacos, a patio and a robust agave spirits collection, including more than 100 mezcals alone.
For a coffee fix, three quality, third-wave coffee stops lie within a mile of the hotel: There's Holsem Coffee, serving silky banana bread and lemon thyme cold brews; popular Coffee & Tea Collective, with only two locations in SD (their coffee is impeccable, but so is their tea — try the sparkling draft tea); and cozy-funky Dark Horse Coffee, offering cold brew, pour-over and French press.
Within the Lafayette Hotel, Hope 46 pays tribute to Bob Hope and the hotel's opening year of 1946 in a rustic-modern dining room that is part Americana (old flags and dark wood) and ode to the hotel's early days with vintage photos and vinyl records lining the walls, the backdrop for dishes like fish and chips or gnocchi truffle mac 'n cheese. Next door to the Lafayette, the Red Fox Steakhouse has a rich history going back hundreds of years with connections to famed actress Marion Davies. Entering the wood-paneled, red booth–lined dining room and bar is like stepping back a few decades, the highlight being kitschy live piano-bar nights covering everything from jazz to Billy Joel.
The Lafayette Hotel
2223 El Cajon Boulevard, San Diego
www.lafayettehotelsd.com
Rooms start at $92