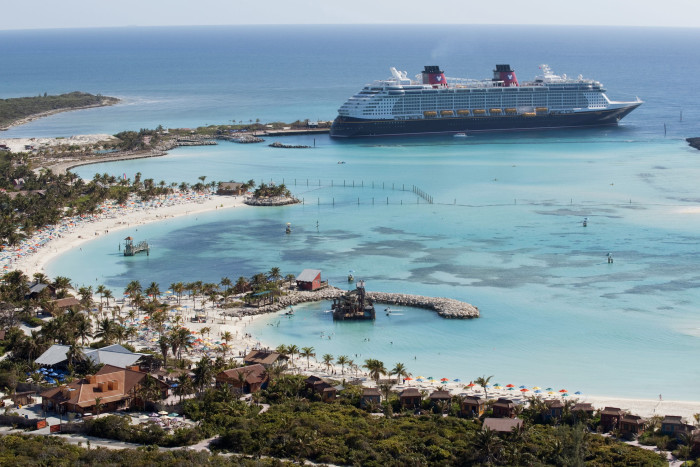 I was a cruise virgin who tended to avoid even parties on boats, but something about the publicist's email intrigued me, or maybe amused me. Did I want to spend a weekend on the Disney Dream cruise ship to experience the fine-dining offerings, including dinner at Remy restaurant?
That's right, an upscale French restaurant named after the animated Parisian rat from the 2007 Disney flick Ratatouille. How could I possibly say non?
The boat would depart Friday from Cape Canaveral, near Orlando, and sail overnight to Nassau, Bahamas. On the second morning, we'd awaken on Disney's private Bahamian island, Castaway Cay, returning to Florida by Monday at 8 a.m. The whole thing sounded just random enough to be fun, and besides, I was curious about how Remy's ratatouille would measure up to the hugely hyped film version. I was invited to bring a friend, who flew in from Mexico City for the occasion.
Fast-forward from the airport (Tommy, our driver and a regular cruiser, was excited for us. "Oh, man, I hear Disney has the best food!" he enthused) to the moment we walked onto the ship, the entryway adorned grandly with a colorful chandelier like an upside-down princess skirt. Beginning now and for the next three days, I'd hear strains of music — in hallways, in the elevator, floating in from the blue beyond on a salty breeze — and catchy Disney tunes like "When You Wish Upon a Star" or "Cruella De Vil" would lodge in my head, stuck there until the next ditty took its place.
Already, the posing with Disney characters had begun, but we sidestepped the families, the little girls in Disney costumes (usually Belle from Beauty and the Beast or Princess Jasmine from Aladdin), and hightailed it straight to the cabin, where a cheese plate, prosecco and deluxe Mickey Mouse–themed bath amenities awaited. This was…not bad. I stepped out to the balcony to admire the scenery as we pulled away from the port and soon learned what any veteran cruiser knows: Once you hit the high seas, there's not much to see.
---
That's right, an upscale French restaurant named after the animated Parisian rat from the 2007 Disney flick Ratatouille. How could I possibly say non?
---
A few hours later, we turned up at Remy, which shares an entrance with Palo, the high-end Italian place we'd try another night. These adults-only restaurants are tucked away exclusively on Deck 12, far from the dining rooms frequented by families on the lower decks. To try Remy, cruisers must make a reservation and pay $85 a head (plus an optional $105 wine pairing); Palo offers both a tasting menu and à la carte dining.
Our busy chowing schedule dictated that we start with Petites Assiettes de Remy, offered certain nights at 5:30 p.m. as a $50 small-plates sampler. At the tasting, groups of friends or strangers move through various stations, sampling a bite and a wine pairing at each one. The goal is to offer a format that's more casual and social than a sit-down dinner and to entice participants to book a full Remy meal if they like what they try.
On the way in, we learned about all the ways that Remy (the restaurant) pays homage to the animated Disney hit Ratatouille, the tale of an ambitious youngster named Remy with big dreams of chefdom and the small problem that he happens to be a rat. I saw a bottle of 1947 Château Cheval Blanc, the wine requested in the movie by snooty critic Anton Ego. I saw upholstery with an artsy, abstract rat motif, which was echoed on a glass dividing wall, all subtle enough to be ignored by anyone who prefers not to think about rodents while diving into expensive French cuisine. (Thankfully, no actual rats ever showed up during dinner like they do near the end of the movie.)
I saw a painting of a kitchen designed to look like the one at Gusto, the restaurant in the movie where Remy (the cartoon rat) eventually prevails in his culinary ambitions. The restaurant's chef, Patrick, who is very much someone who might become an animated character in the next Disney movie about a French restaurant, explained that they'd originally wanted to put in glass wall where the painting was, but regulations against copper pots on the ship meant the real kitchen wouldn't have looked right.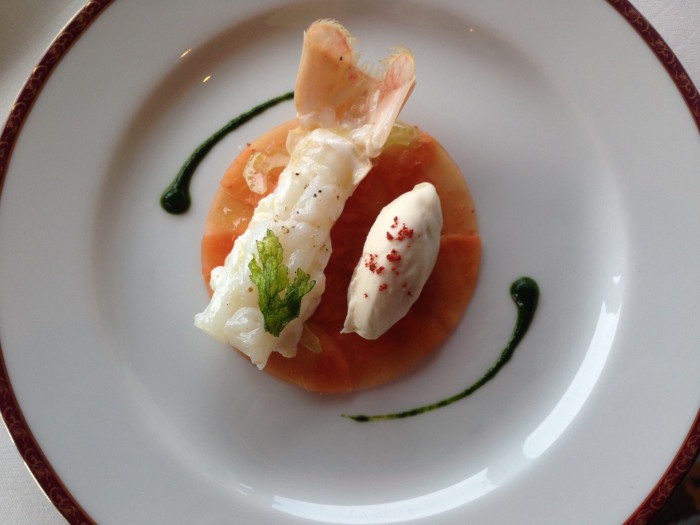 We started with Taittinger Champagne, caviar and blinis. Any cruising Russian oligarch would have approved. Next, a refined take on a simple stew, a potée, according to the chef — his grandmother's recipe. The langoustine presented a problem. My friend is one of those unlucky types who can't eat seafood, something I'd forgotten to tell anyone. No matter. Chef Patrick and his tall white hat whisked into the kitchen, and within minutes, I was digging into double langoustines while my friend had lamb.
I think it was the wines that surprised me the most. They were excellent, astonishing, and the sommelier, Cedric, explained each one so passionately that I wasn't bored, like I usually am by wine talk. He spoke of each pour like a beloved friend, as classical music played in the hushed, heavily carpeted dining room and the sea swam by outside huge bay windows. It was probably the booze taking effect, but I did feel a little bit of the magic promised by the cruise's marketing brochures.
Not to miss anything, we had dinner scheduled at 8 at Animator's Palate, one of the three main restaurants included in the price of the cruise. The food — a slightly overdone black truffle ravioli and a steak I was too full to eat — didn't make much of an impression. However, the animated, interactive turtle with a fondness for surfer slang ("Righteous!" "Totally awesome, dude!") who appeared on the wall and started chatting up the guests had me floored. This cartoon was carrying on actual conversations. How did they do it? Magic again.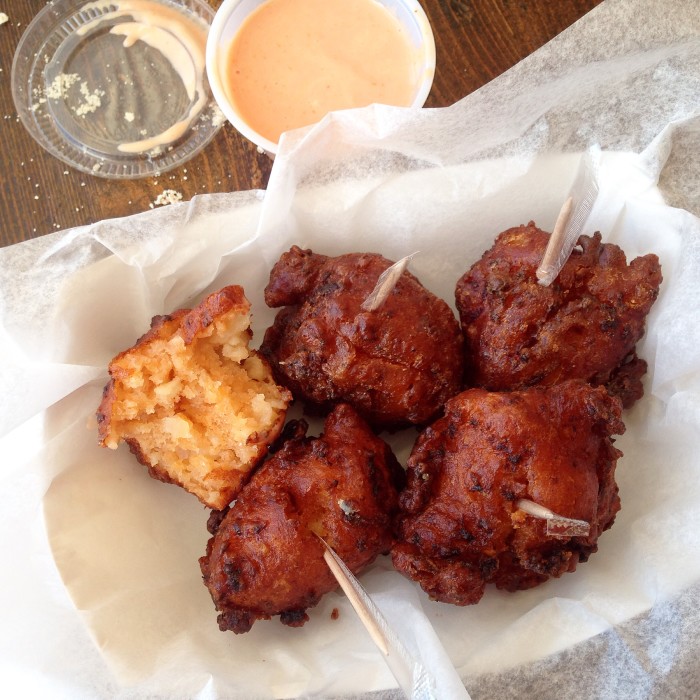 For the next few days, we did cruise-y things. We wandered around eerily empty Nassau and eventually found a shack on a public beach near the Atlantis that served conch fritters. We rode the Donald Duck–themed AquaDuck water slide about 10 times, then pigged out on serve-your-own ice cream cones. We admired the sea from the comfort of the adults-only Jacuzzi area and lamented that the sauna in the Rainforest Room spa wasn't hotter. One night I watched a live band play "Gangnam Style," the frontwoman belting out everything but the chorus in Korean. "Hey, Disney princess…" she crooned to the tiny kids bopping spastically on the dance floor.
We introduced ourselves to the only other young childless couple on board, a baby-faced duo from Montana who apparently really loved Disney. We awakened the second morning to the sound of conga drums and the strange sight of a placid, empty, deeply blue bay: Castaway Cay. Later that day, we enjoyed a Caribbean outdoor barbecue to the rhythm of a steel drum band. I took a mixology class and learned to make Bahama Mamas and caipirinhas from a warm Jamaican lady who called everyone "baby."
Our rigorous activity schedule was matched by an equally rigorous eating schedule, bikini weather be damned. We became breakfast regulars at Cabanas, a buffet restaurant that offered everything from "Mexican"-style egg burritos to ersatz Krispy Kremes. At Palo, we opted for a modified version of the Esperienzia di Vino tasting menu and proceeded to get so tipsy on the wine pairings that I don't remember much about the food except that I liked it, especially the antipasto platter and the mushroom polenta.
---
It was probably the booze taking effect, but I did feel a little bit of the magic promised by the cruise's marketing brochures.
---
Remy was the standout. On our last night, we slid into a plush round booth designed for six average cruisers, or maybe four jumbo-sized ones, and proceeded to devour one hell of a classic French meal. Cedric reappeared with more magical wine pairings, but first there was a Colette cocktail (named for the lone female chef in the Gusto kitchen), topped with cassis pearls and what looked like pixie dust.
We bit into croquettes filled with hot tomato soup. I spooned up a finely diced ratatouille (at last!) paired with Krug Champagne. We ordered buttery Miyazaki Japanese beef, a $55 supplement for two ounces, but hey, we weren't paying. At the end of the meal, I insisted on a visit from the cheese cart and reveled in my first bite of mimolette, the round papaya-orange cheese that is aged by tiny mites. It tasted sweet and buttery — not mite-y at all.
On Monday morning, it was over. We waded through the line of passengers coming back through U.S. customs and then collected our luggage from color-coded areas, the whole thing extremely orderly and well organized. (Who knows more than Disney about the art of herding people?) We'd been to the Bahamas and back in just three days, had dined well and drunk tropical cocktails, and no one had caught a norovirus. "So that was a Disney cruise," I thought, humming "Part of Your World" from The Little Mermaid as we rolled our suitcases back onto land.