5 Ways To Respect A Great Can Of Tomatoes Tonight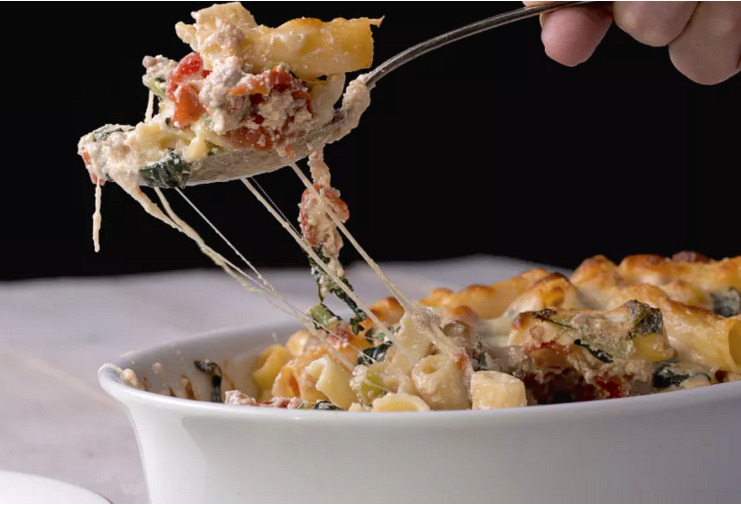 Tomato season is behind us. Take a deep breath and let it sink in. Thankfully, there are many varieties of canned tomatoes that — while not a substitute for the real thing — are packed with flavor and can do exactly what you need them to do. Check out these five recipes for canned tomatoes and enjoy pasta, curry, sandwiches and more from the ripest tomatoes we have access to. We're counting down the days 'til the first heirlooms show up at the market. In...ten or so months.
Sausage and Kale Pasta Bake (above)
A casserole is my absolute favorite way to feed a lot of people when it's cold. Now, by casserole, by no means am I implying that cream of canned soup is involved in any way. It's just a nice big dish of baked stuff.
Baked Eggs With Tomato And Feta
The trick is using the freshest eggs you can find — your local farmers' market definitely has them — as well as ripe summer tomatoes for the sauce (but high-quality canned work just as well). The result is a healthy, filling and, quite frankly, impressive brunch. Serve with toasted crusty bread for extra dipping. You'll want to dip.
Tomato Chickpea Curry With Chicken
When we're pressed for time during the week, this is a favorite quick dinner to make, and simple, because it's a recipe mostly made with pantry ingredients. If you have our easy roasted chicken in your fridge, now's the time to use it. Indian food has never been easier to make at home.
Red Wine Sloppy Joe Sliders
Here's a time-saving cheat to give your mini sloppy joes a little crunch and zip: Buy an order or so of onion rings from the nearest place serving onion rings and quickly reheat in a hot oven for about 10 minutes before topping the sliders with them. No messy batter, no deep-fryer, oily paper towels or extra half hour of cleanup necessary. Not that we don't love all those things.
Vegetarian Black Bean Chili
The key to creating successful vegetarian dishes, like this black bean chili, is making sure they satisfy just as well as their carnivore counterparts. You can accomplish this by using plenty of herbs and spices, protein-rich ingredients like beans and tofu and the freshest, most flavorful vegetables you can find. I add butternut squash for a two-way flavor street — the squash adds sweetness to the dish and in turn becomes infused with delicious cumin and black bean flavor.