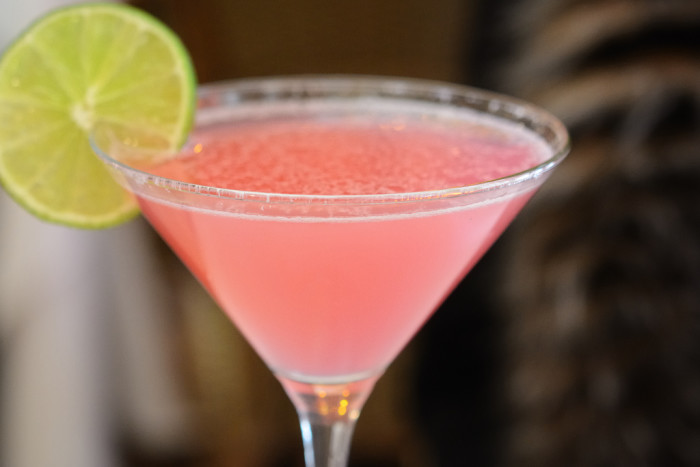 Everyone has a guilty pleasure. For me, if we're talking about alcoholic potables, it's the cosmopolitan. Hey, no giggling in the back! I'm also a sucker for a good piña colada, but that's another story for another day, a different climate, perhaps. For as long as I can remember, the cosmo has fueled many a long night both in front of and behind the bar. Some bartenders sip G&T's behind the bar. Others treat themselves to shots of something high-octane and à la mode, like Fernet Branca or overproof rye. Some bartenders don't drink at all. These strange specimens cannot be trusted.
And yet among the myriad options laid before me in a well-stocked bar, why have I become so enamored of a drink that would probably get me laughed out of almost any decent bar in America? Maybe it's the simplicity of four common ingredients: vodka (citrus vodka if you have it), orange liqueur (I like Combier triple sec), fresh lime (and yes, it must be fresh) and cranberry juice. Shake it up for a few seconds with some decent ice, strain it into a frozen glass, twist a swathe of orange zest over the top if you care to, and I'm a happy man.
Or maybe it's because the drink is hardly what we'd call contemplative. There's no etched rocks glass involved, no gold-plated stirring spoon and no crystal-clear ice cube staring up at me. It's just a drink. And when I fuss over the minutiae of cocktails on a daily basis, after a long night (or on a night off), sometimes that's all I want or need from a beverage. Something cold and bracing, enjoyed while it's still "laughing at you," as famous bartender Harry Craddock of London's Savoy Hotel once said.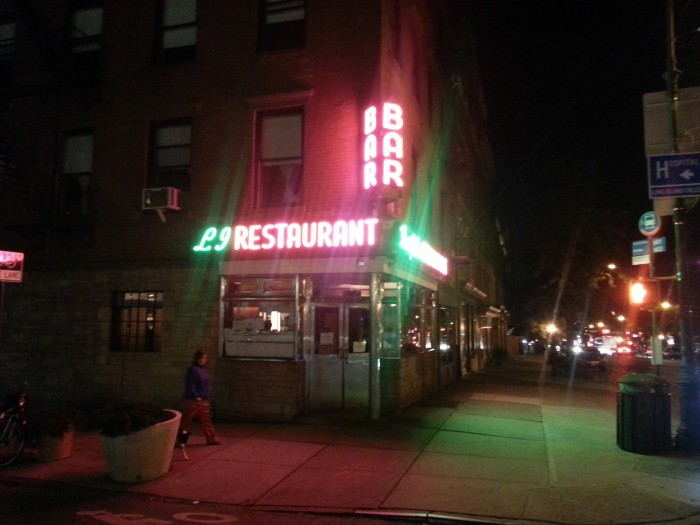 When I sidle up and perch my elbows on the mahogany at Brooklyn's Long Island Bar, owned by my friend Toby Cecchini, a veteran bartender, accomplished writer and author of the wonderful tome Cosmopolitan: A Bartender's Life, it seems only fitting that I order the drink that he's been accused of inventing on countless occasions. He didn't, for the record, although he freely admits that he "improved" upon a recipe that he's quite certain came to us from the gay scene of San Francisco, perhaps as early as the late '70s.
Cecchini manned the bar at Keith McNally's Odeon in the late 1980s when Madonna and Warhol were probably still doing blow in the bathroom. Absolut Citron had just come on the market, and while those West Coast bartenders were using Rose's lime cordial and grenadine in their prototype cosmopolitan recipes, Cecchini introduced fresh lime juice, cranberry (itself an exotic curiosity at the time) and Cointreau into the mix, solidifying its place in the pantheon of modern classics.
He does call it "last decade's instantly understood signifier of crass, table-hopping New York privilege. When we sprung it on the wary guinea pigs, they went uncharacteristically nuts for our new potion, soaking up dozens during their after-hours binges. From there, the floodgates opened. The diaspora into the downtown night set was shockingly rapid, like anthrax on a stiff breeze."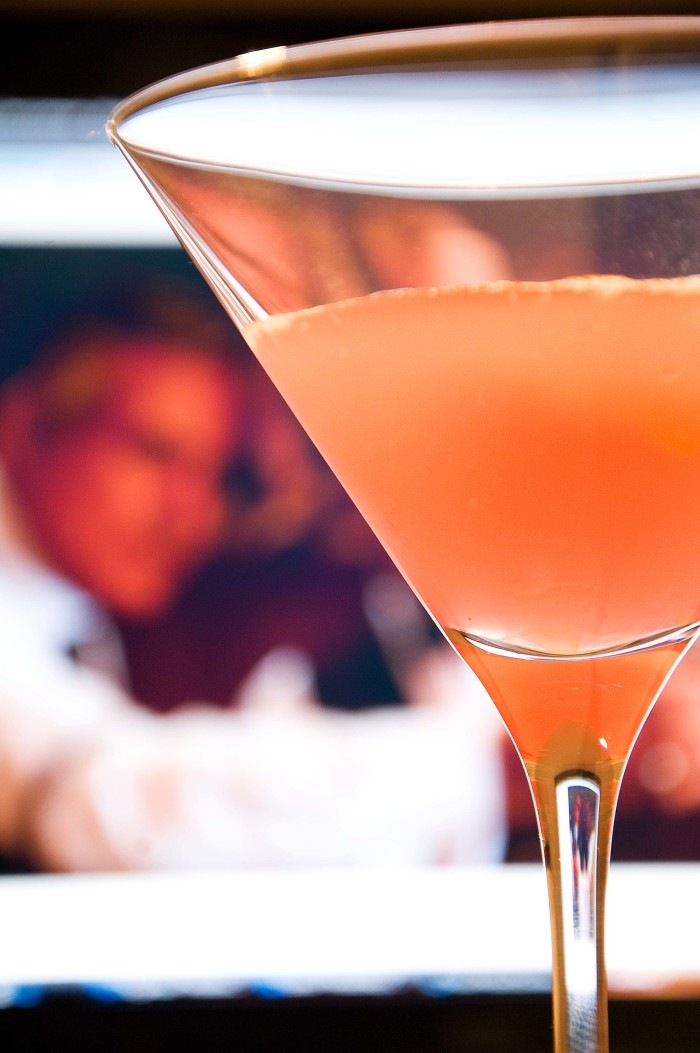 His recipe (listed below) has a puckering acidity with a pastel-pink hue and doesn't nearly resemble the fire engine red versions one might see during happy hour at most midtown bars. If you like a tart gimlet or daiquiri, then there's no reason why you shouldn't, or couldn't, enjoy a finely made cosmo. Whenever I order one from Cecchini, though, he thinks I'm taking the piss. I'm not. I actually love cosmopolitans.
There are many theories about the provenance of the cosmo (I won't go into them all here). It may — or may not — have been born in Fog City, but it most certainly grew up and came to life in Manhattan. The current patriarch of the global cocktail movement, Dale DeGroff, who once famously plied his trade behind the long bar of the Rockefeller Center's Rainbow Room, has also been falsely credited with "inventing" the cosmo.
He certainly did help popularize the drink, though, and any celebrity worth her Manolos would be seen sipping them with abandon at his bar as she looked over the vast expanse of the metropolis below, each one finished with De Groff's signature and now immortalized theatrical flourish: the flamed orange twist. So popular were they that he had them prebatched for convenience in those ghastly plastic containers.
And only recently, just to confuse things a little more, Jared Brown and Anistatia Miller, two England-based cocktail historians, discovered a recipe from a book called Pioneers of Mixing at Elite Bars, published in 1934 at the repeal of Prohibition. In it is listed a drink called, wait for it…the cosmopolitan.
This one, however, was based on gin (vodka would not even become popular in America until the 1950s), shaken up with Cointreau, as well as lemon juice (instead of the now ubiquitous lime) and raspberry syrup. No cranberry. It's a rather delightful version that looks, coincidentally, like the version pushed across the bar by Cecchini. It sure is delicious, and I don't feel any guilt. Not even for a second.
Cosmopolitan: 1934
Adapted from Pioneers of Mixing at Elite Bars
Ingredients:
Jigger of Gordon's gin
2 dashes of Cointreau
Juice of one lemon
1 teaspoon of raspberry syrup
Directions:
1. Shake, strain and serve.
Cosmopolitan à la Toby Cecchini
Ingredients:
2 ounces Absolut Citron
1 ounce Cointreau
1 ounce fresh lime juice
1 ounce cranberry juice
Directions:
1. Shake with ice, and strain into a cocktail glass.
2. Garnish with a lemon twist.