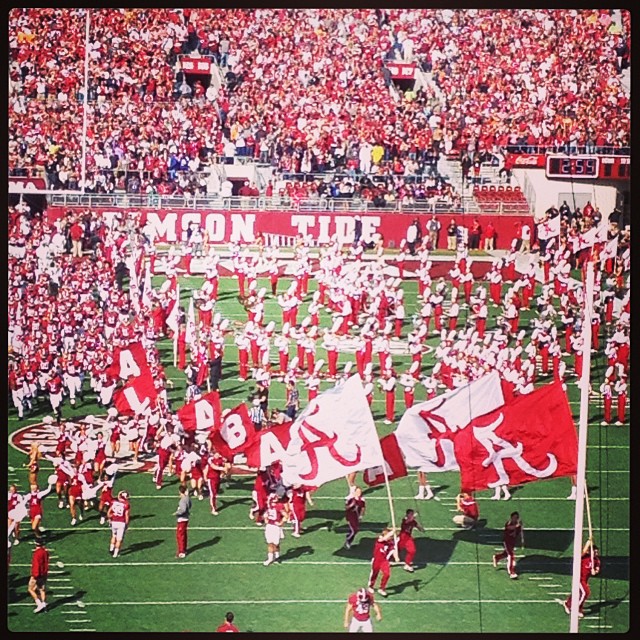 If there's anything that Southerners care about more than their regional cuisine, it's gotta be SEC football! To celebrate the 2015-16 college football season, Food Republic is launching a new series, SEC FoodBall. Each week, we'll profile a Southeastern Conference town, and more importantly tell you where you should eat and drink if you're fortunate enough to attend a game there. We'll also solicit advice from some locals to make sure you have the benefit of home team advantage.
Week 8: Tennessee at Alabama, Tuscaloosa, Alabama; Oct. 24
When the University of Alabama renovated Bryant-Denny Stadium in 2006, it created a "Walk of Champions" plaza to commemorate the school's past successes on the gridiron, including a statuary garden with busts of the four head coaches who had brought the Crimson Tide national championships in the past. Astute observers noted that a niche had been left unoccupied, and it didn't take long for head coach Nick Saban to fill that spot, winning the first of three (and counting) BCS titles at Alabama in 2009.
Which is all to say that football is kind of a big deal in Tuscaloosa, Alabama. For years, no self-respecting 'Bama or University of Tennessee fan would ever schedule a wedding for the third Saturday in October since that was the annual date of the UA/UT tilt, and not only would that severely affect attendance at the nuptials, it would also screw up future anniversaries forever. With the recent rejiggering of the SEC calendar, the game has been moved this year to the fourth Saturday, but it is still just as sacred a date as ever.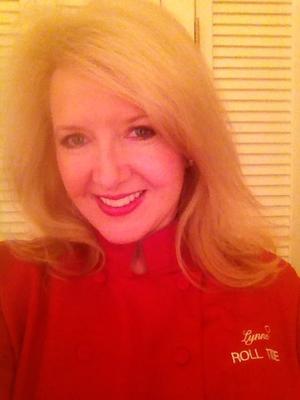 So if you're fortunate enough to have tickets to the big game in Tuscaloosa this weekend, you'd better come prepared to cheer, eat and drink. For advice on those last two activities, we turned to Lynne Ryan, the organizer of Chefs to Dine For, a New York City–based group that puts together intimate culinary experiences featuring noted chefs at restaurants all over the country. We can hear you echoing that old Pace Picante commercial, "NEW YORK CITY?!" How can a woman who lives in the Hudson Valley know anything about dining in T-Town?
Well, Ryan is uniquely qualified. First of all, she's a graduate of the University of Alabama, where she serves on the board of the school's nutrition department. She is also a member of the NYC chapter of Les Dames des Escoffier and is married to Dr. L. Timothy Ryan, the president of the Culinary Institute of America. Which is all to say that Ryan knows her food and loves her some Crimson Tide — she's a frequent visitor to campus for game days. Here's where she likes to spend her time in Tuscaloosa:
Splurge
For upscale dining, look no farther than the Side by Side, Chris Hasting's first venture in Tuscaloosa after years of developing a vaunted reputation at his Birmingham restaurant, Hot and Hot Fish Club. The 2012 James Beard winner for Best Chef – South has created another winner with the Side by Side, named after the old-fashioned shotgun that he grew up hunting with. Game animals such as duck and rabbit do appear frequently on the seasonally changing menu, but Ryan has a predilection for the restaurant's "great shrimp and grits." The Side by Side Restaurant, 2410 University Blvd., Tuscaloosa, AL 35401; 205-561-5500
Ryan is also a fan of a spot on the outskirts of town called Nick's Original Filet House, aka Nick's in the Sticks. "It's my favorite for steaks, onion rings, baked potatoes and strong drinks," she says. The concoction that Nick's is most famous for is the Nicodemus, a powerful red drink made with "fruit punch, vodka, rum, tequila, Bacardi 151 and garnished with a cherry." Although the exact recipe is a closely guarded secret, some servers hint that there is even some Gatorade in the mix, which is quite possible and fortuitous since it is as red as the Crimson Tide uniforms and packs a wallop like 'Bama running back Derrick Henry with a full head of steam. Don't expect a fancy presentation, though. As befits the casual vibe at Nick's, the Nicodemus is served in a generic styrofoam cup. Nick's Original Filet House, 4018 Culver Rd., Tuscaloosa, AL 35401; 205-758-9316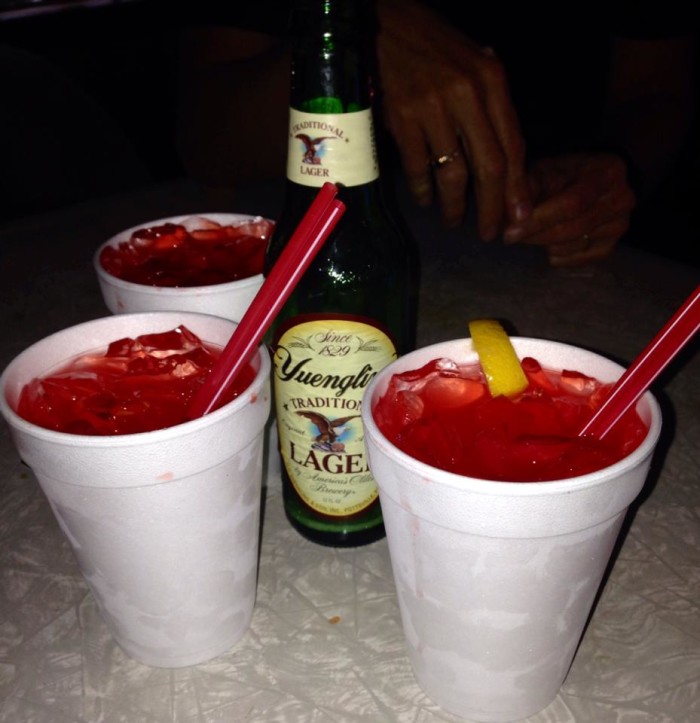 For a more refined drinking experience, Ryan recommends Shakers on the Strip, Tuscaloosa's premier bar featuring "unique craft cocktails, including more than 35 different variations of the martini." Of course, real cocktail snobs might get bent out of shape at the suggestion that there could be more than one variation of a martini, but those sorts of people wouldn't enjoy the raucous atmosphere at Shakers anyway. So they'll just have to miss out on the ridiculously affordable drink specials on Mule Monday. Shakers on the Strip, 506 Red Drew Ave., Tuscaloosa, AL 35401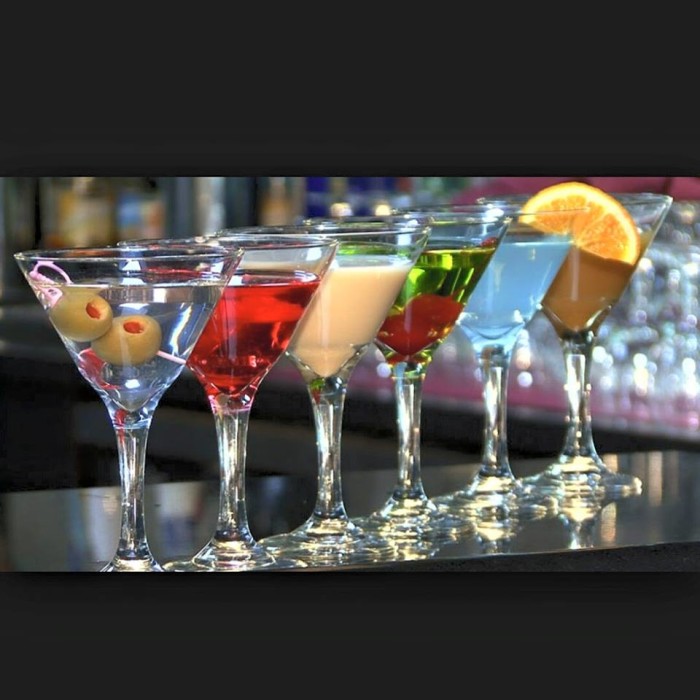 Ryan loves the simplicity of the concept at Five Bar, a friendly spot with a menu featuring "only five entrees and the best burgers in Tuscaloosa." A link in a small Southern chain of restaurants, Five Bar offers a simplified menu with five apps, five main dishes, five cocktails, five red wines, five white wines and…well, you get the picture. (OK, five cheap beers and five craft beers, but that's it!) Who needs to pore over a novel-length menu on game day, anyway? As they say at Five Bar, "There are many complications in life. Dining out shouldn't be one of them." Five Bar, 2324 6th St., Tuscaloosa, AL 35401; 205-345-6089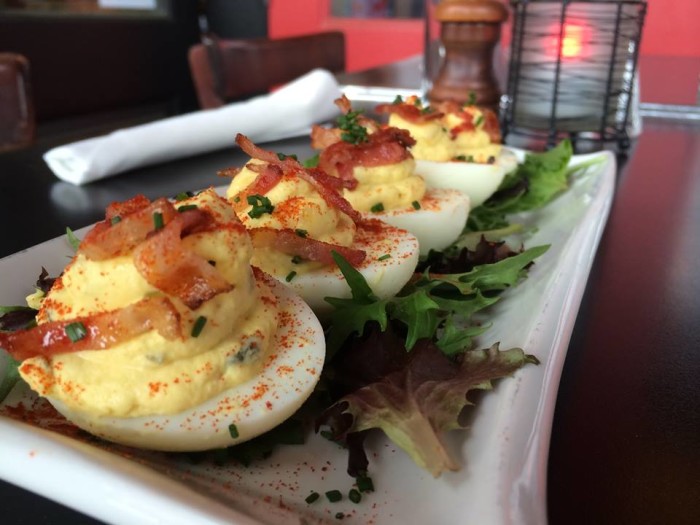 Cheap Eats
When she's in a hurry, Ryan appreciates the convenience of Sweet Home Food Bar. "We love it for eat in or take-out. And it's the best place to pick up party and tailgate food when you don't have time to make it yourself." Featuring local produce and a menu of elevated sandwiches, paninis and salads, Sweet Home Food Bar offers a casually refined atmosphere where you can grab a proper picnic on the way to the game. Sweet Home Food Bar, 3156 Heights Village, Vestavia Hills, AL 35243; 205-876-8100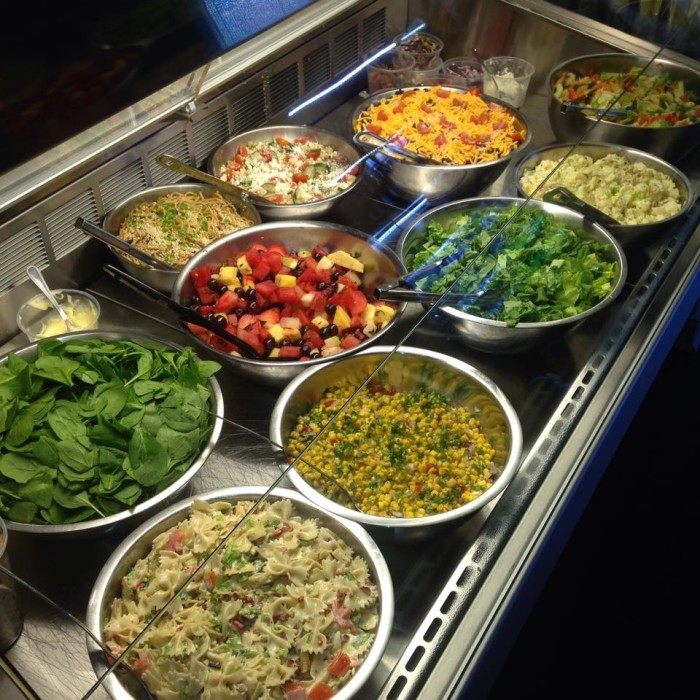 Also casual and comfy is the Avenue Pub, offering a range of fare from healthy to hearty plus live entertainment and cocktails. That's pretty much everything you need to celebrate an Alabama victory with the possible exception of a yell leader standing on the bar leading a chant of "Rammer Jammer, Yellowhammer! Give 'em hell, Alabama!" Don't worry about that, though. When the Tide rolls, you'll hear that fierce fight song (the only one we can think of that references a state songbird) plenty often enough. The bird that Ryan recommends is the fried chicken sandwich with provolone, bacon, spicy honey mustard and a side of pub fries. The Avenue Pub, 405 23rd Ave., Tuscaloosa, AL 35401; 205-759-4900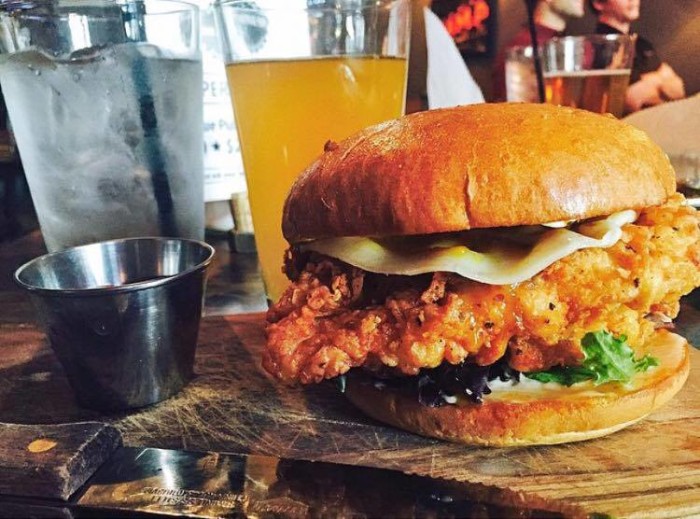 Eat Like a Local
For breakfast, Ryan suggests "an old traditional favorite" called Waysider. The legendary coach Bear Bryant was a regular customer at this tiny diner, stopping for his morning coffee on the way to the athletic facility. Down-home and unadorned, the dining area at Waysider is a throwback to the day when friendly waitresses wrote your order down on a pad with a pencil and the menu was written daily by hand. The few printed menus that are scattered among the tables are covered in rings left by the coffee mugs of patrons who lingered for an extra cup and what Ryan calls "the best breakfast, biscuits, grits, bacon and eggs in town!" Waysider, 1512 Greensboro Ave., Tuscaloosa, AL 35401; 205-345-8239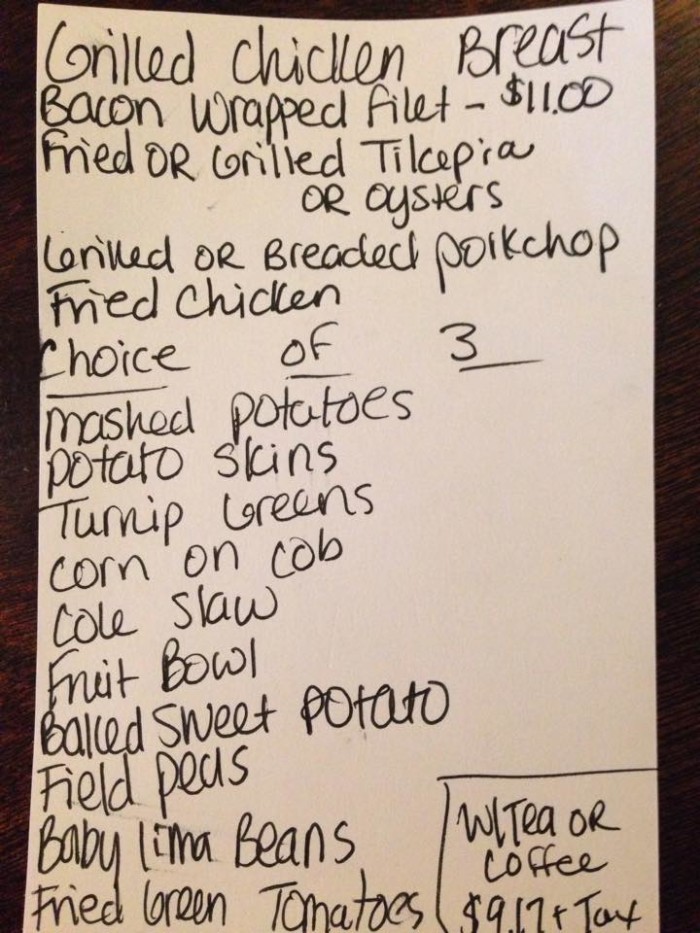 Just as traditional is the City Cafe, a prototypical Southern "meat and three," where diners order their choice of a protein such as fried chicken, roast beef or catfish accompanied by three home-style vegetables. And in the South, cottage cheese, baked apples and mac 'n cheese count as veggies. City Cafe, 408 Main Ave., Northport, AL 35476; 205-758-9171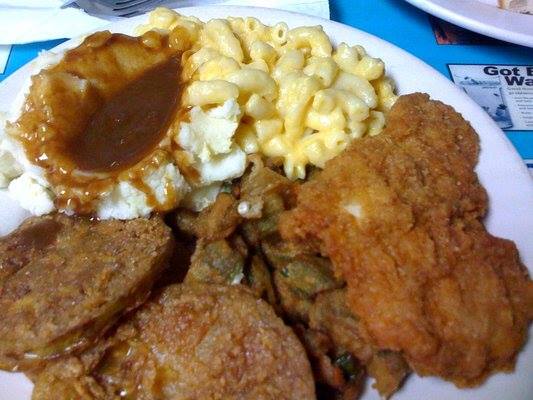 BBQ
The original Dreamland Bar-B-Que is still operating about 15 minutes south of Bryant-Denny, and it remains an iconic destination for barbecue aficionados seeking the best of Tuscaloosa 'cue. Opened in 1958 by John "Big Daddy" Bishop, Dreamland is especially revered for its pork ribs and their sweet and spice sauce. In fact, Ryan gushes, "I love the sauce so much, I have it shipped by the case to NYC." While the original location is still worth a pilgrimage, you won't suffer much if you choose to frequent the Bridge Avenue outpost that's a little closer to the stadium. Dreamland Bar-B-Que, 101 Bridge Ave., Northport, AL 35476; 205-343-6677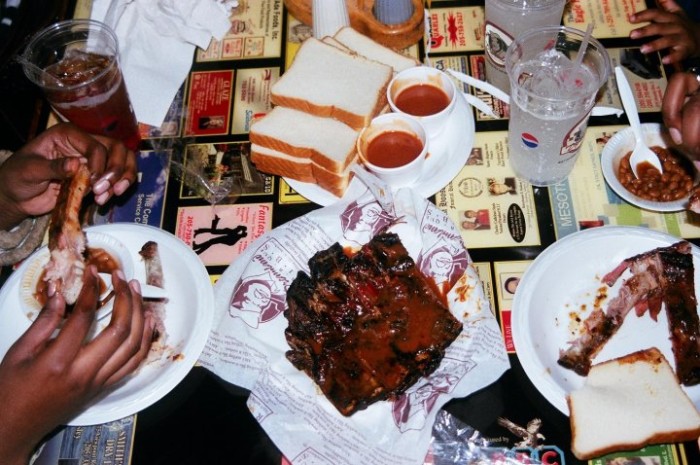 A final note on blending in while visiting Tuscaloosa: When encountering just about anyone in a social situation, it is perfectly appropriate to greet them with a nod of the head and a quick "Roll Tide." Like some sort of Cold War–era spy password, you can expect them to repeat it back to you. Unless they happen to be Auburn fans. Then you can expect a fight.