Essential Foods And Drinks Of Italy's Emilia-Romagna Region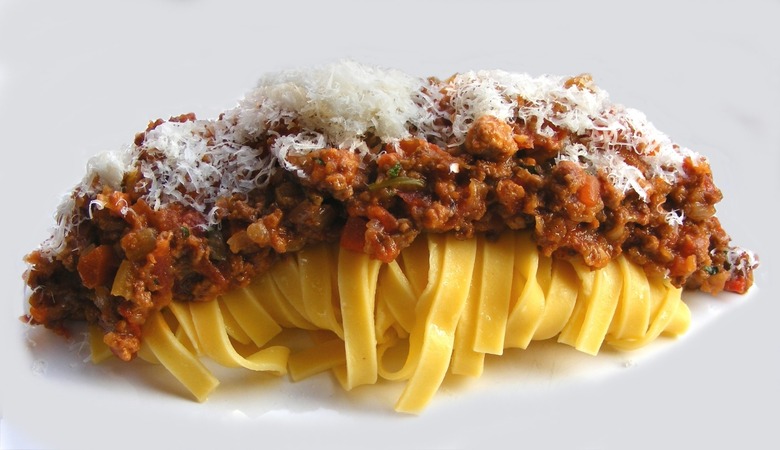 Many of the foods we think of as quintessentially Italian hail from the Emilia-Romagna region. Parmigiano-Reggiano? Check. The best balsamic vinegar? Yup. Prosciutto di Parma? That, too. So where exactly is this place that is so hard for Americans to pronounce? (Hint: It's e-MI-li-a ro-MAHN-ya.) Italy is divided into regions rather than states or provinces, and Emilia-Romagna is located near the top of the boot, sandwiched between Tuscany to the south and Veneto (home of Venice) and Lombardy (home of Milan) to the north.
With a cuisine that revolves around meat, cheese and carbs, this is not exactly a weight-loss destination, as I discovered during a late August road trip around the region. It is, however, a great place to spend some time chowing and checking out the charming towns along the Via Emilia, an ancient Roman road that connected the Adriatic Sea to the Po River.
The road is still a major thoroughfare in some of the region's principal towns, including Bologna, known as the capital of Italian gastronomy, or just the Fat City, for obvious reasons that include bangin' tortellini, Bolognese sauce and meats like mortadella, Oscar Mayer's artisanal ancestor.
Via Emilia also passes through Modena, home of so-good-it's-drinkable balsamic vinegar, and Parma, a lovable town that's the birthplace of both Prosciutto di Parma and Parmigiano-Reggiano. Each town has quite a few signature dishes, but below you'll find the staples to look for if you manage to swing an Italian road trip of your own. If you can't make it to Italy, chef Michael White's three Osteria Morini restaurants (in New York City, New Jersey and Washington, D.C.) specialize in Emilia-Romagna eats.
The Pasta
Mamma mia, the pasta! In Emilia-Romagna, it tends to be shockingly yellow and deliciously tender, thanks to a base of fresh, high-quality eggs and fine white flour. Tortellini is a signature of Bologna, stuffed with a combination of local meats (prosciutto, mortadella, etc.) and usually dressed simply in a butter sauce or served in a delicate broth, with a generous dusting of Parmigiano, of course.
The Fat City is also known for equally yellow noodles like tagliatelle or the wider pappardelle, the vehicles of choice for ragu Bolognese, the meaty sauce that's usually made with a long-simmered mixture of beef and pork. Lasagne Bolognese — known here in the States as plain old lasagna — is another popular dish. See why gluttons love this town? In cities closer to the Adriatic, it's also common to find pastas served with a seafood sauce.
The Meat
Emilia-Romagna is known for many kinds of glorious cured salumi. As mentioned, Bologna's mortadella is the inspiration for our bologna lunch meat. Even the artisanal version can be a bit rubbery, but it tastes amazing as the fatty backbone for tortellini stuffing, paired with salty prosciutto.
Speaking of, Prosciutto di Parma is that town's best-known meat. It's said that the breeze from the Parma River cures it to the perfect salty, sunset-hued, translucent consistency. Prosciutto di Parma is a D.O.P. product, which means the law requires it to be made in a specific geographic area under particular conditions, to ensure consistency and quality.
Though it's not as well known as prosciutto Stateside, Italians will tell you that another Parma product, Culatello di Zibello (also D.O.P. protected), is the king of cured meats. Culatello is made from the fatty back end of the pig, which is cured for eight to 12 months in cellars that offer natural climate control. The resulting meat is hewed into paper-thin, ruby red, melt-in-your-mouth slices.
The Cheese
Emilia-Romagna has a few common cheeses, but the star of the region comes once again from Parma: Parmigiano-Reggiano is a D.O.P.-protected food that's said to have been created by monks as a way of preserving milk. These days, the large wheels of salty cheese are generally aged for 24 to 36 months. The cheese is often eaten in chunks, topped with a drop or two of Balsamico di Modena. It's also grated on pretty much every dish of pasta.
The Vinegar
The finest balsamico out there arguably comes from Modena; no wonder Balsamico di Modena is another D.O.P.-protected item. The good stuff is a far cry from the watery purple liquid served at the Olive Garden. Aged versions become sweet and molasses-like; a drop or two on a chunk of Parmigiano balances the cheese's extreme saltiness. The combination is guaranteed to become your favorite new snack.
Lambrusco
When it comes to gastronomy, Italians think of everything. (High-speed Internet is another matter, but that's a different article.) So what would a person need to cleanse the palate during a fatty, carby, meaty meal? Sparkling wines, of course! The bubbles in Emilia-Romagna's sparklers effectively rinse the fat out of your mouth. The best known vino of the region is Lambrusco, a dark purple, sweet and bubbly quaff. Near Parma, I ran into Thomas Carter, co-owner of Estela restaurant in New York, who pronounced Lambrusco intriguing and underappreciated in the U.S. So perhaps he'll be serving it at Cafe Altro Paradiso, the new Italian spot he's opening in Soho with chef and business partner Ignacio Mattos. Hopefully, they'll offer it in cafe au lait bowls, as is traditional in Parma.