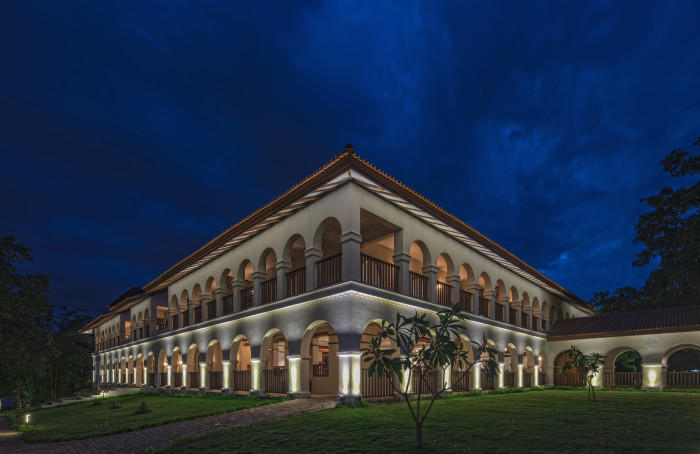 In Hungry Concierge, we travel the world to spot hotels that operate with their guests' food and drink needs squarely in mind — hotels, both big and small, that are located in neighborhoods rich with bar and restaurant options. Because there's nothing worse than having your trip derailed by crummy room service.
As a native Karen Burmese guy, I frequently field questions from curious friends about my home country, now more than ever since the country has begun its slow unfurling to the outside world. Where should I go? Where should I stay? Since home visits were usually just that — visiting the homes of family in Rangoon interspersed with a repetitive cycle of Chinese banquets — I rarely got to see much of the rest of the country. When the opportunity came up to venture from the former capital (and to the fabled cities of the North and beyond), I jumped at the chance.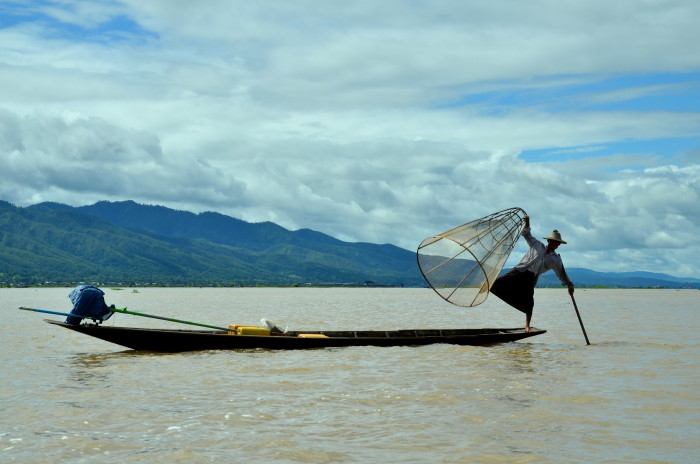 Part of the "tourist triangle" of Burma along with Mandalay and the temple-studded plains of Bagan, Lake Inle is found in the northeastern territory of Shan state bordering China and Laos, and the postcard shot is familiar — mists rising from the lake at dawn, a lone fisherman balancing at the edge of his boat on one leg andpaddling with the other while casting a net out. It's a scene seemingly lost in time.
Despite the lake's mystique, its everyday reality has seen it thrive thanks to its popularity with outside visitors, and there's no shortage of options when it comes to accommodation. Most of these exist in the form of simple guesthouses, with a smattering of resorts around the town of Nyaung Shwe, the lake's gateway town at its northern shore. The newly opened Sanctum Inle Resort, however, comfortably slots into the top echelon and brings with it a design pedigree and a keen sense of hospitality that combines the relaxed Shan demeanor with professional drilling that can be hard to come by in relatively far-flung areas.
Reached via a brisk three-hour journey from Rangoon, with a flight to a local airport, a car ride and then a boat to the hotel's jetty on the lake's west shore, the resort instantly impresses with both its size and sense of calm: Though you're aware there's plenty going on in the area, you feel like there's nothing more than the mountains, the lake and the sky. The colonial throwback building, designed by architect Brigitte Dumont de Chassart (whose oeuvre includes luxury properties in Vietnam and Cambodia, as well as in her native France), makes the perfect setting for exploring the area's array of floating temples, markets and tiny eateries.
The Rooms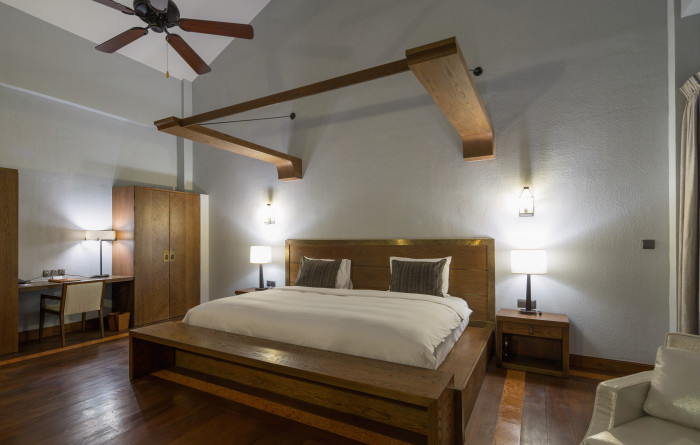 After such a long schlep to get to the lake — and a further boat ride to reach the hotel — you'd be forgiven for collapsing in an exhausted pile as soon as you arrive. The hotel's designers and staff are old hands at coping with weary guests, and opening the door to your room is a beatific experience for many.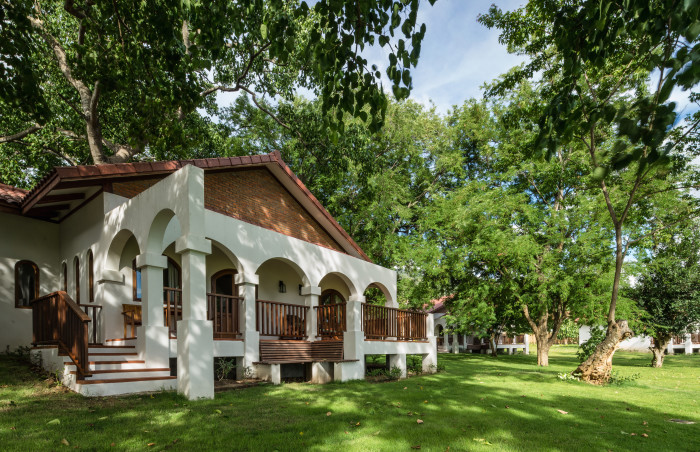 High ceilings, white linens and luxurious faux four-poster beds impart a soothing calm, while high-thread-count sheets beg to ensconce you. With teak and timber being one of Burma's greatest exports, rooms are swathed in the smooth, dark wood; the romantic colonial effect is completed with ceiling fans and pretty arched windows that look out onto the expanse of the lake and the surrounding hills. Those feeling flush can upgrade to a suite; the luxe Abbey suite's master bedroom enjoys panoramic views, while smaller suites are fitted with chic mahogany freestanding tubs.
The Look
The effects of British occupation have imparted a heavy cultural hangover, and it's unsurprising that the colonial look of the property is both a subconscious and deliberate move on the part of the designers. Much of luxury in Southeast Asia, after all, is about selling nostalgia, while striking a balance that also incorporates original cultural elements.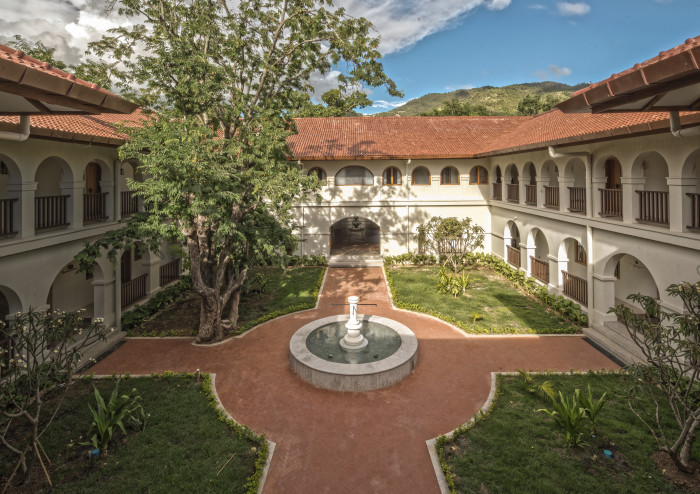 Strolling around the Sanctum, it reminded me of my father's old digs at Rangoon University — in a good way. The main building is designed around a pretty courtyard, created by the architects with the feel of a monastery in mind. Long walkways are cooled by stone and marble underfoot, and the monastic feel is reinforced with cloisters and arches, creating an utterly relaxing experience that is understated luxury done right. It won't, of course, quell any social-media addiction you may be harboring, but there are genuinely lovely moments to be had strolling around the grounds.
Inside, the Sanctum continues the minimal colonial feel with exposed beams of teak supporting ceilings, while the bar and Chapter House business center both have a clubby, intimate feel, with low-slung sofas and subtle lighting. The hotel's public spaces have a markedly cooler, darker feel for a practical reason — they provide some much-needed respite during the country's blistering hot seasons in fall and spring, when temperatures often hover in the 100s.
The Neighborhood
Like its neighbors India and China, Burma also possesses a plethora of regions, each with its own geographical and ethnic identities. Unsurprisingly, this is reflected in Shan State's cuisine, which varies further between the Lake to the foothills and beyond. Lighter than the fiery curries of Rakhine and the pork-heavy dishes of Karen state, Shan cuisine is characterized by a lightness of touch and an abundance of fresh produce, tofu and soybeans grown in the region.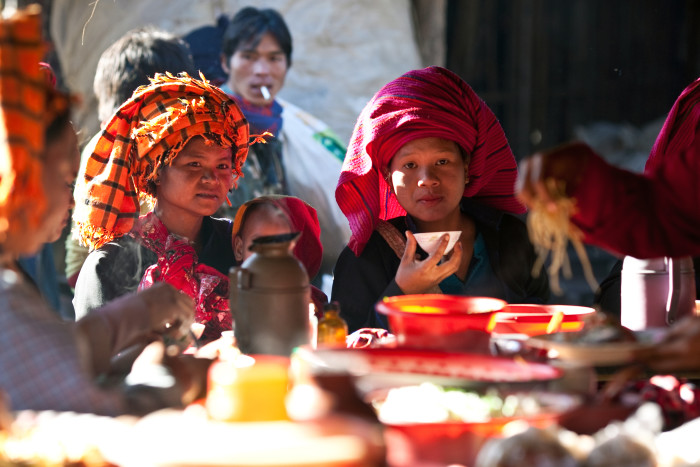 The first stop for any self-respecting food lover is, of course, the daily market. Inle's Nam Pan market is where flowers, fresh fish and lake vegetables — as well as an array of treats and snacks — are sold by vendors gliding across the water on their boats. Excellent mohinga (the national dish of rice noodles in a broth of river fish and aromatic herbs, topped with fresh condiments) and Shan tofu salad (made with chickpea flour) is sold here, as are delicious coconut sweets and peanut brittle. The estimable Inn Thar Lay restaurant is perpetually slammed, but it's worth booking for the excellent local cooking, including the signature tea-leaf salad and Shan Khauk Swe, flat noodles in a deeply savory chicken broth, topped with peanuts and zesty mustard greens.
After dodging the groups at Inle's more popular spots (the floating pagodas and local artisans are always sure to be busy) and taking in the sereneness of the lake itself, move up a gear and try venturing to the foothills beyond the lake. There are some excellent biking and hiking trails that are mostly uncrowded; you're more likely to be chased by monkeys than to run into other tourists. The village of Inthein, particularly — despite its popularity — is dotted with some of the most beautiful pagodas in the region, and the village of Nyaung Ohak is home to Shwe Inn Thein Paya, where over a thousand 17th and 18th century stupas glimmer in the afternoon sun. It's an intoxicatingly beautiful place and perfect for losing the world beyond — and what Inle is all about.
Sanctum Inle Resort
Maing Thauk Village, Inle Lake, Nyaung Shwe Township, Shan State, Myanmar
Rooms from $324