North Carolina's Sunburst Trout Does Farm-Raised Fish The Right Way
Taste the rainbow — trout, that is. (Photos courtesy of Sunburst Trout F
Nashville-based writer Chris Chamberlain profiles chefs and restaurants with particular talents for classic and reinvented Southern dishes. Now, he's taking his investigations another link up the food chain as he travels to visit with some of those chefs' favorite farmers, ranchers and purveyors from across the South. In the Food Republic series Southern Grown, find out what makes these suppliers so special that chefs will go the extra mile to use their products in their kitchens.
Not many 91-year-olds still come to work, especially at a combination agricultural/industrial production business. But Dick Jennings is not like many people. In 1968, Jennings dropped out of engineering school at Yale to return to his grandfather's homeland in western North Carolina and start up Jennings Trout Farm in the mountain town of Cashiers. Primarily providing fish to recreational fishermen along the Eastern seaboard who would stock their private streams and lakes with trout, Jennings enabled these sportsmen to literally shoot fish in a barrel, if they so desired.
Eventually his business expanded to selling larger volumes of live fish to grocery chains to the point where Jennings was shipping in truckload quantities. He further diversified his business by starting up a processing facility so that he could ship fillets instead of just whole fish. In 1963, Jennings moved his operations to Canton, North Carolina, at the base of Lake Logan in the Pisgah National Forest, high in the Appalachian Mountains. Since a dam was in the process of being constructed at Lake Logan, Jennings was able to negotiate water-usage rights to the flow, a development that has made a tremendous difference in the success of his company.
Because the renamed Sunburst Trout Farms is able to pull water directly from Lake Logan, the operation benefits from the pristine purity of the stream, which has had almost no human contact other than the occasional fisherman in the federally designated wilderness area. Additionally, the extreme 6,000-gallon-per-minute flow rate into the 25 concrete runs where the trout is held allows Sunburst to simulate very natural growing conditions for its fish.
This water volume creates a flow velocity that is twice as high as most other trout farms. The increased flow provides a continuous and vital stream of oxygen across the gills of the fish, while also encouraging healthy metabolic activity and promoting natural development through exercise.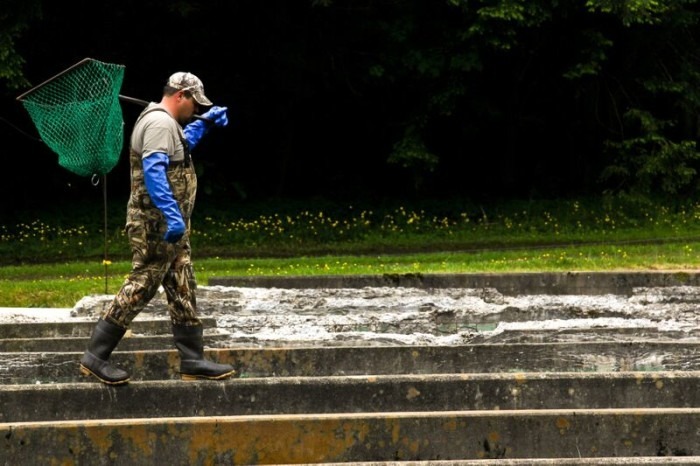 Walking the run while the trout swim the run
Jennings's grandson Wes Eason explains this benefit: "Swimming against that strong but natural current creates a fish with thicker, more muscled fillets," Eason says. "They're basically in great shape." Sunburst also places about half as many fish in each run as most commercial operations, allowing for more room for the swimmers to grow and a generally healthier school. The result is a plump fillet that weighs in at around a pound and has become a favorite of chefs and retail customers around the region.
Chefs also prefer the harvest and processing methods at Sunburst Trout Farms, which can deliver fish from the water to their kitchens in less than a day if they are close by, or to a refrigerator in less than an hour for FedEx pickup that afternoon. Chefs call in their orders to the sales department at Sunburst, who put together a harvest order for the production staff. Four days per week, two employees hand-net the exact quantity of trout (upward of 2,500 to 3,000 pounds per day) needed from the run containing mature fish. These fish are immediately put into coolers for transport to the processing facility, where they have their heads and entrails removed, are filleted and then trimmed by hand. Finally, any remaining pin bones are removed by a precision machine that gently rolls the tiny bones to separate them from the delicate pink flesh.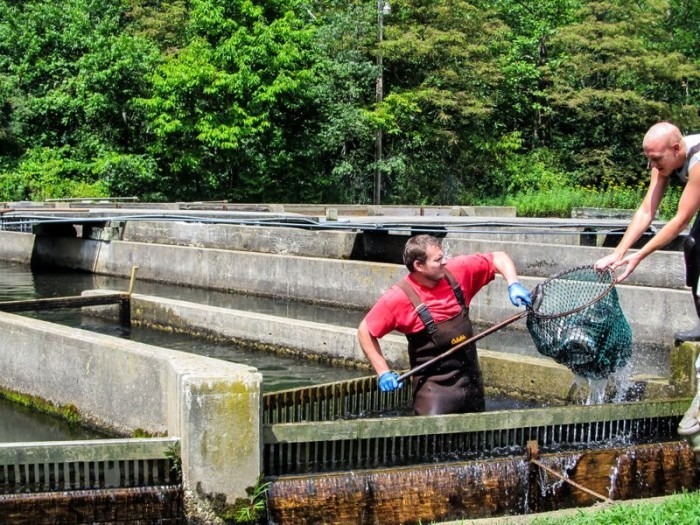 Fish are separated from the rest of the run by screens and then netted by hand.
Eason believes that Sunburst's procedures are a real difference-maker. "It's still a very artisanal processor," he says. "Every person in the plant touches every fish, and every single fillet is inspected for blemishes and bones by two or three people." Another factor that makes Sunburst the chefs' choice is the specific food that they use to grow the trout from roe to plate in about 18 months.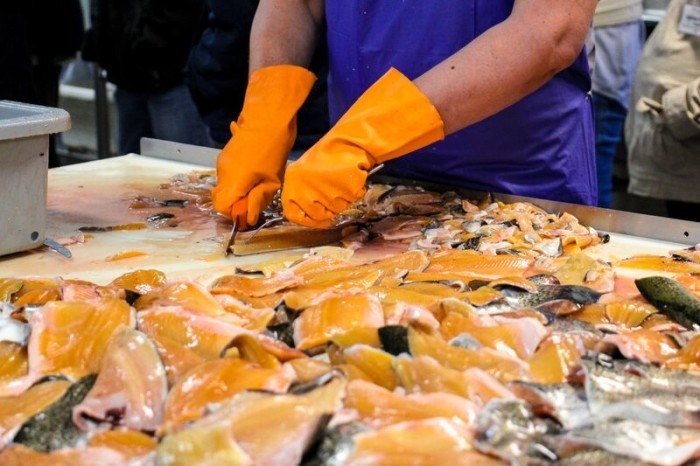 Experienced hands trim each trout at Sunburst.
Sunburst is the rare trout farm that uses no animal products or by-products in the food that it purchases for its fish. Eason is proud of this fact: "The clean, high-protein, high-fat diet that we feed them contributes to a richer flavor." Sunburst also chooses not to add artificial colorants to its feed, relying instead on natural astaxanthin, which comes from Phaffia yeast and microalgae to provide the desirable pinkish hue to its fillets.
But the factor that probably makes the biggest difference to the legions of restaurants from North Carolina to New England that consistently feature Sunburst trout on their menus is the company's commitment to interaction with its customers. Eason explains: "We believe in direct communication with chefs and restaurants. Since we process to order, we spend lots of time on the phone and via email developing personal relationships with our customers to determine exactly what their needs will be."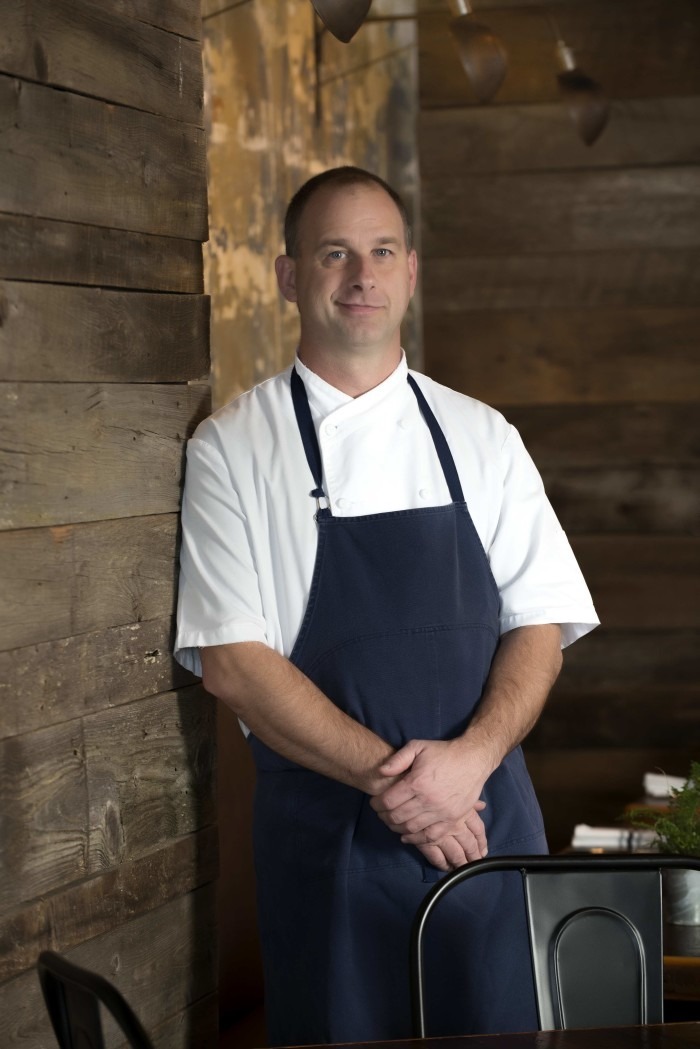 John Fleer of Rhubarb
One chef who is a vocal cheerleader for Sunburst Trout Farms is John Fleer of Rhubarb in Asheville, North Carolina. While executive chef at the acclaimed Blackberry Farm resort in Walland, Tennessee, Fleer basically popularized and reinvented Appalachian cuisine, and stream trout has always been a major component of the region's diet. At Rhubarb, Fleer has continued his exploration of what he calls "foothills cuisine," a melding of Appalachian traditions with more contemporary influences.
Fleer discovered Sunburst when his original trout supplier for Blackberry Farm was lost in a flood and chose not to rebuild. "When I searched for another regionally grown trout, Sunburst was my first find, and I have been using them ever since," he says. "I appreciate their quality and the ability to foster a direct relationship so that as ideas and plans are generated, they have the flexibility and willingness to consider new approaches. I'm proud to serve the best, most sustainably raised trout anywhere in the country."
Sunburst Trout has become a mainstay of the menu at Rhubarb. Says Fleer, "We have featured a whole wood roasted trout on the menu.  It is one of our signature dishes.  We make 'sardines' from the bellies trimmed from the trout and feature them on our version of a Lyonnaise salad.  We have also used caviar and fillets as well as cold-smoked trout for various plates."
The admiration is mutual between Fleer and Sunburst. "John probably didn't mean to do it," recalls Eason, "but he pretty much put our company on the map. He was so respected in the culinary community for what he was doing at Blackberry in the '90s and early 2000s that when he used our products, he exposed us to many, many chefs across the region. When they heard that we were good enough for John Fleer, they gave us a chance."
This boom in popularity among chefs allowed Sunburst to change its model to more of an artisanal process. Eason explains, "We have a lot more clients but less total volume for each than when we concentrated on large commercial accounts like groceries. We had a whole crew busting ass for tiny margins, and we were too dependent on just a few large customers. We certainly need more people now to handle the service side for almost 400 regular customers, but we find they much prefer the model."
Restaurant clients tend to buy lots of fillets and whole fish, but Sunburst needed to figure out what to do with the other parts and pieces of the processed fish that were perfectly good to eat but did not pass the stringent inspection before shipping to a kitchen. Over the years, Sunburst has developed a smoked trout dip, hot- and cold-smoked fillet products, trout jerky, trout sausage and marinated fillets for online and retail sales. After years of discarding the trout's roe, the family developed a recipe for cured trout caviar, which the group initially kept for its own use. Then, one day after discovering Wes Eason's two-year-old sister had polished off a couple of jars of the roe by herself, the family decided that the product was ready for commercial release.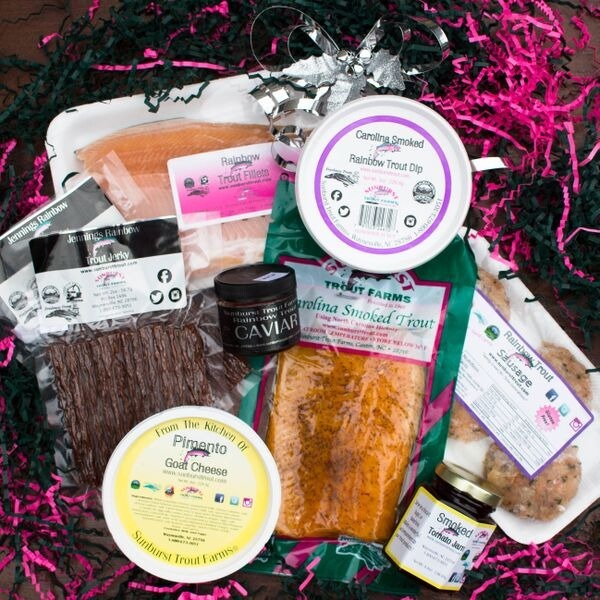 Just a portion of Sunburst's extensive retail product line
Dick Jennings was instrumental in the development of that chosen caviar recipe, and the research and development kitchen is still his favorite stop when he makes weekly visits to check on his company. "He loves to bring in flavors for us to play with when he's puttering around," jokes Eason. "This is still his baby. Other people like to play golf or go fishing. He likes to worry about the trout farm." Even with the third generation of the family now running the business in the person of Wes and his brother Ben, there are plenty of Sunburst customers who are thankful that Dick Jennings is still around to see his baby grow up.