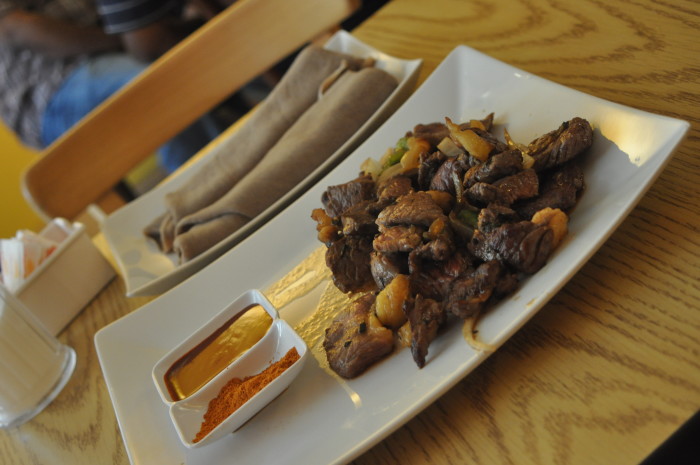 Ethiopian-born chef Marcus Samuelsson shows TV's Anthony Bourdain around his native country in an upcoming episode of the award-winning CNN series Parts Unknown, scheduled to air on Sunday, October 25. (The show is produced by Food Republic's parent company, Zero Point Zero Production.) Catch an advance screening of the Ethiopia episode, accompanied by specialty cocktails and light fare, at Samuelsson's restaurant Ginny's Supper Club in New York City on Monday, October 19, at 7 p.m. Samuelsson and his wife, Maya, will be on hand to discuss their experience with the show. Tickets are $25. Get yours here.
The closing of Meskerem earlier this year marked the end of an era: the official death of Adams Morgan as the symbol of Ethiopian life in Washington, D.C.
The D.C. area is home to the largest population of Ethiopian-born people in the United States. And Meskerem, which opened in 1985, was considered America's oldest Ethio­pian restaurant operating at the same address. For three decades, the restaurant on 18th Street NW faithfully re-created the wats, tibs, salads and other dishes of the mother country for everyone to sample, Ethiopian or otherwise. Then, this past April, Meskerem quietly fell on its sword, and Adams Morgan severed its ties with the first wave of Ethiopian refugees who turned the neighborhood into a safe haven — and a dining mecca.
---
Ethiopian cooking has become so ingrained in Washington culture that you can find the food almost anywhere.
---
Of course, those who follow the D.C. dining scene know that Adams Morgan surrendered its unofficial title as Little Ethiopia long ago. The U Street corridor, dotted with restaurants and bars, actually lobbied for the Little Ethiopia designation in 2004 and 2005, and it's probably a good thing the campaign failed. Because these days, if you're looking for the epicenter of Ethiopian life, you need to look north. In downtown Silver Spring, Maryland, there are at least 12 Ethiopian restaurants and cafés, including perhaps the first fast-casual operation dedicated to the finger-food fare of the East African nation.
But Ethiopian cooking has become so ingrained in Washington culture that you can find the food almost anywhere: In the aging storefronts along upper Georgia Avenue NW, rambling along in food trucks that park near downtown offices, in a dated strip center on George Mason Drive in Falls Church, Virginia, even on trendy commercial corridors such as H Street NE, otherwise known as the Atlas District.
With so many options, and much of it sounding the same, it's hard to know where to turn for quality Ethiopian fare. After all, the cooking is not complicated, often one-pot braises or sautés that have no formal recipes, but the food requires a deft hand with the spiced clarified butter or the potent berbere seasoning that ignites the individual dishes. Below are some of our favorite places, where the kitchen brings the food of Ethiopia fully alive.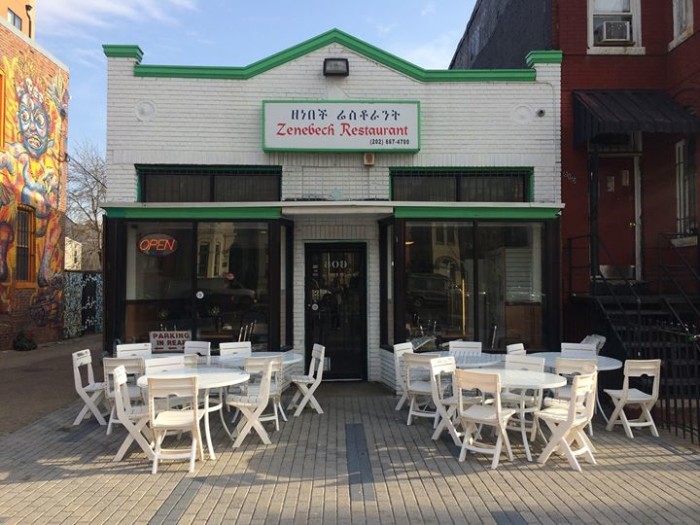 Zenebech
Not many Ethiopian restaurants make their own injera, the fermented flatbread that doubles as your dining utensil, but Zenebech is one. The modest Shaw restaurant began life at another location as a bakery, producing the slightly sour injera for eateries that one day would become its competitors. The truth is, few places top Zenebech, which brings an exacting baker's mentality to the dishes on its menu. You sense the care in its kitfo, this gorgeous raw, ruby-red pile of ground beef made rich and fiery with the spiced Ethiopian butter. You can taste it with the lamb tibs, which are charred around the edges but remain tender and juicy at the core. You luxuriate in it with every bite of kik alicha, or yellow split pea stew with a soft ginger bite. On a warm fall day, it's tough to beat the patio at Zenebech, where the people-watching is as engaging as the food. 608 T St. NW, Washington, D.C.; 202-667-4700; zenebechdc.com
Bete Ethiopian Cuisine and Cafe
Located in a freestanding brick cottage in downtown Silver Spring, the home-style restaurant has adopted the perfect name: Bete means "my house" in Amharic. In mild weather, Ethiopian expats like to dine on the back patio, under the towering princess tree, where the shade and the greenery remind them of their gardens back home, says owner Teru Fentike. Bete does well by its vegetarian dishes, which the kitchen does not cook down into mushy, old-folks fare. The collard greens retain some satisfying toothsomeness; the misir kik wat, or spicy red lentils, maintain a ticklish, pebbly texture on the tongue; and, best of all, the cold azifa salad, a green-lentil dish with a lime-and-mustard-seed dressing, provides welcome blasts of acidity to help counter all the butter and spice of the Ethiopian table. Bete is also one of the few places that opens for breakfast, which means you can start your day with a hearty plate of Ethiopian-style ful, a hot-and-earthy combination of simmered fava beans topped with awaze sauce, jalapeños and cottage cheese. 811 Roeder Rd., Silver Spring, MD; 301-588-2225; beteethiopia.com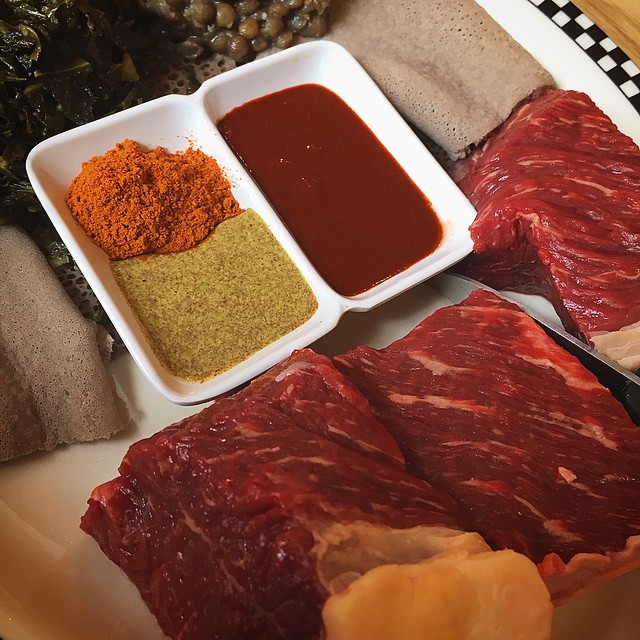 CherCher Ethiopian Restaurant
A familiar pattern has emerged over the years within the Ethiopian dining scene: Immigrants from the East African nation will transform a neighborhood into a vibrant, inviting atmosphere, only to find themselves priced out of the market when it's time to renew their leases. It happened in Adams Morgan. It happened on the U Street corridor. Some restaurants naturally survive a neighborhood's shift into gentrification, but often at a cost: They tone down their cooking for the newcomers to the cuisine. So where do natives then turn for a taste of home? They turn to places like CherCher, a subterranean spot so hard to find that it feels like a 1920s speakeasy. The place is often packed with Ethiopian immigrants who prefer unadulterated beef dishes such as kurt (or tere sega), thick squares of rib eye whose raw flesh provides a cool contrast to the peppery awaze dipping sauce. Also, don't miss CherCher's special kitfo, radiant with cardamom, or its lamb tripe, which supplements its barnyard funk with lamb liver and raw ground beef. Only the hard-core need apply. 1334 Ninth St. NW, Washington, D.C.; 202-299-9703; chercherrestaurant.com
Dukem
One of the oldest and most recognizable names in the Ethiopian restaurant community, Dukem continues to find ways to remain relevant in an increasingly crowded field. About two years ago, the institution added jazz performances on Thursday nights, effectively marrying the past with the present: The old Black Broadway, as U Street was once known in the early 20th century, has now joined hands with the Ethiopian community that helped define the corridor in the latter part of the century. Dukem also continues to operate a carryout next door, which serves a wide variety of customers. It offers "fasting season specials" for the Orthodox community that refrains from meat and dairy products during certain periods of the year. It also sells a "kitfo sandwich," a pile of raw, buttery ground beef stuffed into a hoagie roll. It's handheld Ethiopian food, American style. 1114 – 1118 U St., Washington, D.C.; 202-667-8735; dukemrestaurant.com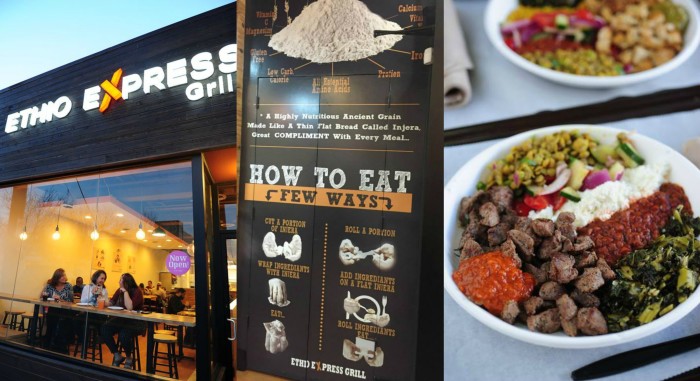 Ethio Express Grill
Every other cuisine seems to have gone fast-casual — why not Ethiopian? Like Chipotle and ShopHouse Southeast Asian Kitchen, Ethio Express Grill trades on simplicity. It boils Ethiopian cuisine down to a step-by-step, interactive process, focused almost exclusively on freshly prepared tib dishes. Customers select their preferred base ingredient, whether injera, pita bread, mixed greens, rice or spaghetti. (The latter is not as strange as it sounds, given that Ethiopia was briefly an Italian colony.) From there, they can add their choice of grilled meat (or tofu) and sauce. It's sort of ingenious and sort of a watered-down experience of real Ethiopian dining. And yet Ethio Express' very existence tells you everything about how far Ethiopian fare has come in the D.C. area. To Washingtonians, it's as common as Mexican food in the Midwest. 952 Sligo Ave., Silver Spring, MD; 301-844-5149; m.mainstreethub.com/ethioexpressgrill
Meaza
This Falls Church restaurant covers 7,000 square feet of real estate, making it sort of the grand palace of Ethiopian dining in the D.C. area. The woman behind this expansive operation is Meaza Zemedu, and like the family owners of Zenebech, she got her start in the hospitality business by making injera for others. Her team still makes the flatbread daily, including a traditional Ethiopian version using only teff flour, which makes for a sour and spongy base. The all-teff injera supplies a solid, acidic counterpunch to Meaza's rich and spicy dishes. At most establishments, you can safely skip the doro wat, the bone-in chicken stew often considered the national dish of Ethiopia. But at Meaza, it's the go-to entrée. The kitchen not only knows how to cook chicken until tender, but it pairs the bird with a dark, butter-rich sauce that's as complex as Mexican mole. Don't miss the short-rib tibs, either, which are scored and served on a sizzling cast-iron platter. When wrapped in injera with onions and green peppers, the charred beef nubbins assume an unexpected persona: Ethiopian fajitas. 5700 Columbia Pike, Falls Church, VA; 703-820-2870; meazaethiopiancuisine.com