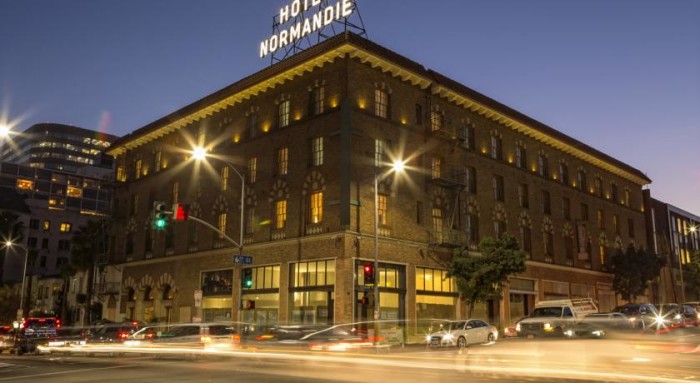 In Hungry Concierge, we travel the world to spot hotels that operate with their guests' food and drink needs squarely in mind — hotels, both big and small, that are located in neighborhoods rich with bar and restaurant options. Because there's nothing worse than having your trip derailed by crummy room service.
It wasn't long ago that sprawling Koreatown in Los Angeles was a neighborhood known mostly for all-you-can-eat grilled meats, late-night soju slam sessions and 24/7 spas to detox yourself afterward. And going further back, as the epicenter of the 1992 riots and long a neighborhood plagued by simmering race relations, it was a hood you wouldn't want to walk alone in at night. That is, Koreatown was not where you were going to park your suitcase for a week of fun and sun.
But thanks to a newly energized downtown scene, located a short drive to the east, and Roy Choi opening the bananas Line Hotel on the corner of Wilshire and Normandie — along with the rising popularity of Korean food and culture in general — the neighborhood has rapidly become L.A.'s hottest.
Now, staying in a city's cultural hub has its benefits — the Uber ride to hot spots A, B and C is cheap, and the after-party back at the hotel is but a short ride away. But staying at the towering Line during your visit to L.A., which I've had the pleasure of doing on a couple occasions, is perhaps not the best  choice. Sure, the party is right there in your lobby — and on weekends the line to get in can slink down Wilshire. But the rooms are small, and sometimes you want a little quiet after battling the 405. This is your vacation, after all.
This is why the Hotel Normandie is such a smart move. Built in 1928 on the corner of Normandie Avenue and 6th Street, from the design duo behind the historic Beverly Wilshire Hotel and United Artist Theatre Building (now the Ace Hotel) on Broadway downtown, the Normandie was brought back to life after local architect Jingbo Lou and a few partners poured $5 million into the restoration.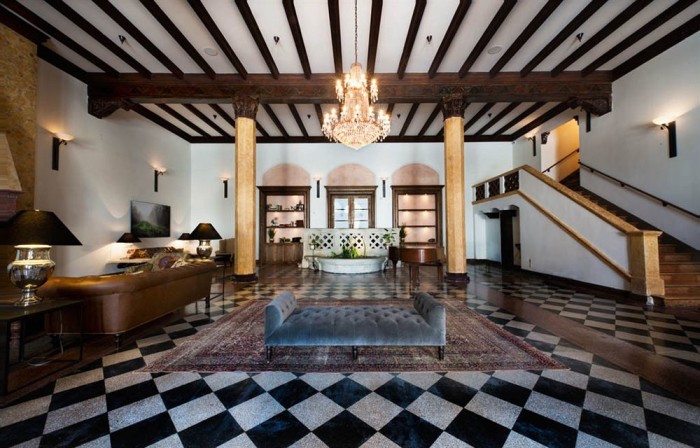 The Rooms: Ninety-one guest rooms and suites are well spaced within the building's four stories — the higher floors are accessed via a grand staircase or a slow elevator. Pick your poison. When I entered my standard king guest room, the first thing that struck me was those are some nice floors, peeking out from under tasteful earth-toned runners. The bathrooms are small and equipped with vintage toilets and plumbing. Products from Gilchrist & Soames and an honor bar filled with local snacks are the details I have come to expect when staying in a retrofitted urban hotel (thank you for that, Alex Calderwood). The hotel does not have a gym on site but offers free passes to one down the street. And say it with me: free Wi-Fi.
The Look: Over the years, the Walker & Eisen structure was cursed with poor design choices, including some fool covering up the terrazzo floor and grand fireplace that graces the striking and spacious lobby. Both have been restored to their talkie-era glory. The renovation was a bit of a labor of love for Lou and his team, and parts are still in transition. An empty ballroom looks half-finished, and a promised roof event space is still in the works, which is a pity, given that the nearby Line offers such a great indoor-outdoor symbiosis.
The Area: Los Angeles is blessed with some pretty spectacular hotels, and most out-of-towners stay further west for ocean breezes, Venice's shopping and walkability and the chance to play Hollywood starlet at the number of historical lodgings in Beverly Hills. Koreatown, on the flip side, is where you want to go to eat and drink — and not just Korean. Within the Normandie Hotel alone, there are three standout spots: Cassell's, a legendary Koreatown lunch counter, recently relocated to a sunny space just off the hotel's lobby. The burger, juicy chuck served on a fluffy Parker House roll, is as good as ever. Around the corner, chef Gary Menes is operating one of the city's great sleeper hits. Le Comptoir is a 10-seat counter, and like Ludo Lefebvre's popular Trois Mec, the menu spontaneously shifts with the seasons and at the chef's discretion. Try the hotel's front desk for assistance booking (though with no concierge, good luck). You can also book online.
But the best thing to happen to Koreatown drinking is the Normandie Club. Operated by the masters of high-wattage cocktail bars, 213 Hospitality, the Club can feel like that, with a tough-ish weekend door. But the rest of the time you will be OK finding a seat at the bar, where plays on classic cocktails like the spritz, daiquiri and an old-fashioned made with coconut bourbon (sure) are as good as you will find. In the back of bar, and hidden behind a door entered with a knock, is the nonsecret Walker Inn, a reservations-only bar where guests are pampered with delicious snacks and an omakase-inspired menu. For around 50 bucks per person, two or three liquid courses are served with great fanfare and deliciousness.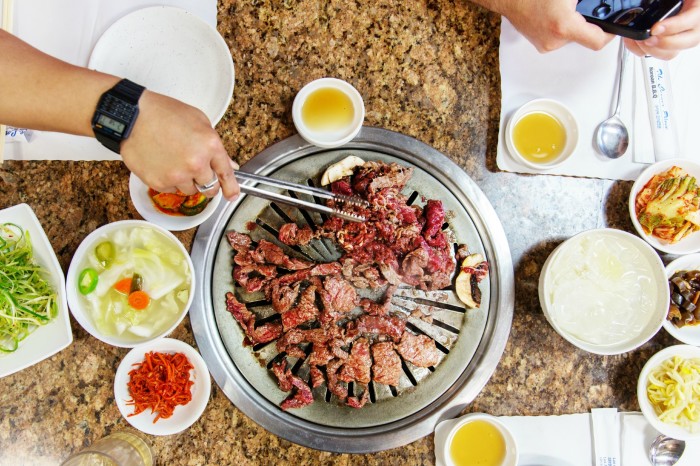 So let's now talk about Korean restaurants. Los Angeles has the highest number of Korean-Americans living in the United States (by a long shot), and picking a restaurant within the sprawling Koreatown can be kind of overwhelming. I'll pull out my expert card here a bit — I wrote a Korean cookbook and visited Los Angeles many times to research — and point you toward three locations within a walk or very short drive. Start at the Corner Place for the best bulgogi (soy-marinated sirloin) and a refreshing bowl of dongchimi guksu (cold radish soup). Then head to Ham Ji Park for more grilled meats, this time pork ribs lacquered in a peppery gochujang sauce, and a steaming bowl of gamjatang (pork neck stew). And please take my advice here: Your Koreatown nightlife experience is not complete without a visit to Dwit Gol Mok, called DGM and a gritty pochajangmacha-styled restaurant where the beer and soju flows freely and the pancakes and tofu soup are just what the hangover doctor ordered.
And a few lines about the Line Hotel. While Roy Choi's Korean-American fever dream of a restaurant, Pot, is worth a visit, the upstairs Commissary is my favorite place to drink light cocktails and snack on plates of charred carrots. Take a disco nap back at the Hotel Normandie, and the L.A. night is yours.
Hotel Normandie
605 S. Normandie Ave.
Los Angeles, CA 90005
hotelnormandiela.com
Rooms start at $170