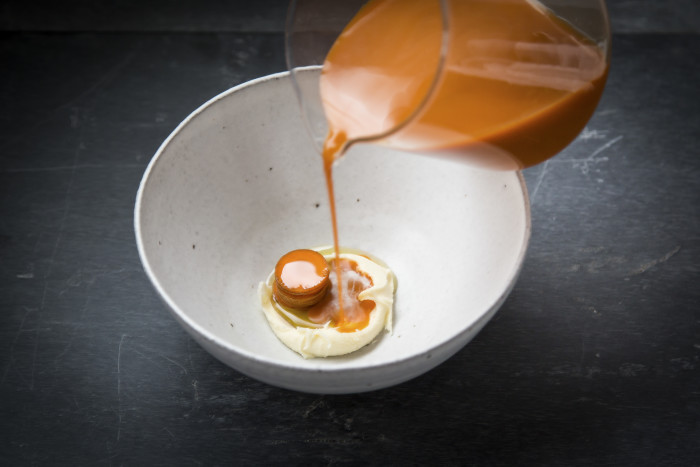 On a nearly desolate street, behind a gold-plated doorbell marked "Bitte Klingeln," you'll find Berlin's hottest restaurant: Nobelhart & Schmutzig. If the gritty location seems a bit bizarre — local food blogger Per Meurling called it "what quite possibly could be the most unappealing part of Kreuzberg" — the strangeness is only magnified by the fact that a mere block away sits the former site of Checkpoint Charlie, one of the main crossing points from West to East Berlin during the Cold War.
It's a unified city now, a full quarter century after the Berlin Wall came down, but one arguably lacking a singular gastronomic voice. That's what proprietors Billy Wagner, 34, and Micha Schäfer, 28, have set out to do: to redefine German cuisine on its own terms. But not just for Berliners, or for Germans, for that matter, but for the whole world.
"You have to think bigger," says Wagner, a vibrant personality whose long, red beard, custom-made vests and passionate spokesmanship make him uniquely suited for front-of-the-house duties at the restaurant; he also serves as sommelier. "Germans are great. Germans are like the Japanese — they take over something and, in most cases, they do it better than everybody else because they are strict, very concentrated, very — what's the word? — disciplined about doing certain things. But they are not the inventors."
Wagner and chef-partner Schäfer want to be inventors. Inspired by the pioneering locavores Rene Redzepi at Noma in Copenhagen and Magnus Nilsson at Faviken in Sweden, these young, ambitious restaurateurs have positioned themselves at the forefront of a new German avant-garde. Nobelhart & Schmutzig's tasting menu, which costs around 80 euros (roughly $90 U.S.), plus the price of beverages, features ten courses made almost exclusively with local or regional ingredients. Whether installed at the 28-seat chef's counter, one of the first of its kind in Germany, or one of the few tables, guests receive detailed information about the provenance of each ingredient on their plate, delivered with remarkable vigor and depth of knowledge.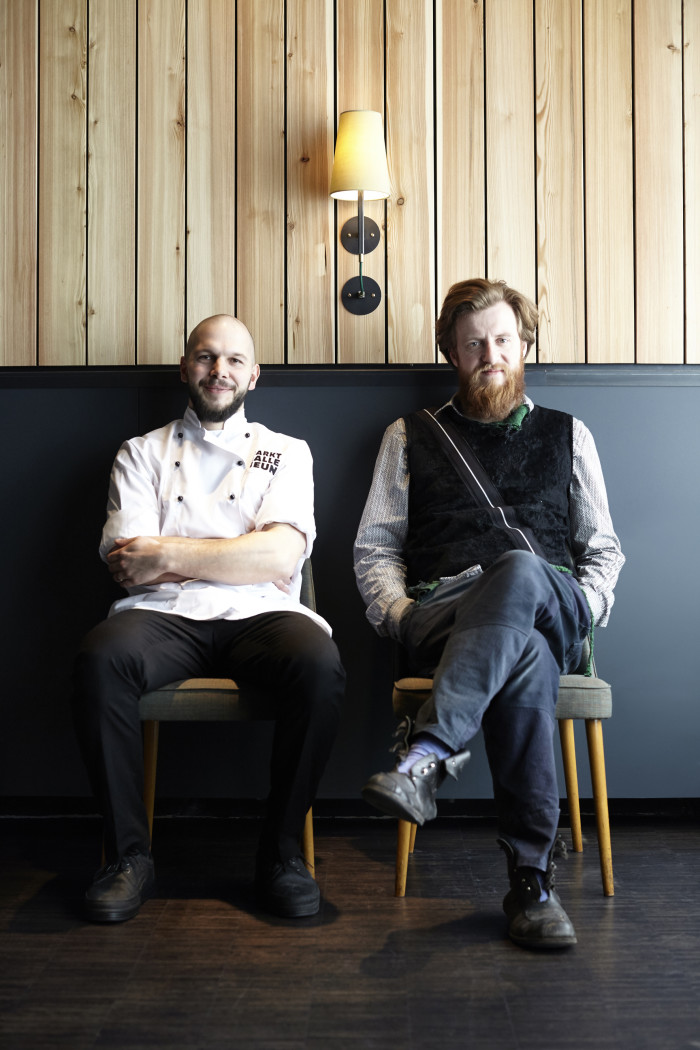 "When you look around the world, you have food destinations because you have something unique happening there," says Wagner, whose idea for a uniquely German restaurant developed over time while he was working as a sommelier at Berlin's Michelin-starred Weinbar Rutz. "In the late '90s, it was El Bulli and Arzak, all these Spanish dudes, producing molecular cuisine, which was maybe the invention of the last 30 years when it comes to cooking. Then, five to ten years later, the Nordic cooking, from Magnus Nilsson, Rene Redzepi, Mathias Dahlgren, all these great, great Scandinavian chefs, and they are producing something very unique, which you can only taste there. If you want to have it, you have to go there. But when it comes to Germany, you have great chefs doing Asian or super high-end French cuisine — doing maybe a better pasta than in the south of Italy. But not doing something for its own. And why be a copy when there is an original? … We want to see what is Berlin, or Germany, capable of serving."
In other words, "besides currywurst," Wagner says. "German cuisine, what you imagine, to be honest, most of the time it's Austrian. And this sucks, actually."
Wagner traveled to world-class, cutting-edge restaurants around the world for inspiration: Atera, Blanca and Brooklyn Fare in New York City; Chateaubriand and Astrance in Paris; and, of course, Noma in Copenhagen. He says a lightbulb went off one night at Dos Palillos in Barcelona, run by a former sous chef to modernist pioneer Ferran Adrià. Wagner saw the chef there preparing a special off-menu bone marrow dish for Adrià, who happened to be there that night. "I said, do you have a little bit more of this bone marrow, I would love to get some, and he was really happy to give me some," he recalls, "and it was so intentional, and that's why it makes sense to sit in the kitchen. It's a conversation; you're on the same level."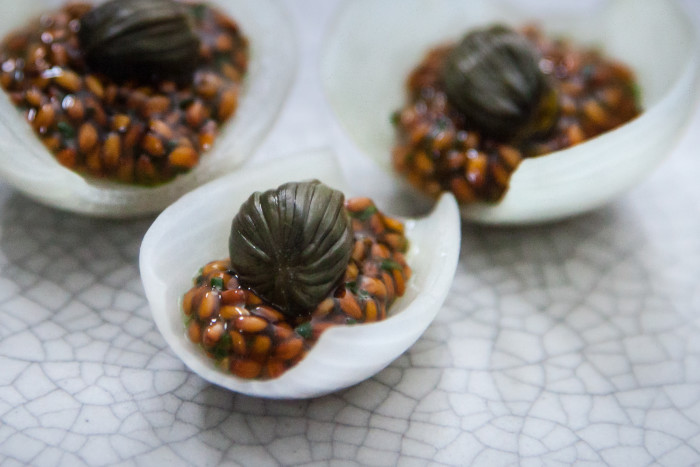 A meal at Nobelhart & Schmutzig is largely an intellectual endeavor; diners openly discuss what's on their plate, debating its success. The food is barely salted — with a mild German rock salt — and flavors in general are muted. "It's the style of cooking," says Schäfer, who previously worked at Villa Merton, a now-closed two-Michelin-starred restaurant in Frankfurt that similarly sourced its ingredients regionally. "It's about preserving the taste of the product."
On this particular night, not every dish works. The first two courses came described as "finger food": bites of smoked eel topped with radish sprouts and a "really young kohlrabi," as the server called it, lightly covered in a bread crumb mixture, with a touch of white vinegar and salt on the leaf. The kohlrabi was the most seasonal thing I could imagine eating, and it showed, as many chefs now are striving to do, that this restaurant has strong relationships with area producers — as would be necessary in order to get such a particular product, and so fresh.
A soup made with juiced carrots blended with chamomile, on the other hand, is the kind of food that makes many people turn up their noses at expensive tasting menus. It looked and sounded better than it tasted. The carrots seemed to have been juiced with their skins on, and the sweetness of their flesh contrasted with the bitterness of the skins; a dollop of heavy cream sat awkwardly in the liquid. My neighbor advised me to blend it into the soup, as if it were borscht, which I did and then immediately regretted as the texture became goopy. The dish just did not gel.
Another doubtful aspect of the menu is the bread course. Thanks to Copenhagen's bread culture, which has spread to New York, San Francisco and other culinary capitals, having excellent bread is now a requisite (so much that it merits its own course). The wheat bread at N&S seemed unremarkable on its own and benefited greatly from a generous helping of a deliciously rich raw milk butter. When asked about the bread the next day, Wagner and Schäfer say it is made by a Berlin baker using grain from southern Italy. When I raise my eyebrows at this far-flung ingredient, which seems counter to the restaurant's very mission, Wagner replies, "What makes more sense, having good bread made with grain from the south of Italy, or having not-so-cool bread made with grain from the region?" It's indicative of the fact that the restaurant is at the beginning stages and has not quite figured out the best way to achieve its vision of regional cuisine. Wagner compares this to Noma's first year: "They didn't know what they were doing; it was an experiment." Elaborating, he adds, "We are learning, and we are coming to where we want to be, every day closer and closer. We are not yet where we would like to be."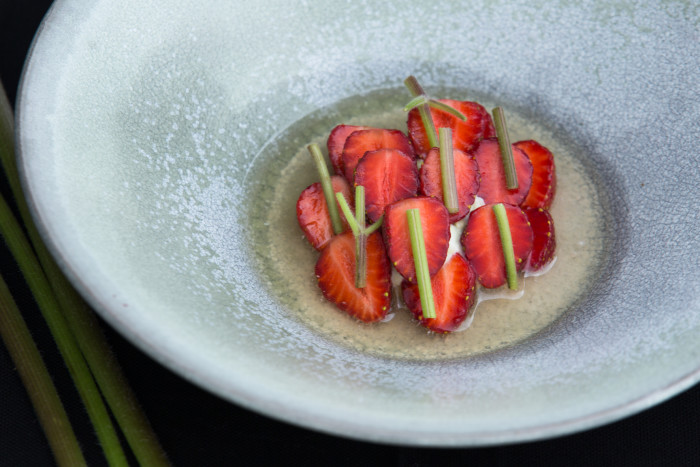 The food is only half the show at Nobelhart & Schmutzig, of course; the beverage program is outstanding to an extent that the food isn't quite yet. A diner can elect to basically put himself in Wagner's capable hands, enjoying an eclectic array of drinks including sparkling wine, beer, unfiltered and unsulfured French wines, aged Grüner Veltliner and, of course, German Riesling. The selection reflects Wagner's background in fine dining — and more classically styled wines — as well as his interest in small-production, natural wines made without sulfites or filtering.
While the food and drink are the main point of attraction at Nobelhart & Schmutzig, the restaurant's decor stops just short of being too cool for its own good. Antique coasters from East Germany, fur-lined seats, vinyl records, and an overall sleek design suggest that this is, despite lofty concepts, a place to see and be seen. And why not? Food and drink in Berlin are becoming, increasingly, a veritable "scene" wherein one displays not only a place within the local community, but a certain international aesthetic, and it's this balance that seems to characterize where Berlin is today, and where it is going.
When Schäfer asks me, at the end of my dinner, as I savor the last of my pét-nat, whether I've enjoyed myself, I try to compliment his kitchen by listing my favorite dishes: the black kale served in a spinach-juice sauce with raw milk goat cheese and lightly blanched rowan berries; the beautifully crisped chicken breast presented alongside smoked leek bunches and a garlicky leek sauce. But before I can add sorrel sorbet to the list, Schäfer interrupts me with a smile. "I didn't ask you what your favorite dish was," he says. "I asked you if you enjoyed yourself."
Relaxing into my fur-lined seat, I survey the well-dressed patrons in the handsomely lit space and consider the question. I had not loved every aspect of the meal, but overall, it had been every bit as entertaining as an evening at the theater, and in that sense it nourished more than my belly. It was more than a taste of what German terroir has to offer; it was a glimpse of the sense of curiosity, the creativity, and the passion driving Berlin's current generation to forge an identity that is uniquely theirs.
Nobelhart & Schmutzig, Friedrichstraße 218, 10969 Berlin, Germany, +49 30 25940610