6 Breweries To Hit On Your Northern California Beer Tour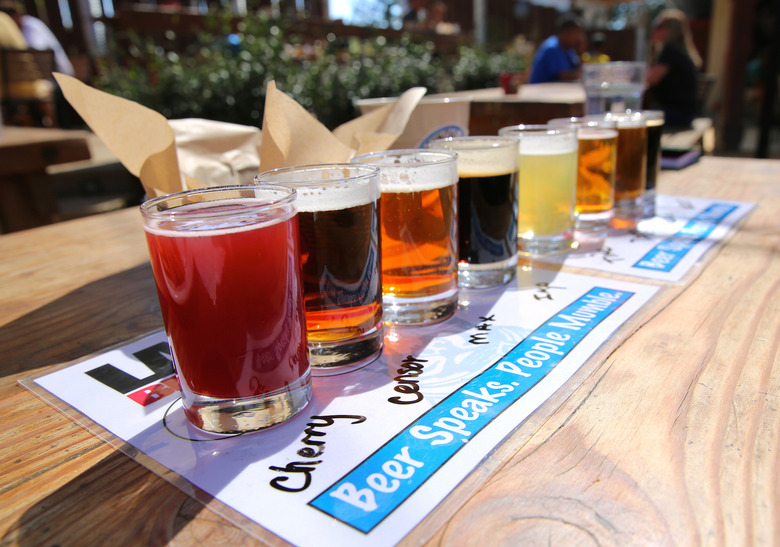 There's no shortage of world-class breweries in San Diego, Los Angeles and Orange counties. But if you're looking for a scenic tour as impressive as the breweries that pepper the route, the real place to be is Northern California. From San Francisco to Sonoma County, the Bay Area features a multitude of must-visit breweries — most of which can be visited over the course of just a couple of days (with a designated driver, of course).
I embarked on such a two-day expedition that covered six of the best breweries the West Coast has to offer. Here's a map of the route and an outline of what to expect should you decide to make the pilgrimage yourself (and I highly suggest you do).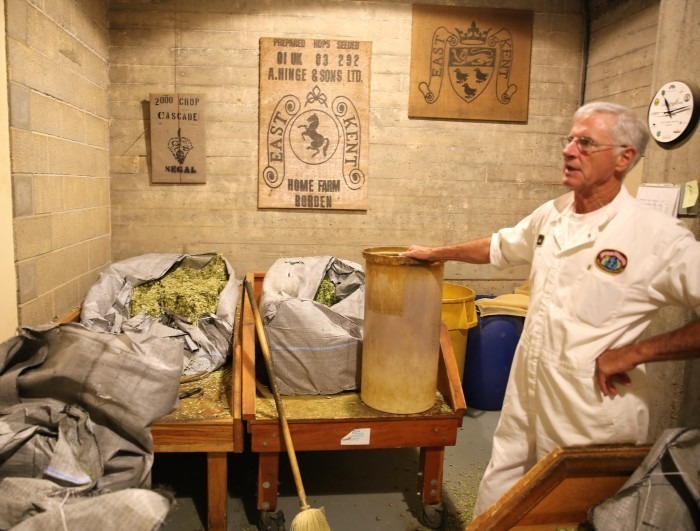 Longtime Anchor brewmaster Mark Carpenter sure has earned his hops. Er, chops.
Anchor Brewing Company 
Start your journey off with the brewers who inspired the entire craft beer movement. A tour of Anchor's highly traditional brewhouse features old-school German copper kettles from the 1950s, purchased just before the brand moved to its current location, near Potrero Hill, in 1979. If you're lucky, you'll run into brewmaster Mark Carpenter, who has been with Anchor longer than the kettles, eventually moving his way up the brewing chain over decades with the brand. Carpenter helps to impart Anchor's Steam Beer — the label's best-selling, and arguably best, brew — with a consistent, authentic flavor. One taste of Anchor's freshest beer, a delicious hybrid made with lager yeast at warmer ale-like fermentation temperatures, and you'll want to chug from the taps in the gorgeous taproom.
21st Amendment: one of the best brewpub menus around. The beer's good, too.
21st Amendment 
Down the road from the old-fashioned Anchor facility is an excellent representation of the modern age of brewing. Though 21st Amendment recently expanded with a new facility in San Leandro that now handles the bulk of the company's production, the original brewpub in San Francisco is a true neighborhood joint that has elevated the entire South Park neighborhood over the last 15 years. People swing by to eat outstanding pub fare as much as they do to drink (think fried calamari with shaved fennel, and Brewmaster's fish and chips), but that's not to undercut the brew itself, which is undeniably hop-centric. The label's West Coast–style IPAs have lots of strong, resin-y, fruity hops and are clearly what these brewers do best, as exemplified by their citrusy, piney flagship, Brew Free! Or Die IPA.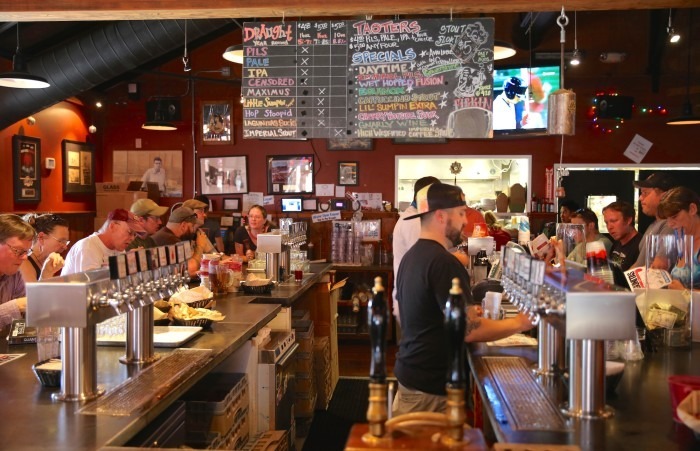 Lagunitas' taproom, packed with all their star brews and cultivating the kind of consumption culture everyone can enjoy.
Lagunitas Brewing Co.
Just an hour outside the bustling city, you'll find a laid-back oasis pouring bold brews. Offering live music each week Wednesday through Sunday at precisely 4:20 p.m., Lagunitas celebrates its palpable weed culture and charms with an obvious sense of humor (note the signs threatening unattended children with deportation to the circus). The whole operation is one well-oiled machine, but not one that feels slick — the taproom is rugged, and the outdoor garden is filled with rustic wood benches that attract plenty of friendly, local regulars. As for the beer, expect plenty of dank hops (their Doppelsticks, for example, smells just like marijuana). I prefer the Cappuccino Stout, but as with 21st Amendment, this quintessentially "West Coast" brewery is known for its killer hoppy brews.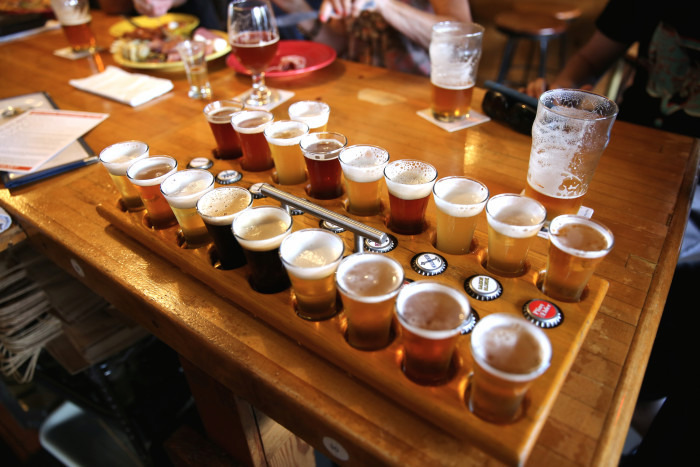 A formidable range of tasters at Russian River Brewing
Russian River Brewing Co.
Beer geeks need look no further than Russian River Brewing Co., an establishment that takes its libations very, very seriously. The company's understated "sampler" enables thirsty explorers to experiment with small pours of 18 to 20 beers, some of which register between 8 and 10 percent alcohol by volume (good luck walking out of there in a straight line). International fans make the journey to Santa Rosa just to visit this beer mecca, many of which can't wait to try Russian River's celebrity brew, Pliny the Elder. But don't let this admittedly exceptional double IPA distract from the sour beers — including Supplication, a brown ale aged in Pinot Noir barrels with cherries, and Temptation, a blonde ale aged in French oak Chardonnay barrels — which are the true stars here.
Third Street Aleworks: Small, cozy, packed to the gills with beer and hey, you can bring your kids!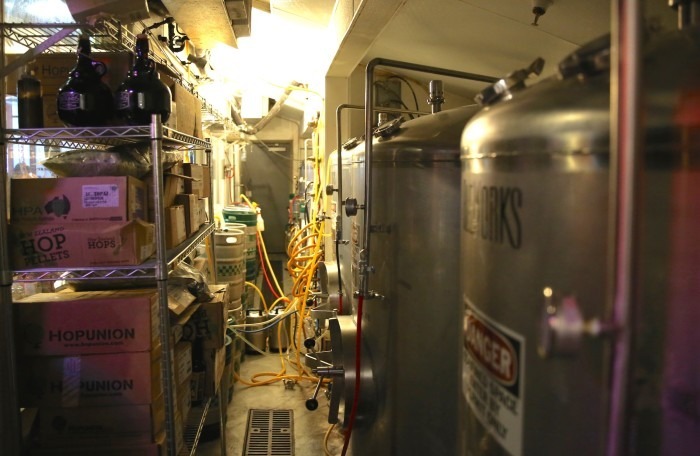 Behind the scenes: The modest and space-efficient but ultrapowerful brewing operation.
Third Street Aleworks 
You'd be making a huge mistake if, after visiting Russian River, you were to pass up the chance to stop at Third Street Aleworks just a few blocks away. The smallest on the tour by far, this scrappy brewery is where you can see what a compact 15-barrel system looks like crammed into the tiniest space imaginable. But Third Street is as mighty as it is small — it's been modestly brewing excellent beer for a steady 20 years. Be sure to try the brewery's Blarney Sisters' Dry Irish Stout, which has garnered awards at both the World Beer Cup and Great American Beer Festival on numerous occasions. And don't forget to order up some fantastic snacks (highlights include the fish tacos, nachos and sweet potato fries).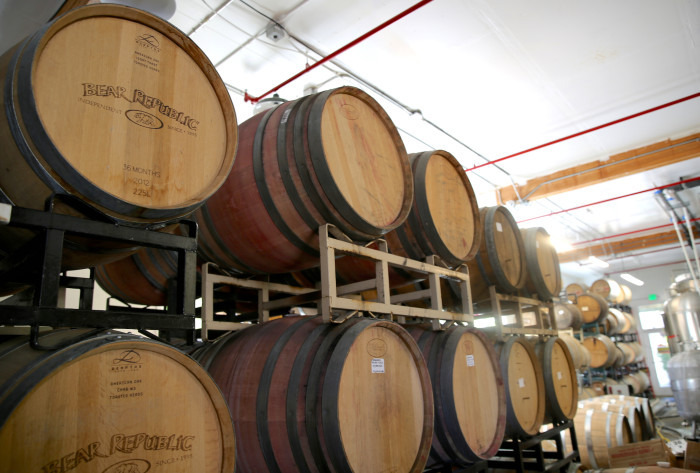 Bear Republic beers, aging in barrels (as nature and beer nerds intended)
Bear Republic Brewery
Round out your trip at Bear Republic's brewpub, adorned with wall-to-wall auto-racing paraphernalia, thanks to founder Richard Norgrove's love for the sport. While the pub is quite spacious, the brewery itself rivals 3rd Avenue Alehouse in size. The equipment is out in the open, allowing customers to sip at the bar as malt is stuffed into a mash tun a mere five feet away. The popularity of the beer (namely, Bear's stellar flagship IPA, Racer 5) has led the brand to establish a second much (much) larger facility in Cloverdale, California. As in the case of Russian River, Bear's Racer 5 is a strong, reliable choice, but the brewery also offers a line of sours called Tartare and a selection of barrel-aged brews (all hail Cuvee de Bubba!) that you absolutely can't miss.