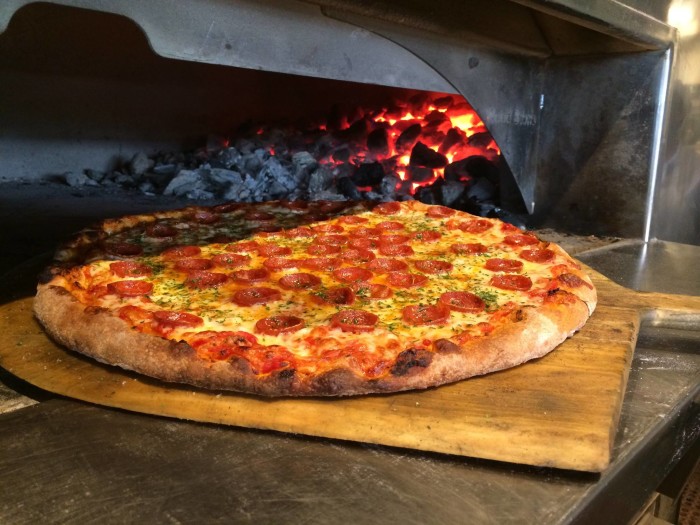 It's the hottest thing in pizza-making — literally. Cranking up to temperatures of 800 to 900 degrees or more, the coal-fired pizza oven burns more intensely than its wood-blazing counterparts, producing lightning-quick, crisp pies with a nice char.
For that reason and others, coal-fired pizza is catching on all across America after decades, if not a full century, as a strictly regional phenomenon, limited largely to New York City and other parts of the northeastern U.S.
A recent Bloomberg Business report describes the increasing demand for coal-fired pizza as "one bright spot in a sea of bad news" for the slumping U.S. coal industry, which is otherwise dealing with "a global supply glut, escalating competition from cheap natural gas and tighter regulations as policy makers try to wean the power market off of fossil fuels."
Perhaps the most prolific purveyor of coal-fired pies (and thereby the biggest consumer of coal for pizza-making), the Florida-based Anthony's Coal Fired Pizza chain, just opened its 50th location last week. (Pro football Hall of Famer Dan Marino is a partner in the company.) With restaurants in six states, Anthony's expects to burn some 7.7 million pounds of coal this year and another 8.7 million pounds as its business continues to expand in 2016.
The coal-fired pizza trend is even popping up in places that the casual observer might assume to be its ideological homeland — specifically, "coal country."
The tiny town of Bridgeport, West Virginia, for instance, got its first taste of coal-fired pizza in late 2013 with the opening of a new restaurant called Mia Margherita. "It's a great-quality pizza," says Scott Duarte, managing director for CP Hospitality, which operates the restaurant. "The crispness, the tenderness of the interior, the speed of it — it just seems like it's the way pizza ought to be eaten."
It would seem the ideal setting for this style of pizza-making, too: West Virginia produces more coal annually than any other eastern U.S. state — nearly 116 million tons of it in 2013 alone, according to the most recent yearly figures from the National Mining Association; only Wyoming mines more nationwide. For better or worse, West Virginia's fortunes largely depend on the rise and fall of this natural resource. Even the state's defining culinary icon, the pepperoni roll, has historic ties to the coal industry. Virtually every virtue of the fossil fuel is celebrated in the Mountain State. Yet until recently, coal-fired pizza was essentially unheard of in this part of the country.
Until the day when coal-fired pizzerias actually out-produce coal-fired power plants, they will likely never attract the same level of political rhetoric, or federal regulation for that matter.
"I really didn't come across it, honestly, until I started researching," says Duarte, who was looking for a good marketing hook for his new pizzeria-slash-trattoria in a county with a sizable Italian-American population. "We wanted to do authentic Italian comfort food, and we wanted to go back to the roots of pizza."
As any crusty pizza scholar will tell you, the coal-fired oven plays an important role in the foodstuff's history in America. It's what gives the pies at Lombardi's in New York City, often cited as the nation's first pizzeria (it originally opened back in 1905), their desired smoky crusts. In fact, many of New York's oldest pizzerias — Totonno's, John's, Patsy's, Arturo's — all cook with coal.
"I said, 'Man, this could be a great concept, with our Italian population here and, of course, coal being the root of our state,'" Duarte says.
Indeed, it seems like a no-brainer. So why did it take so long for coal-fired pizza to catch on with coal's biggest fan base? (As a West Virginia native now living in New York City, I found the plenitude of coal-fired pizzerias in NYC immediately perplexing — especially during the days when outspoken clean-air advocate and anti-coal crusader Michael Bloomberg was the city's mayor.) The answer has less to do with geographical differences in taste than it does with geological differences in coal.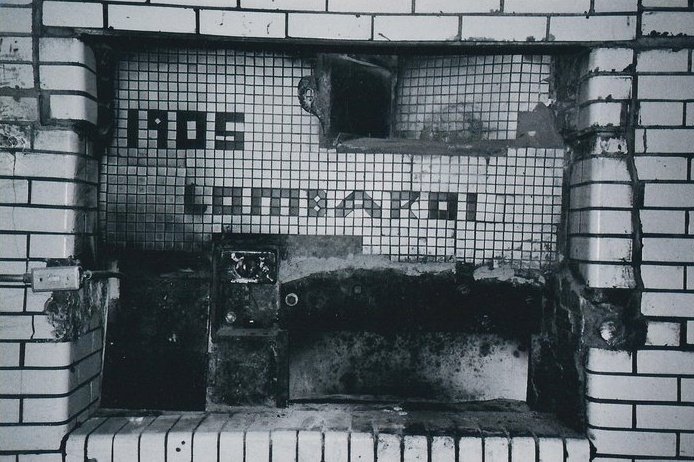 A different kind of coal
The irony of opening a coal-fired pizzeria in coal-centric West Virginia is that you can't cook pizza with West Virginia coal, not in a modern coal-fired oven, anyway. The kind of coal that has long fueled the ovens at Lombardi's and elsewhere is called anthracite, a form of the fossil fuel that is mined almost exclusively in northeastern Pennsylvania. Two of the most prominent anthracite producers, Blaschak Coal Corp. and Reading Anthracite Co., are based about 120 to 140 miles from NYC, which helps to explain how the Big Apple came to be the center of Big Coal, at least in a purely pizza-related sense. Only 65 mines actively produce anthracite, according to the most recent industry figures, and total anthracite production (about 2 million tons in 2013) is a mere fraction of total U.S. coal output (closer to 1 billion tons).
Anthracite is harder and burns hotter than the more common bituminous coal, the stuff that usually fuels power plants, steel factories and endless political debate about economics versus the environment. These characteristics make anthracite both better for cooking and more difficult to cook with: the high heat means fast cooking times, but the hard, compact quality of the mineral makes it tough to ignite.
"It's certainly not for the novice," says Duarte, who explains that pizza-makers typically start with a layer of easy-to-light charcoal before adding the dense anthracite on top. "You've got to be a master fireman to fire those ovens up before even cooking the pizza," he says. Prior to opening, Duarte says he sent Mia Margherita's pizza chef, Tim Goots, to Tony Gemignani's International School of Pizza in San Francisco for a weeklong course in proper coal oven operating procedures. Lesson one: Make sure the coal you're about to burn is, in fact, anthracite. Modern coal-fired ovens, like the Wood Stone model used at Mia Margherita, aren't designed to handle the other stuff. "If you try to put bituminous coal in there, it tears 'em up," says Duarte.
That's because anthracite produces fewer polluting emissions than its controversial bituminous brethren.
"You think of coal being dirty," says Bryan Skelding, executive chef at the Greenbrier. The legendary resort in White Sulphur Springs, West Virginia, joined the coal-fired pizza party back in 2010, after the hotel's owner, the billionaire coal baron and current gubernatorial candidate Jim Justice, got turned on to the trend during his out-of-state travels. ("I hadn't heard of a coal-fired pizza oven until Mr. Justice had mentioned that he'd bought one," Skelding says.)
Unlike the kind of coal that made Justice a very rich man, anthracite contains "less volatile matter" and thus produces less smoke, according to the U.S. Environmental Protection Agency.
"It's very clean-burning," says Skelding. And without so much smoke, blazing anthracite embers are pretty easy on the eyes, as well, he adds: "It's amazing, just the glow of that oven as it's rolling throughout the day."
The flip side to that "cleaner burning" argument, as the environmental news site Grist dutifully points out, is that anthracite contains more carbon than other forms of coal, meaning that while it puts out fewer pollutants overall, it actually produces more carbon dioxide. On a purely per-unit basis, in fact, anthracite emits more CO2 than virtually all other forms of combustible fuel, according to the U.S. Energy Information Agency. In other words: Coal ovens shouldn't be fully excused from the great climate-change debate.
But until the day when coal-fired pizzerias actually out-produce coal-fired power plants, they will likely never attract the same level of political rhetoric, or federal regulation for that matter.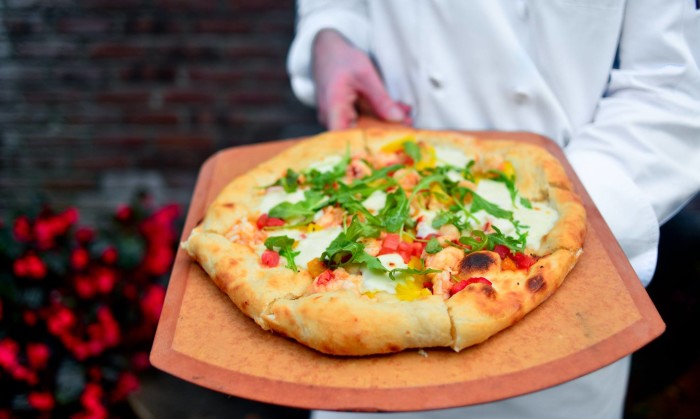 A different kind of pizza
Eco-political issues aside, the capabilities of a coal oven with regard to pizza-making are indisputable. "It does impart a nice crust on it," says Skelding. "It's not quite as smoky [as wood], but you can tell there's definitely an undertone of flavor there from the coal." For a chef like Skelding, the coal oven's high heat also means endless culinary possibilities beyond just the usual dough, sauce and toppings. "It's a great oven to blast things," he adds. "Besides pizza, we've done lasagna in there, we've done spatchcocked chickens…you can even braise some osso bucco in there."
Of course, this is all old news in places like New York, with its century-old coal-fired oven tradition. In other parts of the country, however, introducing a coal oven can be a unique way to set your pizzeria apart from the prototypical pie sellers.
"Now people are doing it just because it's different," says noted NYC pizza expert Scott Wiener of Scott's Pizza Tours. "You see wood-fired ovens all the time, and I think part of this is a response to wood-fired ovens…. It's a different way of making the pizza."
From a historical standpoint, the current renaissance in coal-fired pizza presents another interesting irony. Early 20th century pizza-makers opted for coal because it was a cheap alternative to wood, Wiener points out. Nowadays, their modern-day counterparts are paying to have it shipped to far-flung places and shoveled into expensive, shiny new ovens.
For pizzaiolos in some locations, the marketing upside is probably worth the extra cost. "If I'm opening up a coal-fired pizzeria in Idaho, I'm probably going to be the only one," Wiener says.
That same novelty, though, can also be risky. "People might not like what it is because they're not used to it," adds Wiener. "I know some of these companies have some trouble where people will tell them, 'I went to so-and-so coal-fired pizzeria, and it was burnt.' It probably wasn't burnt. It probably was done the proper way for coal-fired. But you probably just don't like coal-fired pizza."
At West Virginia's Greenbrier, Skelding says he's encountered that very problem. "We get a lot of compliments on the pizza," he says. But not always. "When we first opened up, we were charring the pizzas — we really wanted to be authentic," he says. "There were some guests who were like, 'Oooh, that's too dark.' We're America's resort, so we did have to tone it back a little bit."