Acclaimed designer Massimo Vignelli once said, "An architect should be able to design everything from the spoon to the city." These words have become a sort of guiding philosophy for architect Brett Terpeluk of the San Francisco–based firm Studio Terpeluk. "I aspire to the European model of an architect," says Terpeluk, sitting across from me at his latest project, the very stylish and Hawaiian-leaning Liholiho Yacht Club in the Tenderloin. It's 5:30 p.m., and the space is already humming with energy.
"In America, there's this strange dichotomy between the perception of what a designer does and what an architect does," says Terpeluk, looking sharp in a dark button-down shirt with slightly messy hair, subtle stubble and thick, distinctive eyebrows that punctuate his expressions. "Many Americans see architects as technicians, people who understand code and get permits. Because we go through a rigorous testing protocol to become licensed, we can get pigeonholed. But the European model is different: Architects and designers are one and the same."
What sets Terpeluk apart even further from his colleagues is his passion for working with restaurants. "I love creating spaces that reflect the cuisine and the traditions that are trying to be brought forward," he says. Last month, Terpeluk spoke at the annual Architecture and the City Festival, during a sold-out panel discussion called "The Designer and the Chef." The group addressed the relationship between design and dining, and how the look of a space can contribute to the success of a restaurant.
For one of his first restaurant clients, Farina, a Genovese-inspired restaurant in the Mission, Terpeluk wanted to lend the space a timeless and traditional feel. So he relied heavily on heavy materials, like solid wood, bar-stock steel, concrete and salvaged marble. Even though the restaurant opened in 2007, Terpeluk's thoughtful choices have allowed the restaurant to look fresh yet age gracefully at the same time.
Liholiho Yacht Club posed a different (and obviously unique) set of challenges. Chef Ravi Kapur grew up in Hawaii and was heavily influenced by Indian and Chinese cuisine, and his menu was inspired by his uncle's pop up–style beer and barbecue dinners held on Liho Liho Street. Given those considerations, Terpeluk says he needed to create a space that was warm, egalitarian and "not overwhelmingly architectural." (Meaning "no formal gestures and nothing too powerful," he says.)
The overall layout might look simple with the bar and seating in front, the kitchen and more seating in the middle, and even more dining tables in back. But it's not. "There's no bad seat in the restaurant," Terpeluk says. You can enjoy a casual drink or snack at the bar, feel like you're eating in someone's kitchen in the middle, or linger over a more secluded, quiet dinner in the back.
Terpeluk recognizes that much of his work is rooted in being extraordinarily detail-minded. "My practice is like a nesting Russian doll, there's always projects within projects within projects," he says. Still, he welcomes the "moments of serendipity than can veer you off your course," he adds. "It's about balancing your left and right brain, so you can be rigorous yet malleable."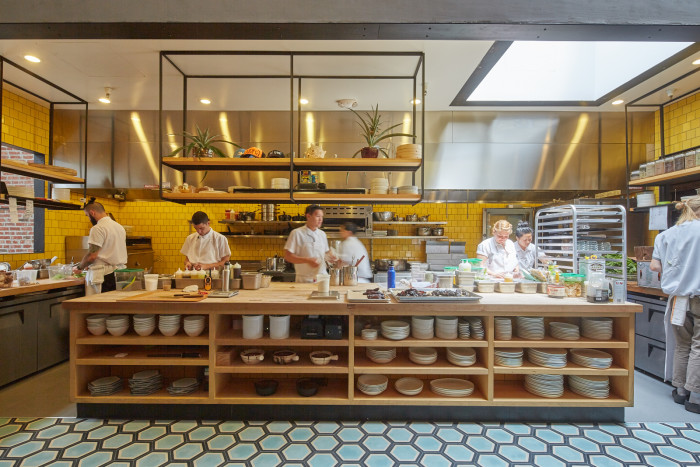 For instance, Terpeluk didn't always love the sunshine-yellow tile in the kitchen at Liholiho. He initially looked at more neutral tones, like greys and whites. But after trying to imagine himself in Kapur's world, he had a change of heart. "I realized that the kitchen is his house, he's there until midnight almost every day," Terpeluk says. "The really powerful yellow spoke more to Hawaii and the profoundly personal experience of the chef. It pushed me outside of my comfort range."
The unique layout of bright blue, geometric floor tiles wasn't in the initial plans, either. As Terpeluk hustled to complete his work in time for the opening, he ran into a hurdle. The tile company he was sourcing from only had a specified amount of the style he had picked, and not nearly enough to cover the entire restaurant. But there was a good amount of something similar-looking. To resolve the issue, Terpeluk arranged the two different tiles in a distinctive chevron pattern. It looks and feels deliberate but in reality was "born of practicality," he admits.
Given the bold splashes of color in the kitchen and on the floors, Terpeluk says he needed something just as eye-catching and memorable for the bar area — something to not only welcome guests but lend a strong sense of place and "relate to Ravi's heritage" as well. After flipping through a pile of Ravi's old family photos, one snapshot of a woman captured Terpeluk's eye. The woman was the chef's mother, and when the photo was taken, she had just discovered she was pregnant with Ravi. Her hair is wavy, wild and loose, and the larger-than-life energy of her smile extends far beyond the photo's edges. "This woman has amazing radiance, she's got a glow," Terpeluk says. "She embodies the Aloha Spirit in my mind."