Author Melanie Dunea travels the world on assignment, interviewing and photographing the most influential and powerful people in the public eye. She can be found on Twitter and on Instagram. She is currently working on her fifth book.
"Rome?" was all the text said. My reply: "Yes." This is how my 12-year friendship with chef Gabrielle Hamilton works. She asks, I don't question and vice versa. We met one night when my pal Anthony Bourdain took me to her New York City restaurant Prune to explain the genealogy of the chef world. This was in the days that paper covered the tables, and Tony drew an entire diagram to help me pick whom to shoot for my first chef book, My Last Supper.
Fast-forward ten years and Gabrielle and I are sitting on the roof of a gorgeous apartment in Rome after filming a scene for her Italy episode of the fourth season of the award-winning PBS series The Mind of a Chef. I was Gabrielle's "sidekick" in Italy. As we watched the sunset, I decided to ask the Contessa of Negronis to explain why it's her go-to drink.
[Editor's note: The Mind of a Chef is produced by Zero Point Zero Production, the parent company of Food Republic. Be sure to check out the show's recently launched website.]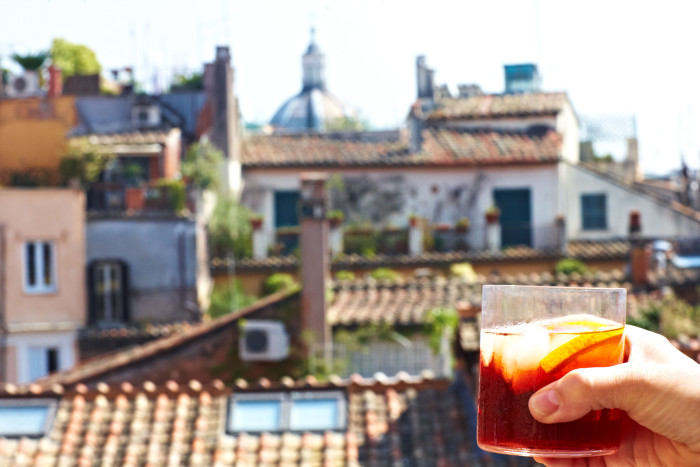 Were you breastfed milk or Negronis?
My dad used to drink whiskey sours when I was a kid, but he must have come back from a trip from Italy and started drinking Negronis. I started this was when I was older, in my 20s.
I know you prefer to make Negronis with equal parts gin, vermouth and Campari, so why don't mine ever taste as good as yours?
You probably don't measure properly — did you use a good measure? Yes, equal parts, but I have heard that the older, retired set likes it with a little more gin.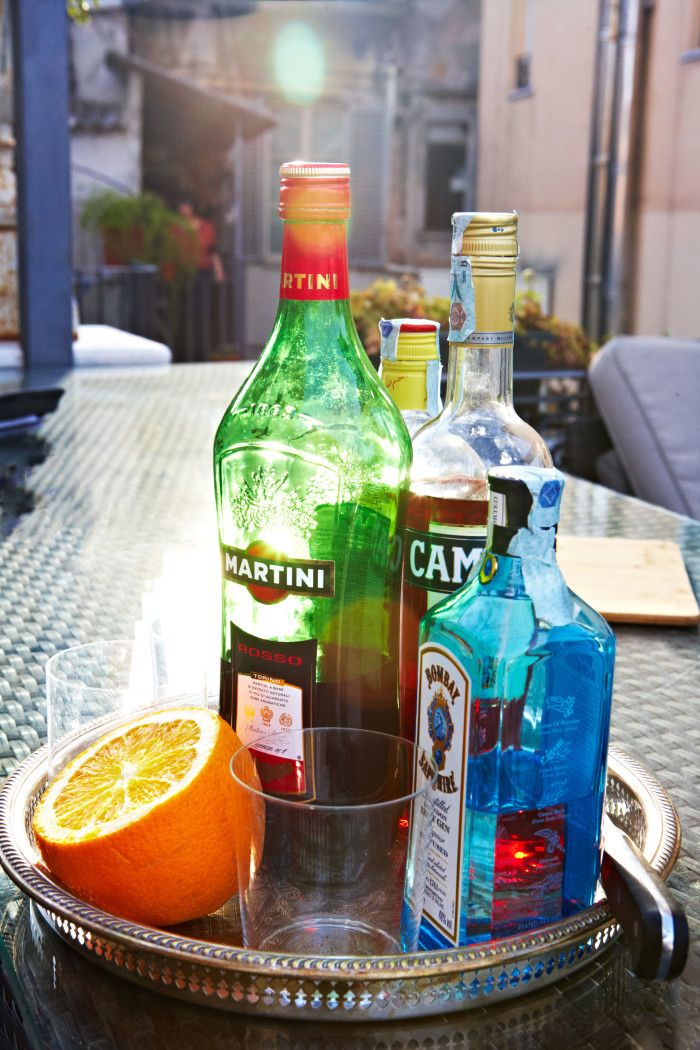 So exactly how do you make one? I am determined!
I put the ingredients in the glass in a specific order. Ice first, then gin — I like to see the clear gin on the ice. That's the priority for me. Then the Campari, then vermouth.
Do you rub the rim with orange peel?
No! Though I do like a burnt, twisted orange peel Negroni and the aged Negroni.
Does it feel different to drink a Negroni in Italy now that you are officially a citizen?
Yes, it is very special.
Tell me, what do you taste?
The bolt of gin and the bitter Campari, which bores a hole into your stomach so you are prepared for dinner and have a nice appetite. Then the sweet vermouth is a nice ambassador between the two and softens the edges for everybody. I think it's the perfect drink.
What is the perfect amount?
Two is just right. It is not the right thing to drink all night long.