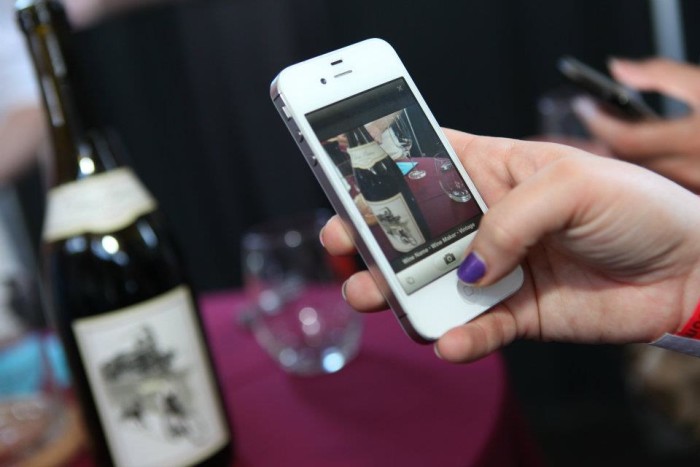 Your smartphone is a valuable kitchen tool. From timing meals to providing measurement conversions, it's almost hard to imagine cooking without a smartphone. Sure, Julia Child managed to make do. But why should you? Aside from the basics, there are hundreds of apps on the market that claim to make shopping, cooking, eating and drinking better. Most apps serve a very specific purpose. But whether you love cooking, beer, wine, cocktails, oysters or all of the above, there's an app for that. Here are ten of our favorites:
1. For meal planning: Pepperplate
Cost: Free
There are many meal-planning apps out there, but Pepperplate is the clear winner in this category. Pepperplate does a very good job recognizing recipes and ingredients. Every recipe I imported worked perfectly, from Bon Appétit to a baking blog. The drawback is that you have to register and manage your account from a browser, not within the app. You can easily create your own recipes and edit grocery lists for weekly shopping or special occasions.
2. For remembering the wines you love: Delectable
Cost: Free
By the time you're halfway through that delicious bottle of Pinot, you won't remember to record it in your wine journal (do normal people have wine journals?). With Delectable, all you need to do is snap a photo of the wine label and the app will instantly find it for you to save and rate. It's useful for shopping and simply organizing which wines you like. As someone with a burgeoning understanding of wine, I find it helpful and easy to use. Sip, swish, point, shoot, review and you're done.
3. For picking the right produce: Harvest
Cost: $1.99
Not only goes Harvest look good, it will make you feel good. With a sleek interface and beautiful photos of the season's best produce, Harvest provides quick tips for picking ripe avocados, melons and more. The page for each item has all the information you need, from selection to how to store. With Harvest in your pocket, you'll be eating tastier produce that lasts longer.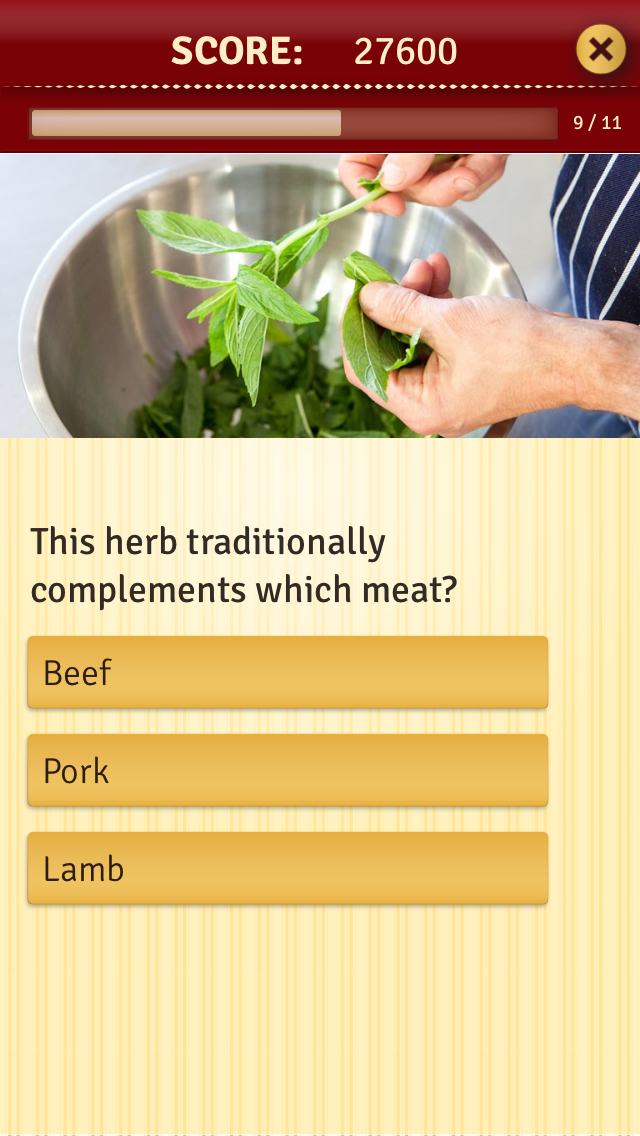 4. For playing with your food: Escoffier Chef's Quiz
Cost: Free
Often called the "king of chefs," Escoffier was a French chef who revolutionized the way we eat. He wrote recipe books, figured out how to can and ship Italian tomatoes at the height of the season and made dining out more democratic. Channel this food master through trivia. Instead of wasting time on Candy Crush, test your kitchen knowledge and challenge your foodie friends with this game app.
5. For converting milliliters to tablespoons: Amount
Cost: $0.99
There are three countries on this earth that have not adopted the metric system. They are Burma, Liberia and the United States. Which one of these is not like the others? That's another story for another time. But if you happen to find yourself using a recipe based on the metric system, you'll be looking at liquids in milliliters and weights in kilograms. The Amount app has a sophisticated catalogue of measurements (not just for cooking) and a sleek interface that makes it a pleasure to use.
6. For thousands of recipes at your fingertips: New York Times Cooking
Cost: Free
With 17,000 recipes tested by the New York Times editors at your fingertips, weeknight dinners are about to get a bit better. The NYT Cooking app is your best friend in the grocery store when you decide to switch up your dinner menu at the last moment. It's clear that a lot of thought went into this app: It's easy to navigate, gorgeous photos illustrate what the dishes should look like and the landing page is full of inspiration. The featured Editors' Collections are particularly useful for themed meals.
7. For sound advice on what to order: The Infatuation
Cost: Free
The popular website for restaurant reviews has an easy-to-use app. That is, if you live in New York, San Francisco, Denver, Los Angeles or Chicago. Think of The Infatuation as Yelp but exclusively written by critics who focus on the actual dishes rather than snarky comments about the attentiveness of the servers. Location-based suggestions are extremely helpful for when you need something delicious fast, and menu recommendations are usually spot on.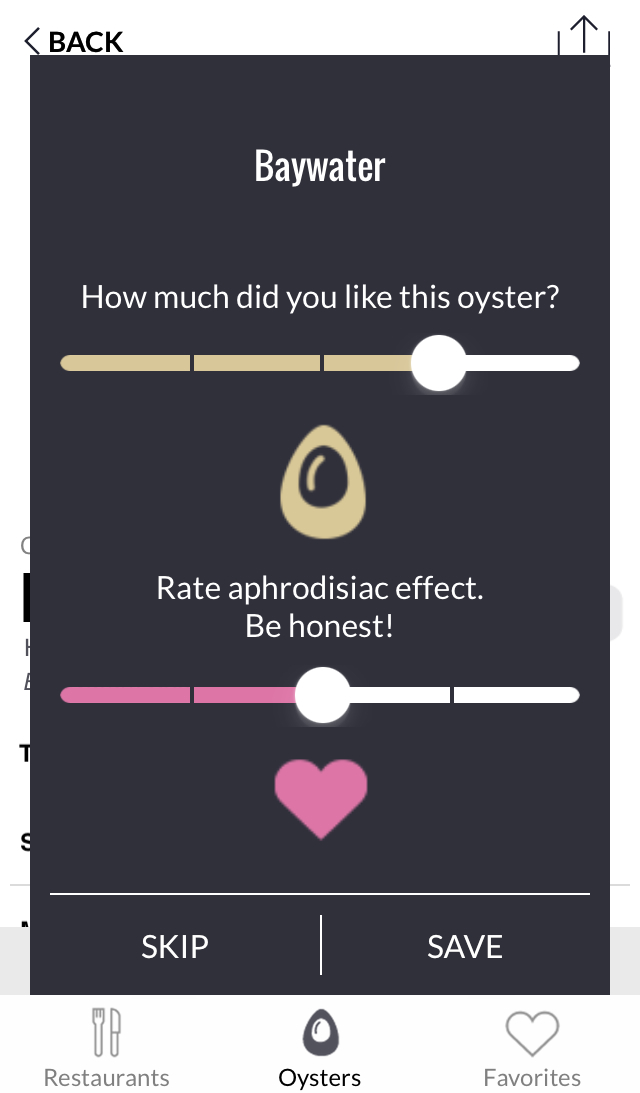 8. For the best oysters around: Pearl
Cost: Free
Want to know your bivalves better? Pearl provides real-time information about your favorite oysters at local seafood restaurants (in New York, Boston, Chicago, Seattle and San Francisco, for starters). With two taps you can find out exactly which establishments are serving Beausoleils, Kumamotos and Pemaquids. Impress your date with your knowledge of West Coast oysters and flirt by rating the aphrodisiac effect of each one, a useless but fun feature of Pearl.
9. For great mixed drinks: Food & Wine Cocktails
Cost: Free
Food & Wine Cocktails is a beautiful app that includes helpful and stunning photos of the drinks you'll be making. While the library of drinks isn't as extensive as rival app Mixology, the cocktail recipes are innovative and approved by the knowledgeable editors at Food & Wine magazine. Cocktails are helpfully organized by spirit, and recipes include hyperlinks to descriptions of lesser-known ingredients.
10. For finding new and exciting beers: Beer Citizen
Cost: Free
Why should winos have all the fun bragging about all the bottles they crush? Love Lambic but want to branch out? Beer Citizen makes recommendations based on user submissions. Beer lovers will rejoice at the features available: reviews, flavor profiles, taste-based recommendations and a whole community of beer lovers. The only thing Beer Citizen can't do is pour a cold pint.