"Venice is like eating an entire box of chocolate liqueurs in one go," Truman Capote once said of the ethereal, imaginative city on the Adriatic. Dispersed between 118 small islands within the Venetian Lagoon, no Instagram feed, travel magazine editorial or film can prepare you for seeing Venice's seemingly floating cityscape and gracefully gliding gondolas for the first time. The distinct architecture, which incorporates Gothic, Byzantine and Moorish influences, is so particular to Venice that it's called Venice Gothic.
When most people think of Venice, the central fish-shaped cluster of islands springs to mind, home to St. Mark's Square, Rialto Bridge and Doge's Palace, and sliced in half by its serpentine main thoroughfare: the Grand Canal. With the exception of a vaporetto ride to Murano to see the artisan glass blowers, many visitors err by not exploring the quaint and, at times, bucolic outer islands.
As befits Venice's seaside environs, it should go without saying that seafood is the core of the city's cuisine. Since 1097, the Rialto Market has been Venice's beating heart, presenting both the bounty harvested on Sant'Erasmo, the lagoon's largest and most agricultural island, as well as the day's catch. Scallops, John Dory, cuttlefish, sardines, sea snails, clams, razor clams, mantis shrimp, mussels, eels and soft-shelled crabs are among the multitude of sea creatures that swim in these shallow, plankton-rich waters; any self-respecting Venetian restaurant serves Rialto Market fish. The fishermen's boats remain docked on Sunday and Monday, something to keep in mind if dining out on those days.
Simple, yet flavorful preparations that showcase the fish's natural flavor are fundamental and evident in dishes such as baccalà montecato (dried salt cod mousse), sarde in saor (sweet and sour sardines) and cuttlefish ink risotto, among others. Typical vegetables include purple artichokes from Sant'Erasmo and radicchio from Treviso, a deep-red chicory leaf often prepared in risotto. Giuseppe Cipriani introduced the term carpaccio in 1963 when he named the thinly sliced raw beef served at Harry's Bar in honor of artist Vittore Carpaccio's successful exhibit. For starch lovers, fine-grain white polenta made from a special corn variety is extra divine when paired with schie (baby shrimp), while bigoli, a thick wheat-flour pasta, is often served with fish sauces. On the meat front, fegato alla Veneziana — sautéed strips of calf's liver and onions served with polenta — is a Venetian signature, as is duck since these aquatic birds swim the lagoon.
On any given day, more than 60,000 hungry tourists visit Venice. And as in its fellow tourist-trodden sister cities, you have to dig deep for a decent meal. In no particular order, here are ten of our favorite restaurants in Venice that are a good place to start.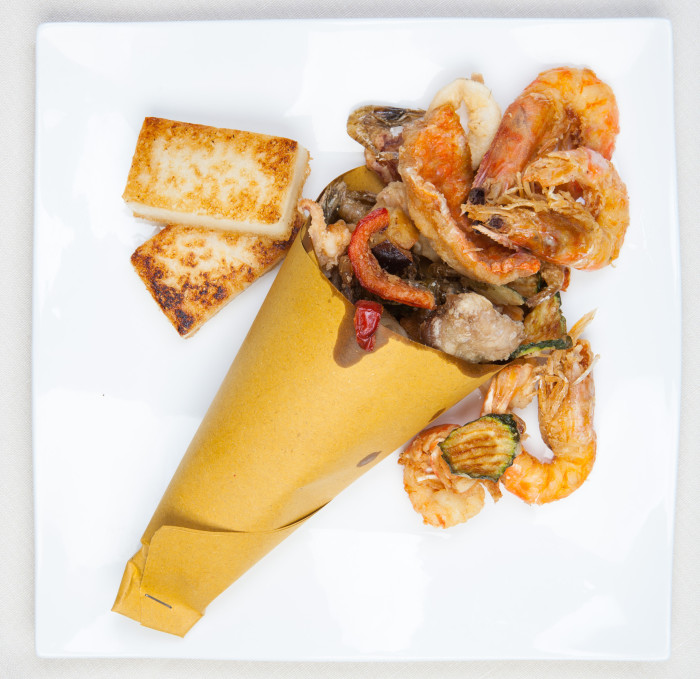 Vecio Fritolin
The name of this San Polo mainstay is Venetian dialect for "old fryer," a nod to the 18th-century food stands that sold freshly fried fish. Friendly proprietor Irina Freguia makes all of her guests feel at home while chef Daniele Zennaro adds a modern, personal touch to a menu rooted in Venetian classics. His menu changes seasonally, but the classic fritto misto, a plate of delicate fried seafood served old-school style in a traditional paper cone accompanied by grilled white polenta, will make your heart sing. Calle della Regina 2262; +39 041 5222881, veciofritolin.it/en
Antiche Carampane
Locals and visitors alike adore Giovanni Bortoluzzi's pleasant trattoria. Despite its close proximity to the Rialto bride, Antiche Carampane is hidden well enough that it's nearly impossible to just stumble upon. The seasonal menu represents Venetian cuisine at its finest, and noteworthy dishes include steamed razor clams, assorted crudo, spaghetti Cassopipa (spicy shellfish sauce) and grilled sea bass with zucchini cream and clams. Book in advance and give yourself extra time to arrive; you will get lost, and the last thing you want is to be denied a table after successfully finding your way. S. Polo, 1911; +39 041 524 0165, antichecarampane.com
Osteria Enoteca ai Artisti
The Dorsoduro quarter is tucked snugly between San Polo and the Accademia Bridge, on the side of the Grand Canal that's not home to St. Mark's. The tiny, always crowded Osteria Enoteca ai Artisti seats 20 and is known for its local-food-only mantra: Rialto fish, Sant'Erasmo vegetables, Northern Italian meats and mostly Veneto cheeses. The menu changes daily — sometimes twice — and the team takes great pride in its no-freezer policy. When the day's food supplies have been depleted, the show is over. Fondamenta della — Dorsoduro 1169/A; +39 041 523 8944, enotecaartisti.com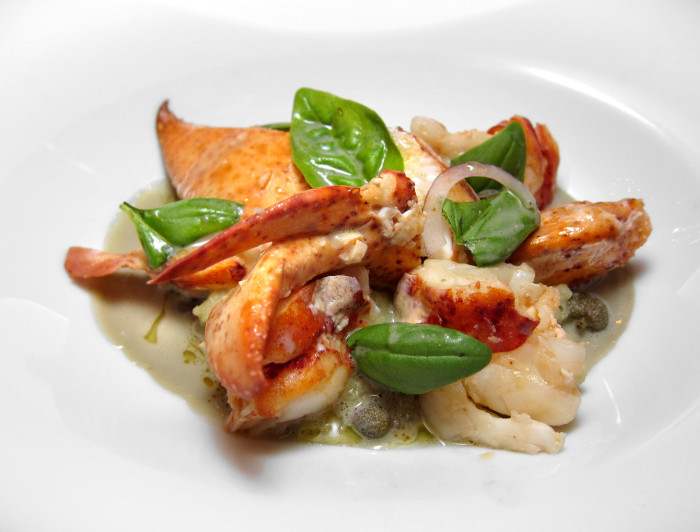 Quadri
The Saint Mark's Square location may seem like Quadri warrants a red flag, but do proceed — and not with caution. Chef Max Alajmo and his brother Raffaele of the three-star Michelin Le Calandre in Padua acquired this 17th-century café in 2011, where they serve a taste of the lagoon, marked by the brothers' signature elegant touch. Chef Silvio Giavedoni incorporates regional Italian influences and has included dishes such as burrata cheese ravioli with seafood stew and grouper with eggplant panzanella. Prices fall within the higher bracket, so we wouldn't recommend it if you have a quick, budget-conscious bite in mind. Piazza San Marco 121; +39 041 5222105, alajmo.it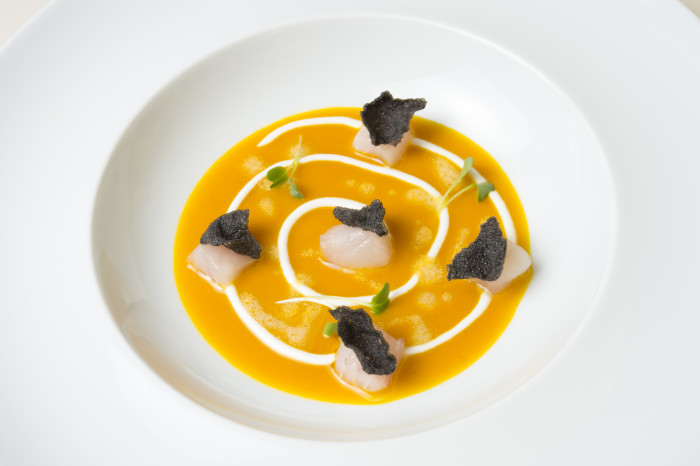 Met
Situated on the ground floor of the optimally located, lagoon-side Hotel Metropole, the one-star Michelin Met restaurant showcases chef Luca Verritti's "Tra'Contemporary Cuisine" characterized by Italian and Venetian dishes offered two ways: traditional and contemporary. For example, on offer is Macaròns di còce, a Friulian staple of handmade pumpkin gnocchi with melted butter, sage leaves and grated smoked ricotta, while its contemporary counterpart comes in the form of pumpkin and ricotta cream served with a hint of sage and accompanied by smoked trout and mountain herbs then finished with "morchia," a melted butter-and-cornmeal sauce typical of Friuli. Hotel Metropole, Riva degli Schiavoni 4149; + 39 0415240034, hotelmetropole.com
Osteria di Santa Marina 
Located in the Castello neighborhood east of St. Mark's, this cozy, romantic osteria exudes all the charm you'd expect from a typical trattoria, while the menu, chock-full of creative takes on Venetian cuisine, dazzles. Enjoy scallop crudo with goose liver, shrimp carpaccio–topped gnocchi with a creamy pea sauce or sea bass ravioli with mussel broth. Reserve in advance and request a table outdoors — weather permitting — in the peaceful piazza. Campo Santa Marina, Castello 5911; +39 041 528 5239, osteriadisantamarina.com
Venissa
This wine resort on Mazzorbo — a 40-minute vaporetto ride from the "city center" — is a rural oasis complete with a fruit and vegetable garden so pastoral that the island feels more like the countryside than a lagoon enclave. Owned by Matteo Bisol, son of esteemed prosecco maker Gianluca, and his wife, Veronica, eight hands (otto mani) belonging to four chefs execute this Michelin-starred restaurant's menu: Sabina Joksimovic, Andrea Asoli, Michelangelo D'Oria and Serena Baiano oversee the antipasti, primi, secondo and dessert courses, respectively. Fondamenta di Santa Caterina, Mazzorbo; +39 041 527 2281, venissa.it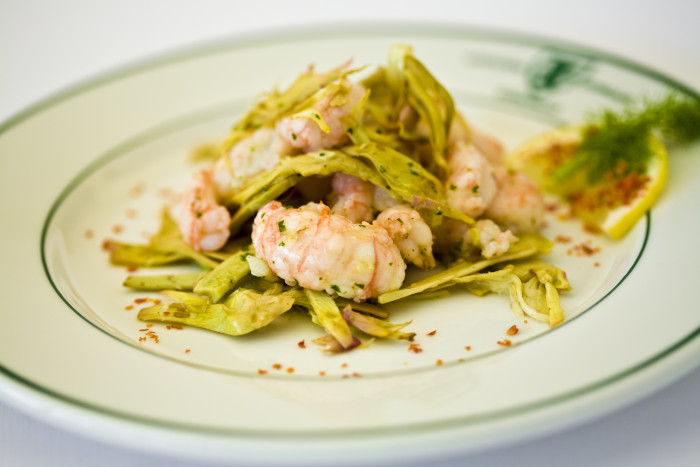 Locanda Cipriani
Located on Torcello, the lagoon's oldest still-inhabited island, Locanda Cipriani opened in 1934. Today, Bonifacio Brass, the third generation of the eponymous hospitality family, oversees the six-room inn and restaurant where Ernest Hemingway and Truman Capote once stayed. The Bellini is obligatory sipping as founder Giuseppe Cipriani himself mixed the first concoction of the now legendary peach puree and prosecco libation. Popular plates include the risotto alla Torcellana made from the island's herbs and the John Dory alla Carlina, Carla Cipriani's celebrated preparation with tomatoes and Pantelleria capers. In May, June, October and November, you'd be remiss if you skipped the deep-fried soft-shell crabs (moleche). Reservations are required; time your booking with the vaporetto schedule and ask for a table in the bountiful garden. Piazza Santa Fosca, 29, Torcello; +39 041 730150, locandacipriani.com/eng/ristorante.html
Trattoria al Ghatto Nero
This celebrity darling on Burano is worth the nearly 40-minute vaporetto ride alone, and the mere sight of the island's magnificent colored houses and lace makers warrants the journey before you arrive at your destination. One of Venice's most storied restaurants, Trattoria al Ghatto Nero specializes in lagoon fish, ranging from scallops to razor clams to spider crab and more. Food pilgrims flock here in droves for the risotto di gò made with the deeply flavorful broth of goby, tiny lagoon-dwelling fish. Don't be surprised if you find yourself contemplating a second visit to the island the next day for another helping. Via Giudecca, 88, Burano; +39 041 730120, gattonero.com
Alla Palanca
Often compared to Brooklyn, Giudecca island sits just across its namesake canal; although just a quick vaporetto ride from Saint Mark's Square, it feels like miles. The tranquil island offers top people-watching as well as a few landmark churches and art galleries. Alla Palanca — a trattoria next to its namesake vaporetto stop — never fails to satisfy for lunch or aperitivo. The cuttlefish ink risotto and tagliolini with baby calamari are delicious, or stop in for some cicheti, traditional Venetian snacks, during aperitivo hour before catching the vaporetto back. Not open for dinner. Fondamenta Ponte Piccolo, Venezia; +39 041 528 7719