Why The Bud-Miller Union Won't Be Bad For Craft Brewers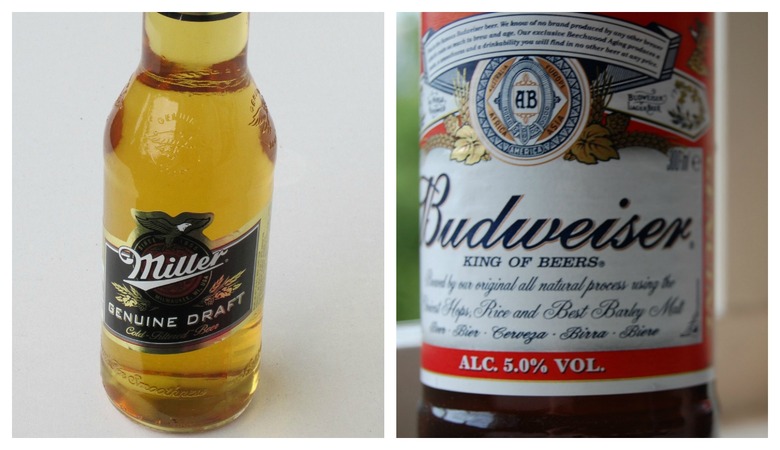 A proposed mega-merger between Miller and Budweiser's parent companies wouldn't necessarily spell doom for craft brewers. (Miller photo: By Xanor (Own work) [CC0], via Wikimedia Commons; Bud photo: "Budweiser bottle close-up" by Sam - Flickr: Bud-Wis-er.
Whatever the potential size of Anheuser-Busch InBev's recently announced takeover bid of SABMiller — some have placed the final tally at more than $75 billion, the most recent market value of the latter — the craft sector of the U.S. brewing industry appears to be greeting the deal with a shrug.
Simply put, the U.S. Justice Department would likely not allow the new beer behemoth to grow too large domestically, and besides, those thousands of smaller players, none making more than 6 million barrels annually (vs. tens of millions for the bigger players), have seen this movie before.
Many times.
There was the Belgium-based InBev's 2008 takeover of America's Anheuser-Busch itself, which made the world's biggest brewer (A-B) that much bigger. Six years before that, South African Breweries took control of Miller through a deal with corporate parent Philip Morris — followed by the resultant SABMiller and MolsonCoors partnership in 2007 that formed MillerCoors, parent of brands such as Miller Lite, Blue Moon and Molson. And on and on for the big guys....
The smaller ones have seen deals, too, usually macro-brewers gobbling control of smaller fry. Miller bought a 50 percent stake in Portland, Maine's Shipyard Brewing in 1995, only to sell it five years later. Anheuser-Busch InBev alone bought Chicago's Goose Island in 2011, Bend, Oregon's 10 Barrel and Long Island's Blue Point in 2014, and Seattle's Elysian earlier this year. The brewery has long been an investor in other craft operations, stretching back to the early 1990s.
And just this month, Lagunitas Brewing out of Petaluma, California, announced a 50-50 partnership with Heineken (though, crucially in this case, Lagunitas, the fastest-growing craft brewery in the U.S., retains artistic control, if you will, of their brands and brews).
"Based on the past few years of activity, this isn't the first or last deal we're going to see," Jim Koch, co-founder and chairman of the Boston Beer Co., makers of Samuel Adams and the nation's biggest craft concern, said in a statement. "It's always been difficult for small independent craft brewers like Sam Adams to compete with the big guys, who may spill more beer in one day than we brew in a year."
So the mergers and acquisitions between macro- and micro-brewers will continue irrespective of any ABI-SABMiller merger. It is simply the nature of American brewing, where consolidation has been the name of the game since World War II and where, even after the addition of thousands of craft breweries during the past half-century, a handful of operations still make most of the beer sold in the U.S.
What of that sliver of the market that craft brewers have carved for themselves over the last generation and a half? The latest numbers from the Brewers Association, the Boulder, Colorado-based trade group that represents the interests of smaller brewers, pegged craft's sales-volume share at 11 percent in 2014, though in some regions that figure is probably triple.
An ABI-SABMiller merger would not really nudge that share one way or the other, according to those in a craft sector that increasingly operates in its own cultural and business universe irrespective of Budweiser. And history is a pretty good guide as well.
It's important to remember that U.S. craft beer has enjoyed some of its sharpest annual growth totals in the seven years since InBev and Anheuser-Busch became one — the last mega-merger in the brewing industry. That deal didn't sink the smaller operators; on the contrary, it emboldened some as well as colored the line between macro and micro that much darker.
"In terms of impact on craft, my first thought is that most craft brewers operate in a different sphere — their communities and regions primarily," Paul Gatza, director of the Brewers Association, said in a public statement. "Many craft brewers would look at a potential deal of Anheuser-Busch-InBev and SABMiller as not relevant to their business and will keep on doing what they do...." Gatza also said that he did not see a merger affecting distribution channels or retail that much.
Much of this has to do with the legal nature of any ABI-SABMiller marriage. Simply put, the feds would likely not allow the new company to become too big domestically.
"The merger will not happen without ABI spinning off the Miller brands, most likely to MolsonCoors," Dan Kenary, cofounder and CEO of Mass. Bay Brewing Co., makers of Harpoon, said in an email. "As Miller and Coors are already run as a joint venture in the U.S. we expect the impact on craft beer sales and distribution to be quite limited."
In other words, from the perspective of the smaller craft breweries we know and adore, the ABI-SABMiller deal would be but another bit of background noise, albeit quite loud for the world at large (think brewing beer battles in emerging economies such as China and India). Meanwhile, in the States at least, things should continue much the same: mergers, acquisitions, partnerships and lots of IPAs.
"We can't speculate on this deal or the next," Boston Beer's Koch said, "and we plan to continue to do what we always have — innovate and provide the highest-quality craft beers to American beer drinkers."
Tom Acitelli is the author of  The Audacity of Hops: The History of America's Craft Beer Revolution, and the new fine-wine history, American Wine: A Coming-of-Age Story.