These Deep-Fried Glassy Nuts Are The Perfect Party Snack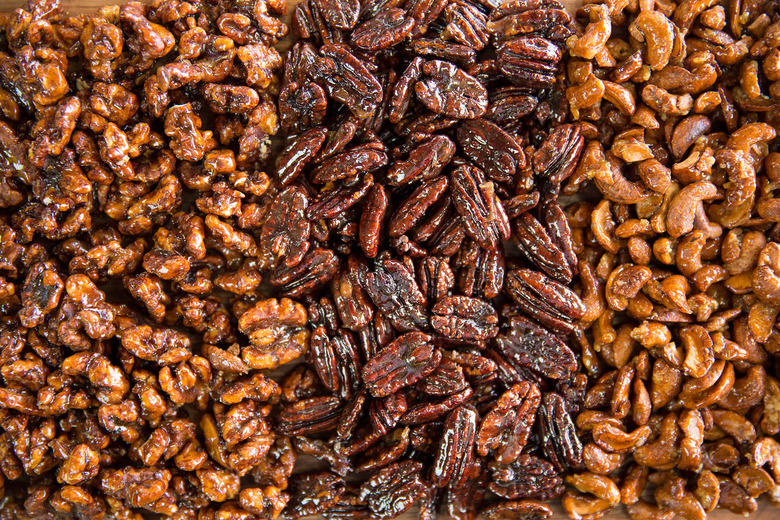 We've all had candied nuts. But these killer deep-fried glassy nuts take things to the next level. Subtly sweet, with an incredible glass-like coating, these nuts are assembled via a simple two-step, consistent technique that minimizes the chances of globs of sugar coating, burnt bits and overly chewy centers. Take a look at the easy recipe and instructional video below — courtesy of our friends at ChefSteps — and bust out these babies during your next cocktail party or add them to your next homemade salad, sundae or waffle.
Directions:
Blanch raw nuts in salty water for about a minute. Don't stress too much about the timing or amount of salt here — just a quick blanch and a handful of salt is fine. Strain.
Coat in powdered sugar. Shake 'em up good!
Deep-fry in any high-temp oil you want (canola or peanut oil will work fine) at 325°F for about 5 to 8 minutes, or until the nuts start to float.
Lay them on a cooling rack and separate. Allow to cool until nice and glassy. Store in an airtight container in a cool, dark place. They'll keep for weeks.
ChefSteps comprises a team of award-winning chefs, filmmakers, scientists, designers and engineers focused on revolutionizing the way people cook by inspiring creativity and encouraging expertise in the kitchen. The site is currently offering free online classes called Cooking Sous Vide: Getting Started and Burgers, as well as a $10 class called Cooking Sous Vide: Beyond the Basics.