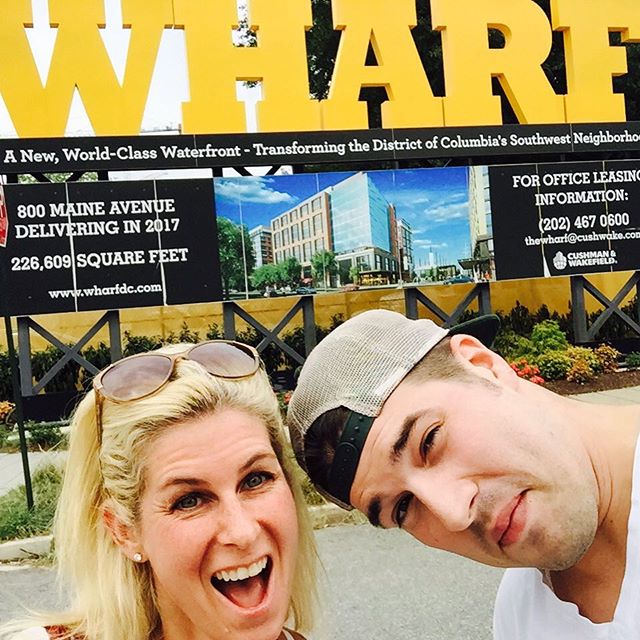 Chef Jennifer Carroll honed her seafood skills working for the one of the greats, Eric Ripert, at famed fish spot Le Bernardin in New York City. But even that hallowed temple to aquatic delicacies doesn't provide its diners with proper waterfront views. Carroll's newly announced seafood-centric restaurant, Requin, in Washington, D.C., on the other hand, will look out on the scenic Potomac River — a setting she describes as a dream location. "Le Bernardin does have a beautiful oil painting of the ocean, which I am extremely jealous of," she points out, "but I think my water views can compete with their beautiful painting."
Carroll is launching the planned 4,000-square-foot riverside restaurant in partnership with fellow Top Chef alum and current D.C.-area empire builder Mike Isabella, operator of six existing restaurants, with another six in the works. The pair expect to open the place sometime in 2017. In the meantime, Carroll plans to keep her fillet knife busy, testing out recipes for the new restaurant during a Requin pop-up at one of Isabella's other locations in the D.C. suburb of Merrifield, Virginia, beginning in November.
For Carroll's fans in her native Philadelphia, her decision to skip town for the nation's capital ends years of curiosity and speculation about her next big move. After leaving Ripert's acclaimed Philly restaurant 10 Arts in 2011, she set out to open her own restaurant. But after reported troubles with investors and a very public spat with rocker Johnette Napolitano over Carroll's intention to call the place Concrete Blonde, also the name of Napolitano's band, the solo effort never came to fruition. "I've moved on from Concrete Blonde and all of that," she says. "The Requin project with Mike is definitely a great new direction."
Carroll took a break from hunting for D.C.-area housing (hello, sticker shock!) to speak with Food Republic about the new restaurant and her new home.
How does the food scene in your new home of D.C. compare to your hometown of Philly?
Philadelphia and D.C. are similar in some ways, but they're also very different. Philadelphia, I feel, has gone through a food renaissance that started maybe about eight years ago, where so many chefs started to come into Philadelphia. And there's a lot more ethnic food, and Philadelphians have become more open to different stuff than just the regular blue-collar, meat and potatoes style of food that Philadelphia is known for eating. I feel like that's starting to plateau a little bit right now, whereas D.C., I feel, is still at the beginning of its renaissance, and I think it's a great time for me to come down there. Philadelphia is more of a weekend town, whereas D.C. is busy all throughout the week. You have a lot more tourists and business people coming into D.C. that are willing to try new things. The D.C. food scene, it's just changing, and I want to be a part of it.
Have you found an actual home yet in the District?
I'm hoping to hear back today, actually. I'm looking down along the waterfront in Southeast.
Good luck with that! I'm sure you're feeling a little sticker shock coming from Philadelphia.
Oh, my gosh, yeah! Philadelphia was so great when I moved from New York back to Philadelphia. I was shocked. I was like, 'Oh, my God, I have so much more money to spend.' Now I'm having the reverse feeling. Now I have so much more money that I have to spend. But I knew that going into it, and it's definitely worth it for me.
In a recent Washington Post article, you mentioned that you definitely want to cook with local Maryland crab. As an outsider, focusing too much on a local specialty can be dangerous. How do you feel about that?
Well, I have a little hidden weapon up my sleeve, which is my boyfriend [Billy Joe Riddle], who's from Maryland. His parents have a boat that we go crabbing on every year, and we do big crab boils. His family has educated me on Maryland-style crab eating.
Is Billy going to be working with you?
For the pop-up, we'll be working together. He'll be my chef de cuisine. And then he will be eventually taking over that space where we're doing the pop-up. He'll be the [chef de cuisine] of Kapnos Kouzina when it goes in there.
How's that for kismet?
Well, with this deal that Mike and I struck, it was important to me. Billy is a huge part of my life, and we needed to make the decision together. And one way Mike convinced me was to involve Billy in the deal and get him working for the company as well.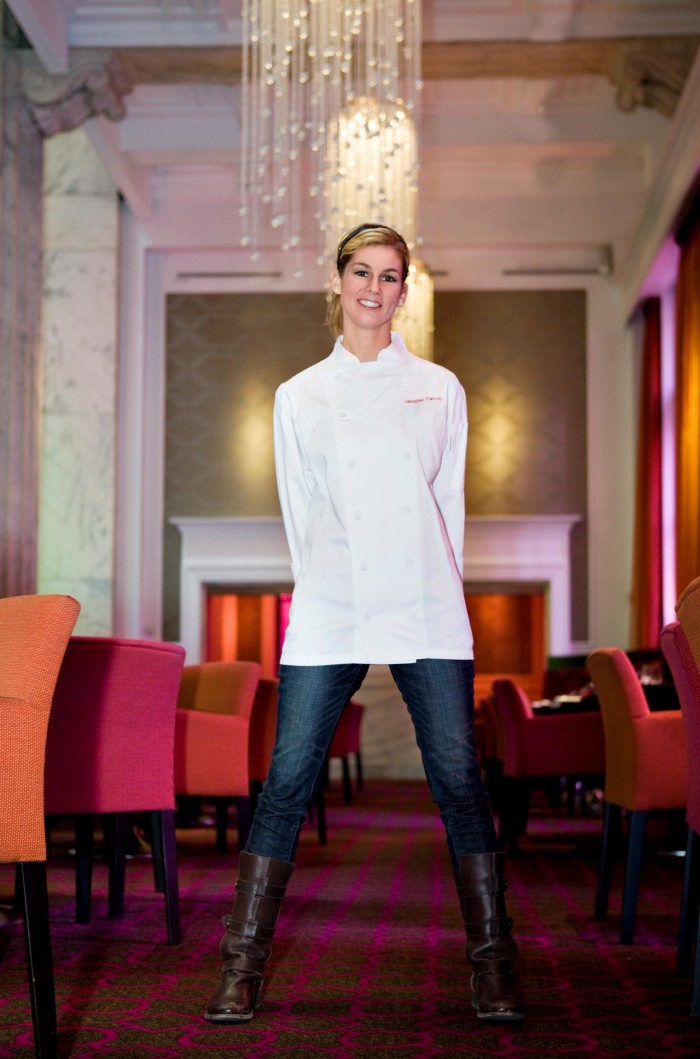 Have you heard about this invasive blue catfish that is basically gobbling up the Chesapeake? Lots of chefs in the area are into serving it. Have you ever cooked with it?
I have not cooked with it. And I know a little bit. From what I understand, it's basically almost 75 percent of the fish population down there. And one of their favorite things to eat is Maryland blue crab, which we can't afford to let happen. I definitely want to get it in, work with it, taste it and see how I can use it in dishes. I would love to put it on the menu to help out the Chesapeake and all the other fish cultures that are being harmed by it. Now, maybe you might see a dish with, like, some smoked blue catfish and some Maryland blue crab appearing together — that could be something fun to have on the menu.
Now, the name of the restaurant is Requin, which is French for shark. Are you going to be serving shark?
It depends. Mike and I are going back and forth on this.
It's a touchy issue.
It is. We are not 100 percent sure.
From what I understand, there is one type of shark that is fairly abundant in the Atlantic right now, the dogfish, which some have suggested is OK to serve. But if you follow, say, Monterey Bay Aquarium Seafood Watch guidelines, it's a pretty straightforward no-shark policy.
The last time I think I had shark was probably about 15 years ago. Besides being very touchy and controversial and definitely in the red zone, I just don't think we need to have it on the menu. I think the shark is something we should respect. It's a beautiful creature. Maybe we look at it that way, and so the restaurant is more of a tribute to the shark. [Editor's note: A rep for the restaurant says definitively that shark is a no-go.]
Every time your name and Mike's name come up in the same news item, you seem to have to address the same old questions about the same old things that happened on TV many years ago. [Quickly: Isabella took some heat for a comment about Carroll on Top Chef that some interpreted as sexist; Carroll has consistently defended him.] Are you sick of talking about that?
[Laughs] Um, yes. I've answered that question probably a million times over. It's silliness now.
When you were on this show together, did you have any idea that Mike would ever become the empire builder that he is today?
No! I'm so proud of him. If you look at Mike's whole career, he's worked for all these amazing restaurateurs [Stephen Starr and José Andrés, among others]. He's really taken that education that he's gotten on the business side of it and has really done it right. I really feel lucky that I'm partnering with him.
How will this restaurant be different from the other Mike Isabella–brand restaurants?
It will be similar to other concepts like Kapnos and Kapnos Taverna where it's upscale casual, and we'll have a lot of small plates and sharing, so it's the same style there. One thing that will be different and new will be my chariot de fromage, which is this super-fancy French word for saying a cheese cart. I want to have a really fun, intense cheese program, which Mike doesn't have at any of his restaurants now. And we also want to do a more in-depth wine program, with wines from all over the world. Not just from France, but it will have a French focus. It will be larger than any other wine program that Mike has now.
Anything seafood-specific that might be different?
You know how everybody does charcuterie boards these days? I want to take that idea and kind of bridge it into seafood, so having like a seafood board where I have smoked fish and take the scraps of the fish that we're using and make rillettes or salads or escabeche. A seafood charcuterie program — that's something I'm looking forward to experimenting with.
How does partnering with an established restaurateur like Mike make your life easier, as opposed to trying to open your own place independently?
Trying to open a restaurant, there's lots of hoops that you have to jump through for investors. There are always compromises. I'm not averse to compromise. But a lot of deals didn't favor me or favor what I was trying to do with the food. And the trust factor wasn't always there. For me, coming to work with Mike, I've seen his success, I've seen his operational side of it, and the details that he puts on everything. I've seen both sides of Mike's operation, which I haven't gotten to do with any of the people that I've tried to partner with before. Of course, our friendship and trust definitely come into play. Mike knows my work ethic and knows who I am as a chef, and he's put a lot of trust in me to really focus on the food, and he's going to focus on the operation. That's a huge weight off my shoulders. I mean, he already has the systems in place. It's a lot less work that I have to take on being a first-time restaurateur.
How do you expect this new arrangement will change your relationship with Mike? It's one thing to be colleagues. It's a whole other thing to go into business together.
I guess we'll see. But at the end of the day, business is business. Mike and I have to be very honest with each other and communicate. Of course there are going to be disagreements and arguments. That's what happens in business. We expect that. We've talked about it. We really hope that it doesn't change our friendship.
Does this deal come with the keys to a new scooter? I know Mike is a big advocate for wheeling around town on those things.
I already have a scooter. I guess it's the easy way to get around. Mike wasn't going to let me in until I got a scooter.
Now, I have to ask: Did you make sure that there is no irritable rock band with the same name as your new restaurant, Requin?
[Laughs] No, but I should probably look that up!